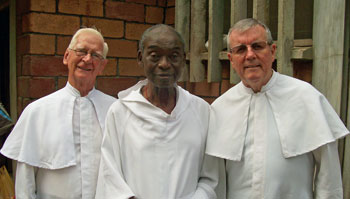 Benedictines in Nigeria celebrate
Fr Vincent Mordi OSB was joined by his Benedictine community at Ewu-Ishan, Edo State Nigeria in a triple celebration on 12 February 2011: his 70th birthday, 30th Anniversary in monastic life and his Silver Jubilee as a priest. Also joining him on the day were Bishop Augustine Akubeze of Uromi diocese, Fr Patrick Isichei of Issele-Uku diocese, Fathers Richard Wall SMA and Peter McCawille SMA and many other clergy, religious, family and friends. Our picture shows Fr Wall, Fr Vincent and Fr McCawille.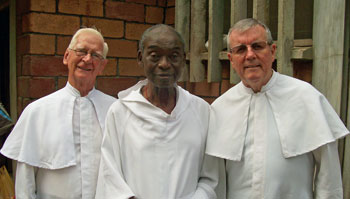 The introduction of the Benedictine monks to Nigeria goes back to the foundation by Bishop Godfrey Okoye, C.S.Sp. of a Benedictine monastery in Port Harcourt in the 1960s. However, it didn't survive the traumatic Biafran War (1967-1970).
Later he established a convent of Benedictine women at Nike, Enugu.
In June 1974 Benedictine Fathers, Columba Breen, Columba Cary-Elwes and Ambrose Tinsley arrived at Nsukka, hoping to settle in the University city. After six months no suitable property was found and they moved to establish a monastery at Eke, 12 miles from Enugu. However, while the monastery attracted many retreatants and prospective candidates from the city, the land there was infertile and could not have supported a sizeable community without major investment.
In their quest for a more suitable location they crossed the Niger river and, subsequently, arrived at Ewu-Ishan, 100 kilometres north of Benin City and now in the Diocese of Uromi which was canonically erected on 25 February 2006.
Their choice initially of Ewu-Ishan was in response to an invitation from Bishop (now Archbishop Emeritus) Patrick Ebosele Ekpu who succeeded Bishop P. J. Kelly SMA in 1973 and looked after the diocese of Benin City until his retirement on 21 November, 2006.
An agreement was drawn up in 1978 to begin cultivating monastic life in the Ewu area after a piece of land had been generously donated by the local Ewu community.
A prominent member of the pioneering group of Benedictines who put down roots in Ewu was Fr. David Conlon, OSB. Dom David joined the team at Eke in 1975. He is well known to SMAs as Fr. John Joe Conlon who had worked in Liberia as a SMA Missionary, was a former Superior of Dromantine College and a founder member of the SMA Family Vocations Crusade [FVC] in the North of Ireland. After completing his service in Ewu, Dom David returned to the Benedictine Community at Glenstal Abbey, Murroe in Co. Limerick.
Invaluable help in choosing the site was also provided by Fr. Dick Wall SMA who was then in charge of Irrua parish and now resides in the SMA House at Uromi.
It was on this site where St. Benedict's Priory is now located that monastic life began with the singing of the Salve Regina at midnight on the Feast of St. Benedict, 11 July 1979. Exactly twenty-seven years later, on 11 July 2006, the Nigerian monastery acceded to independence and became a fully-independent Conventual Priory, with Fr. Vincent Mordi, OSB as Conventual Prior. Today the community numbers about 35 Nigerian monks.
On Saturday, 12 February 2011 Fr. Vincent celebrated his 70th birthday, 30 years of monastic profession and 25 years of priestly ordination.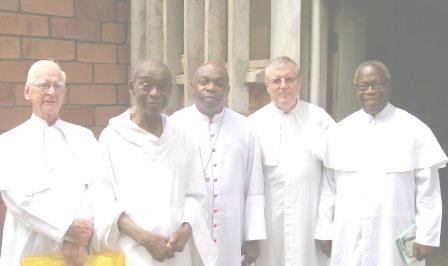 Our picture shows, left to right: Fr Richard Wall SMA, Fr Vincent Mordi OSB, Bishop Augustine Akubeze of Uromi diocese, Fr Peter McCawille SMA and Fr Patrick Isichei of Issele-Uku diocese after the Jubilee Mass.
Fr. Vincent was born in nearby Asaba. He professed his First Vows on 23 February 1980. His Final Profession as a permanent member of the Ewu monastery took place on 23 September 1983 and he was ordained to the priesthood on 21 September 1985.
He was appointed Sub-prior by the then Prior of Ewu, Abbot Augustine O'Sullivan who died in 1993 and is buried in the cemetery within the Priory grounds. Also buried there is Dom Kevin Healy. They were among that early band of pioneers who came to share the monastic vocation with their Nigerian brothers.
In 1996 Fr. Vincent was appointed the first Nigerian Prior of Ewu monastery by Abbot Christopher Dillon of Glenstal Abbey, Ewu's Motherhouse.
In the past five years Fr. Vincent has battled valiantly with ill-health. Eventually, in April 2010 he had to relinquish his post and he was replaced by the present Prior, Fr. Peter Eghwrudjakpor, OSB, a native of Warri.
The Thanksgiving Mass was a uniquely joyous occasion. Bishop Augustine Obiora Akubeze, Bishop of Uromi, presided and the Homily was preached by Monsignor Joseph P. Omesa, St. Peter's Church, Benin City. The chief celebrant, Fr. Vincent, was joined by members of the Benedictine community at Ewu, Benedictine Sisters from others parts of Nigeria, many local priests and priests from other dioceses, Rev. Sisters from a variety of congregations, male and female members of the Oblature of St. Benedict, and friends from far and near. Representing the SMA at the occasion were Frs. Dick Wall and Peter McCawille. As members of the SMA we congratulate Fr. Vincent on reaching this significant milestone in his monastic life.