Prowincja Polska Stowarzyszenie Misji Afrykańskich 
Borzęcin Duży, POLSKA
Dear Superiors of the various units of the Society of African Missions, dear parish priests of SMA parishes throughout the world, dear friends of the SMA, dear men and women of good will. 
We are already living in the Easter dynamic and the joy of the Risen Christ radiates on many faces. In a special way, having the war refugees from Ukraine in two houses of the Society of African Missions (SMA) in Poland, we will have a unique chance to live the Easter time this year, in 2022, for a second time. Most of our guests are Orthodox Christians who  celebrated Easter with the diverse traditions of the Ukrainian people. However, this Easter was difficult to celebrate. The fathers of the families that currently live with us, are participating in war. Children have not seen their dads for a long time, wives their husbands and brothers… All the joy of Easter is overshadowed by this sad reality of a war that they never wanted and a conflict that they did not provoke.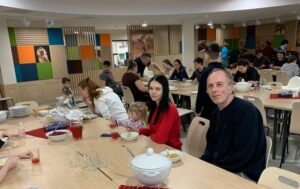 In our two houses, today, we are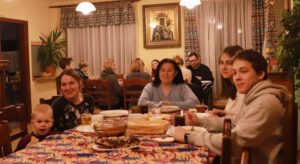 providing hospitality for 129 people: 98 at the African Missions Center (CMA) in Borzęcin Duży and 31 in Piwniczna Zdrój. More than half of them are children. Since their daily lives are already regularized in a certain way, we are trying to encourage them to find employment that could give them some income. It would also guarantee them an effective occupation so as not to think all the time about the war that has been taking place just behind our borders. It's not always easy. Many of them think that the war will end soon, and they will be able to return to their homes as soon as possible. Living in this dynamic, they consider their stay in Poland only as a temporary thing hoping for an imminent return to Ukraine. Even if the war continues, we already had two families who have decided to return home. Other families have taken their place in our structures. However, the vast majority of families remain in our houses waiting for clear signs of the end of the war in Ukraine. The children are already integrating well into our schools. Some are starting to speak more and more Polish and we ourselves understand more and more the Ukrainian language. Friendships are forged during these events that are the most important humanitarian crisis in the contemporary history of humanity. 
We continue to remain open to any support and collaboration from other SMA units. For this reason, on April 4, 2022, thanks to the help of the Province of Spain, we welcomed in the CMA in Borzęcin Duży, Maria Gracia from Grenada, a doctor who helps us to manage health issues at the CMA. Another volunteer, Stefania, from Italy, came on April 18, 2022 to assist us. On the same day, a team from the SMA Media Center in Rome came to make a video report on our daily life in the company of the war refugees from Ukraine. In the near future, the SMA Media Center will share with you the results of their work. In this way, you will be able to see and understand better the reality of our daily life, with our joys and our challenges. 
Remaining in Easter joy and sharing it with you, I would like to share with you my cordial and fraternal greetings. On behalf of the Ukrainians families that we have welcomed into our SMA houses, I would also like to convey to you my sincere gratitude and appreciation for all kinds of support received from you. 
Father Grzegorz Kucharski SMA, Provincial Superior