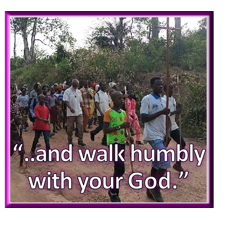 Our thanks to Fr Patrickson Francis, an Indian SMA, who sent us this story and photographs from Sierra Leone. 
The SMA Buedu Mission Lenten Pilgrimage was held on Saturday 25th March 2023, on the Solemnity of the Annunciation of the Lord.
The Pilgrimage was organised collectively with the neighboring parish, St. Joseph Catholic Church – Koindu. Both Parishes started from there respective main center Churches with the coordination of their Priest-in-charge. That is to say, on the part of Buedu Mission, the journey was started from the main certain Church St. John the Baptist Catholic Church with the opening prayer and introduction from the Priest-in-Charge Rev. Fr. Patrikson Francis SMA, who invited the people to offer as a prayer this pilgrimage and the sacrifices involved in union with Christ's suffering.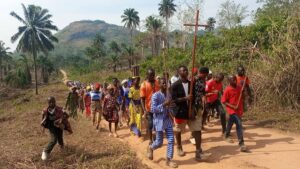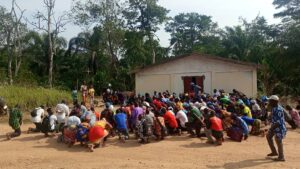 The journey started with the parishioners of Buedu who where joined by the outstations of the Mission comprising of both children, youth and old belonging to various Church organizations such as Holy Childhood, CYO  (Catholic Youth Organization), CMA (Catholic Men's Association), and the CWA (Catholic Women's Association). They prayed the Stations of the Cross along the Journey.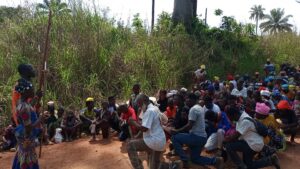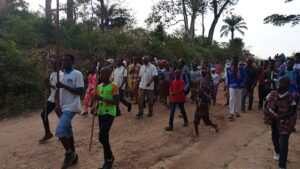 The journey was amazing, the people were concentrated in prayerful mood and the organization of the whole Pilgrimage was awesome. Seeing that the journey was long, the CMA was in charge of providing water at various stations while CWA was in charge of the food to be taken after the end of the programme and the CYO was in charge of the singing during the Stations of Cross.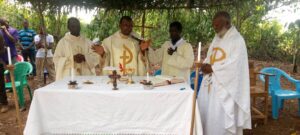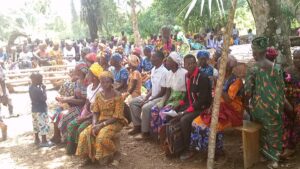 The final place of the pilgrimage was collectively prepared with the neighboring Diocesan Parish at Koindu which is close to the place. Upon arrival, the Sacrament of Confession was available before Mass. Thereafter, they both joined together in the Eucharistic Celebration. The Priest-in-Charge was accompanied by his assistant and an SMA Student on a training placement in Koindu.
The Pilgrimage from Buedu, to the final place took 14km with 250 participants. Truly a a journey of faith and self-sacrifice in preparation for the joy of Easter.