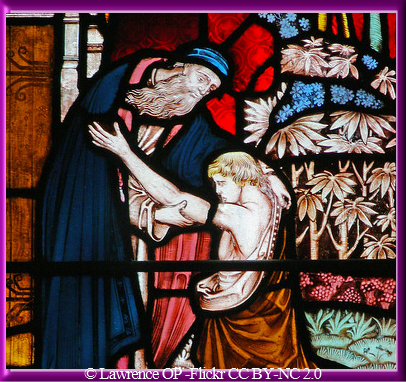 27 March 2022
Joshua 5: 9-12                        2 Corinthians 5:17-21                        Luke 15:1-3,11-32
Theme: The Embrace of A Forgiving God
In today's gospel we heard the familiar parable of the Prodigal Son, probably the most memorable of all the parables of Jesus. It stands at the epicentre of Luke's Gospel and discloses the heart of Jesus' proclamation of the Kingdom of God – a Kingdom of Love, Mercy and Forgiveness. The story is told of a Moslem theologian who was asked to translate this parable into Arabic. When he began to read aloud the translation he had made, as the story goes, he wept unrestrainedly for he had never imagined that God could have such tender love for his children.
It is important to remember the context of the parable. Jesus is addressing the Scribes and Pharisees who were scandalised and angry that he always seemed to be mingling and eating with tax collectors and public sinners. "This man", they said, "welcomes sinners and eats with them" (Lk 15:2). Jesus knew that the reason for their negative reaction to him was their mistaken image of God – sadly an image that still persists among many Christians to this day. What image of God comes across in this parable? It is that of an almost foolishly compassionate and merciful father, someone who, far from feeling offended or angry with those who have strayed away from his household, is simply overjoyed to have them safely back home. Let us examine the parable a bit more closely:
It is a story about a father and his two sons. The behaviour of the younger son is indeed reprehensible. He has abandoned his family and religion and become a swineherd among the gentiles. He has wasted his inheritance. So desperate  has his situation become that he decides to return home, but without any real hope of being accepted into his father's house. He is prepared to be treated, not as a son, but as a hired servant. What happens on his return far exceeds his expectations. Not only is he not treated as a hired servant. He is not even given time to say how sorry he is. The Father sees him coming from afar (probably he has been looking out many times for his return). And what does he do? He rushes out to meet him, embraces him, and weeps tears of joy now that his son whom he has never stopped loving is back safe and sound. 
Let us turn now to the elder brother, who represents the Scribes and Pharisees whom Jesus is addressing. He had stayed home with his dad. He had worked hard every day. He had always done what his father wanted. Did his father love him? Surely yes, but he didn't want love. He wanted acknowledgement of his loyalty and good behaviour. His father seemed to be taking him for granted. Apparently, he had never held a party for him, which is difficult to believe. When he sees the way his foolish father runs out to meet his younger son returning, as we would say in Cavan, 'with his two hands as long as one another', with no shoes, or cloak, or hat, he feels understandably aggrieved. When he hears the jubilant sounds coming from the party his father is hosting in honour of his wasteful and foolish brother, he is so angry he is fit to be tied. It seems to him that he has been the one wasting his time staying at home and trying to do everything to please their father. In some ways it is easier for us to understand the elder son than to understand the foolishly forgiving father.
However, the sad truth is that the older son did not know his father at all, even though he was living with him. He kept his distance all along. He did not want anything to alter his view of his Father as an upright but demanding man who expected nothing less than complete loyalty. The older son did not take time to get to know the Father, to speak with him, to realise how much he continued to grieve over his younger son's departure, how he longed for the day when he would return, how he worried about him and cried at the thought that he might never return. Hence, when he was invited by the father to share in the celebrations for his younger brother, he cannot do it. He can't even understand it. The father had never ceased to love his younger son. The elder brother had never really loved his father or his brother. He cannot feel love in his heart at all and he cannot know the joy of the father or of the prodigal son. He had made himself a stranger in his father's house.
I will end with an apt reflection on this great parable from the pen of Flor McCarthy, SDB:
The prodigal son came home empty handed.
He had no trophies to show his father,
no achievements with which to earn
his praise, his welcome, and his love.
He was a failure. Worse – he was a sinner.
He deserved to be punished – and he knew it.
Yet punishment was the last thing he needed.
To punish him would be like pouring water on a dying fire.
What happened?
When the father saw his lost son coming towards him,
his heart went out to him,
and next minute they were in each other's arms.
It is an extraordinary experience to be loved in one's sinfulness.
Such love is like a breeze to a dying fire,
or rain falling on parched ground.
Those who have experienced this kind of love,
know something about the heart of God.
To listen to an alternative Homily from Fr Tom Casey of the SMA Media Centre, Ndola, Zambia please click on the play button below.