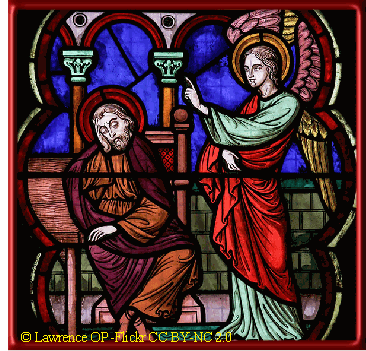 Readings: Isaiah 7:10-14; Romans 1:1-7; Matthew 1:18-25
Theme: Putting St Joseph back into Christmas
 As Christmas draws near, we tend to get caught up in a whirligig of preparations for this annual celebration: hosting or attending pre-Christmas parties; putting up lights and Christmas trees; going on shopping sprees to purchase extra food and drink, as well as presents for family and friends. With the risk of forgetting what Christmas is all about, preachers call on us 'to put Jesus back into Christmas'. Perhaps we need to be reminded also to add Mary and Joseph and the many characters that people the bible stories of the birth of Jesus. Today, it is Joseph who is the focus of our gospel reading from Matthew.
While we do not know very much about Joseph from the gospels, and we have no record of anything he said. Matthew draws our attention to the important role he played in God's plan of salvation. Today's gospel reading highlights one of many crises Joseph had to negotiate in his chosen role as the husband of Mary (Mt 1:19) and legal father of Jesus. We are told that Joseph is already engaged to Mary, but not living with her, when he makes the shocking discovery that she is pregnant. We are left to imagine the turmoil and anguish Joseph must have felt in the wake of his discovery. Matthew tells us that he had made up his mind to divorce Mary informally. He wanted to keep the law but without publicly shaming Mary. At this stage, Joseph does not know that Mary has conceived her child through the Holy Spirit. He probably assumes that another man must be the father of Mary's child. As a righteous Jew he is obliged to divorce her, but as an honourable man of integrity and sensitivity, he tries to find a way to meet the requirements of the law without causing extra pain to Mary.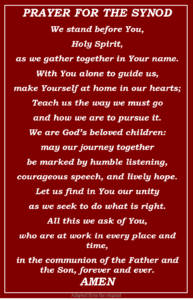 Then Joseph has a dream in which an angel of the Lord appears to him with words of assurance and startling news about Mary: 'Joseph, Son of David, do not be afraid to take Mary home as your wife, because she has conceived what is in her by the Holy Spirit' (Mt 1: 20). The angel also instructs Joseph to give Mary's boy child the name Jesus 'because he is the one who is to save his people from their sins' (Mt 1:21). This instruction is highly significant as it underlines Joseph's responsibilities not only as husband of Mary but the legal father of her child.  The final part of the Gospel reading tells us that, in the light of what the Angel told him, Joseph reverses his decision to divorce Mary and takes her home as his wife – a decision that will forever change change his life. During a latter part of the Christmas story, when the holy family flees from the murderous designs of King Herod, Joseph will be responsible for protecting Mary and her Son from clear and life-threatening danger.
It is time that we put Joseph back into Christmas.  Though never hogging the limelight, he is a central figure in the Nativity story, one who can speak to contemporary men and women.  We have much to learn from this 'righteous man' who does what God asks of him. He is open to changing his plans and welcoming the 'new thing that God is doing' (Is 43:19) in history. It can certainly happen in our lives too that God has a different plan for us from the one we chose for ourselves. Are we open to change like Joseph?  Are we ready and willing to take the risk of going along with God's plan for us? Another aspect of today's gospel that we should note is that Joseph is asked to change his plans and adapt because of the role God has chosen for his wife Mary. Usually in life it is the other way around, that a wife has to fit in with her husband's plans. Joseph is the opposite. He has to fit in with God's plan for her life.
It is not popular today to adjust our hopes, desires and plans for the sake of others and God's plans for them. The dominant culture of our times is ego-centric and achievement oriented.  Joseph shows us another way of living God's dream for us, one in which we need not be the centre of attention but we can let God use us to nourish the greatness of others. Are we willing to be heroes in the lives of others, to take on the role famously celebrated by Bette Midler's in her hit song 'Wind Beneath My Wings'? As we reflect today on the important role of St Joseph in story of the birth of Jesus, it is also good to celebrate the generous, unsung people, who are happy to live their lives in the shadows, helping others to shine. I will end with a short prayer.
 We bless God for the example of Joseph,
For his humility before the greatness of God's plan
For his love and loyalty to Mary and Jesus;
For his willingness to change and adapt his life
So that the greatness of other might flourish.
We pray for ourselves that, in our turn,
We might be attentive listeners to God's word
And accomplish God's will in our lives. Amen
Fr Michael McCabe SMA, December 2022
To listen to an alternative Homily from Fr Tom Casey of the SMA Media Centre, Ndola, Zambia please click on the play button below.