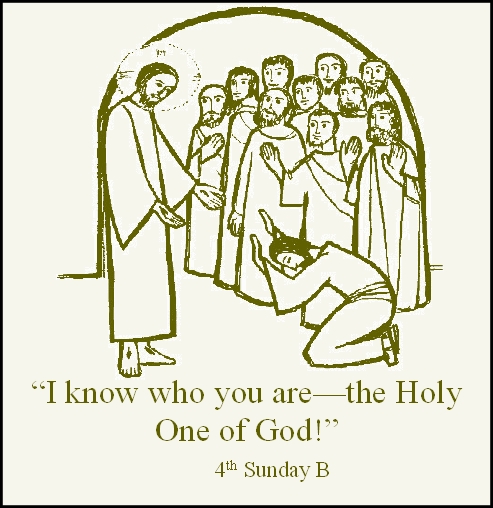 31 January 2021
Deuteronomy 18: 15-20
1 Corinthians 7:32-35
Mark 1: 21-28
The Authority of Jesus: Today's gospel reading makes a clear distinction between the teaching of Jesus and that of the Scribes, the official interpreters of the Torah or Law of the Jews. Scribes never expressed their own judgement or opinion. They always began by citing their authority and supported whatever they said with quotes from the great masters of the past. Furthermore, their focus was on the external observances of the Law rather than its spirit. Their teaching failed to make much impression on the people because it lacked the power of personal conviction, of being grounded in experience. Moreover, they did not always practice what they preached to others (cf. Mt 23:3).
The people immediately recognized that Jesus was a different kind of teacher. Mark tells us that 'his teaching made a deep impression on them, because, unlike the scribes, he taught them with authority' (Mk 1:22). Why did the teaching of Jesus have such an impact on the People? In what way was it different from the teaching of the scribes? The words of Jesus had the power to move people's hearts. They had the ring of truth about them because they came from personal experience. Jesus did not just repeat what others had said. He spoke with his own voice, his own authority. The difference between the teaching of Jesus and that of the scribes is captured very well by the great nineteenth century American philosopher and essayist, Ralph Waldo Emerson, when he wrote:  'One person speaks from within, or from experience, as a possessor of the fact; another speaks from without, as a spectator, as acquainted with the facts on the evidence of a third person. It is no use to preach to me from without. I can do that for myself.'  Jesus taught with authority because he spoke 'from within', not from without. 
About thirty years ago I attended a Summer School on Spirituality in SMA House, Maynooth. One or the speakers made a memorable statement about the latest trend in Spirituality when he said: 'we have moved from the experience of authority to the authority of experience'. We no longer listen to people simply because of their official status or authority. We listen because their lives give credibility to what they say. As Pope Paul VI stated in his famous Apostolic Exhortation, Evangelii Nuntiandi, published in 1975: 'People in our time listen more willingly to witnesses than to teachers, and if they do listen to teachers, it is because they are witnesses' (EN 41).
People listened to Jesus not because he had an official status like the scribes but because he was a living witness to the truth of God's love. He showed this love by the way he lived. People experienced God's mercy and compassion in his actions. He reached out to the sick and less privileged, those who were neglected or excluded by society. In today's gospel we see him freeing a man tormented by an 'unclean spirit'.  This action moves the people to exclaim: 'Here is a teaching that is new, and with authority behind it'. Unlike the scribes, the authority of Jesus' teaching is manifested, above all, by his actions.
We tend to associate authority with people in positions of power in society, like political or religious leaders, people we identify as 'authority figures'. But there is another kind of authority, a moral authority, that has nothing to do with holding official positions of power or influence. It is often best seen in those far removed from the echelons of power, those on the margins of society, the little ones. Think, for example, of the extraordinary moral authority of the Swedish teenage schoolgirl, Greta Thunberg. Her straightforward, no holes barred, speeches about climate change has awakened a somnolent world to the most serious crisis in human history, and touched the consciences of even the most hardened world leaders.
The authority of people like Greta derives not from any office they hold but from the kind of persons they are. It is the highest authority of all and has its roots in the authority of God. Without it, holders of official positions of authority are mere functionaries or mouthpieces.  Jesus possessed this kind of authority in a unique and unequalled way. As his disciples, baptised in his name, and called to be his witnesses, we, too, share in his authority. And it is manifested by the transparent integrity of our lives more than by our words. Even in this time of uncertainty and anxiety, as new variants of Covid-19 continue to hold our trembling world in lock-down, we are called to reflect the authority of Jesus and to be beacons of hope for the people of our time.  This call was movingly expressed by the American Poet Laureate, Amanda Gorman ('a skinny black girl', as she describes herself), in her poem, The Hill we Climb, which she recited at the inauguration of President Joe Biden.  I conclude by quoting the final lines of that poem:
'When the day comes we step out of the shade aflame and unafraid.
The new dawn blooms as we free it,
for there is always light if only we're brave enough to see it,
if only we're brave enough to be it'.
Let us pray for the courage to be the light of Christ for the men and women of our time.                        Michael McCabe SMA
Click on the play button below to listen to an alternative homily from Fr Tom Casey SMA.