Fr. Daniel Monaghan, SMA, recently marked 40 years in the priesthood, all of which was spent in Nigeria.
Daniel (Danny) Monaghan was born on 24th April 1948 into a family of 5 boys and 3 girls in Fireagh, Omagh, Co. Tyrone. He attended the local primary school before proceeding to Sacred Heart College, Ballinafad, (a preparatory school in the West of Ireland where many young aspiring SMA students commenced their secondary studies). On completing his Secondary education there in 1967 Danny entered the Society's Novitiate at Kilcolgan, Co Galway. In September 1968, he proceeded to the Major Seminary at Dromantine, Co. Down for his philosophical and theological studies. In 1968 the SMA decided to take an unprecedented step by sending all philosophy students to continue their studies at St. Patrick's College, Maynooth, Ireland's Major Seminary, established in 1795, where thousands of diocesan priests had studied and were ordained for the priesthood.
Hitherto, all SMA students had pursued their philosophical and theological studies since 1922 at the SMA Major Seminary at Dromantine. The move to Maynooth in September 1969 was in keeping with the post-Vatican II spirit of the time when efforts were being made by missionary congregations to align themselves more with the local Church, following up on the dictum from Vatican II that the 'whole Church is missionary'. On completing his theological studies in Maynooth Danny was ordained to the priesthood by Bishop Edward Daly, Bishop of the Diocese of Derry, in his own parish at Sacred Heart Church, Omagh on Sunday 29th June 1975. A day of great rejoicing for the parish and for his family, Fr. Danny being the second member of the family to become a priest for the Society of African Missions (SMA). His brother, Fr. Mark, was ordained on 17th December 1969.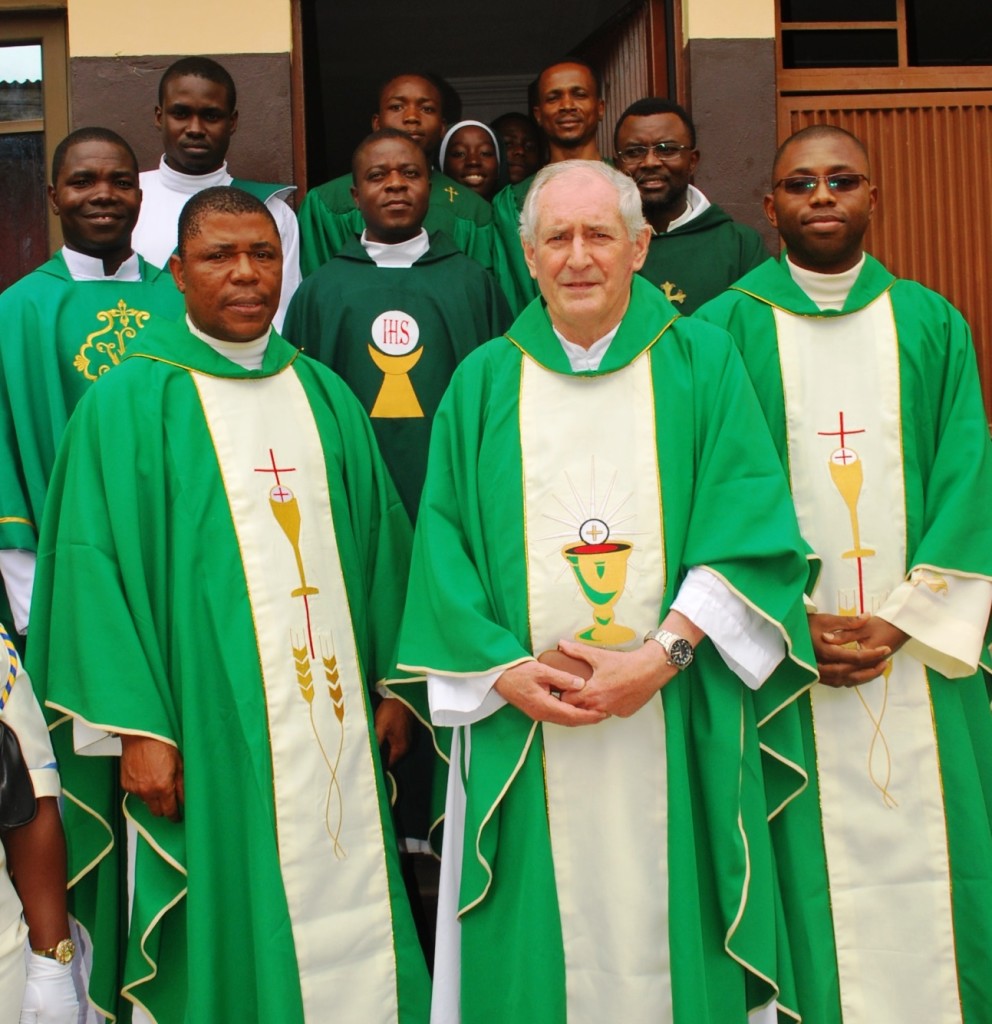 Three months after ordination Fr. Danny left Ireland to take up his first missionary appointment in the Diocese of Ilorin, Nigeria. The area had been elevated to the status of a Diocese in May 1969 under the guidance of its first Bishop, William Mahony, SMA, a native of Derrybrien, Co. Galway who died in 1994.
Fr. Danny's journey to Nigeria was a journey which his older brother, Fr. Mark, had taken five years earlier and we equally rejoice that Fr. Mark remains very active as a SMA missionary in the Archdiocese of Kaduna. On his arrival in Ilorin, at the start of his missionary career, Fr. Danny was appointed to the parish of Oro where he and his three newly-ordained classmates were introduced to missionary life as members of the 'Tyrocinium', under the supervision of fellow Tyrone man Fr. Dan McCauley, SMA who has recently taken up an appointment in Dromantine. The 'Tryrocinium' lasts for six months and facilitates newly-arrived missionaries who spend time studying the local language, learning about local culture and customs while undertaking supervised pastoral work in neighbouring parishes at the weekends.
On completing the 'Tyrocinium' in 1976 his first substantive appointment was to St. Joseph's Cathedral, Taiwo Road, Ilorin where he again linked up with his fellow Tyrone man, Fr. McCauley, SMA, before going on transfer in 1977 to St. Barbara's parish in New Bussa, now part of the Vicariate of Kontagora and no longer part of Ilorin diocese. In 1979 he returned to Ilorin town to take over as parish priest at St. Joseph's Cathedral, an appointment which lasted for nearly eight years, and provided Fr. Danny with a glorious opportunity to demonstrate his competence and commitment as a pastor and an administrator.
After the demands of a busy city parish he was then appointed in 1986 to the quieter, less hectic rural pastures of St. Joseph's parish, Osi where he spent one year before embarking on a one-year Sabbatical in Scotland in 1987. In 1988 he returned to Ilorin township to take up another challenging pastoral assignment and the task of establishing a new parish, St. John the Evangelist parish, Adewole Estate, close to the mini-campus of the University of Ilorin. With his usual diligence Fr. Danny responded to the challenge and with the help of a highly vaunted team of collaborators St. John the Evangelist parish gradually became a much-admired parish and the envy of more established parishes in the Diocese of Ilorin. In addition to the constant demands of parish life he was saddled with the extra responsibility of being chosen as the Vicar General of the Diocese, a task which involved not only dealing with personnel problems on the ground within the diocese but also making journeys to attend various Bishops' Conferences throughout Nigeria on occasions when the Bishop of Ilorin, Bishop Ayo-Maria Atoyebi, O.P. was unable to attend.
One would have thought, having completed several years there helping to build up the parish to the level of St. John the Evangelist, that he might settle for a less demanding appointment. However, his generous spirit refused to allow him to rest on his pastoral oars and his long association with Ilorin town was extended even further when he was appointed in 2003 as parish priest to Holy Family parish, Gaa-Akanbi. The creation of the parish began in the early 1980's under the guidance of Fr. Vincent Brennan, SMA, (a native of Roscommon), at that time Secretary to Bishop William Mahony SMA, and now working in South Africa, followed by Fr. Sean Lynch SMA [now actively retired in Ireland], Fr. Billy Sheridan SMA [now Vicar General in the Vicariate of Kontagora] and Fr. Michael Cahill SMA (who died in February 2012). Fr. Danny succeeded Fr. Cahill as parish priest in 2003 and in typical fashion worked tirelessly to build on the achievements of his predecessors at Holy Family, in addition to developing several outstations in the parish which now constitutes one of 10 SMA parishes in Nigeria. The present parish priest is Fr. Phonsie Flatley SMA, (a native of Kinvara, Co, Galway) formerly assistant to Fr. Alexis Bassoma, SMA, in St. Joseph's, Gowon Estate. Fr. Danny completed his stint as parish priest in Gaa-Akanbi in 2009 when he requested and was granted another Sabbatical leave.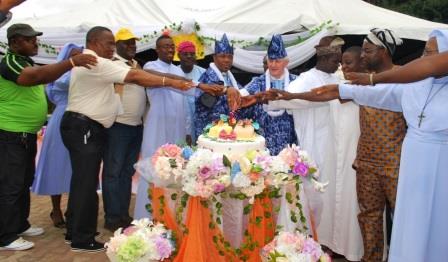 On completing his Sabbatical he returned to Nigeria in 2010 and he was asked to take over as parish priest at St. Joseph's parish, Gowon Estate in Lagos. He thought long and hard before accepting the appointment. It wasn't an easy decision for him to leave the thousands of parishioners in three parishes in Ilorin – people whom he had grown to love and appreciate for so many years – and move to Lagos since it meant that he was also cutting his close ties with Ilorin Diocese, after ministering there for thirty-five years. His typically generous SMA spirit guided him to accept the request from his Regional Superior and he took over as parish priest at St. Joseph's in 2010. As those who know him would expect his prayerful and peaceful pastoral presence is again very much to the fore working with Fr. Peter Makasa, SMA [from Zambia], Fr. Sébastien Akponan SMA [Benin Republic] and in more recent months with Fr. Samuel Madza SMA [Nigeria].
Under his direction and guidance over the past five years St. Joseph's parish has witnessed immense spiritual growth, side by side with far-reaching physical development – a two-storey multi-purpose building which houses a Nursery school, a catering school, offices, meeting halls as well as a state of the art ultra-modern Medical Centre, all of which cater for the local community. Much progress is also evident in the increasing number of outstations that have been established and developed.
A few months ago, on 29th June 2015, the Feast of Ss. Peter and Paul, he marked 40 years as a priest and forty years of close association with Nigeria. We congratulate him on reaching this illustrious sacerdotal milestone in his life and we rejoice with his family and his parishioners in Gowon Estate, not forgetting his legion of admirers in the Diocese of Ilorin and in New Bussa in the Vicariate of Kontagora. We wish him in time-honoured fashion, 'Ad multos et faustos annos!'