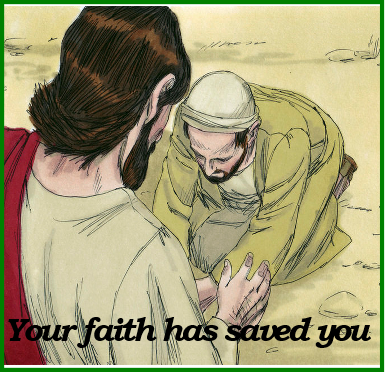 Homily for the 28th Sunday of Year C
Readings: 2 Kings 5:14-17; 2 Timothy 2:8-13; Luke 17:11-19
Theme: Gratitude and Godliness.
I recall my granny telling us as children, when she was trying to get us to wash our hands before sitting down to eat, that 'cleanliness is next to godliness'.  Whatever about the truth of that motto, I am certain that gratitude is godliness. In the words of Isaak Walton, 'God has two dwellings – one in heaven and the other in a thankful heart'. The great Roman Statesman and Scholar, Cicero, regarded gratitude as 'not only the greatest of virtues, but the parent of all others'. Two of our readings today feature striking examples of gratitude. In our first reading we have Naaman, a Syrian Army General, who is cured of leprosy through the intervention of the prophet, Elisha. He goes back to the prophet to express his gratitude. The gospel recounts Jesus' cure of ten lepers, one of whom – a Samaritan –  returns to give thanks.  
Both examples take us by surprise. They manifest the spirit of God present and active in unexpected people and places.  Naaman is a Gentile, a citizen of Syria, a nation hostile to, and hated by, the Israelites. Yet, in his time of dire need, and on the advice of an Israelite maidservant, he seeks out a prophet from Israel, Elisha. Then, humbly obeying the prophet's command, he bathes himself seven times in the river Jordan – a river in Israel – and is cleansed of his leprosy. We are told that 'his flesh became clean once more like the flesh of a little child' (2 Kgs 5: 14). With a heart full of gratitude he returns to Elisha and gives thanks to the God of Israel in words that manifest a spiritual transformation as well as a physical healing: 'Now I know that there is no God in all the earth except in Israel' (2 Kgs 5:15).
The central character in our gospel reading is a grateful Samaritan. He is one of ten lepers healed by Jesus while on his way to Jerusalem to suffer and die.  The point of the story is that this despised 'foreigner' is the only one who returns to thank Jesus and give praise to God. 'Realising he had been healed,  [he] turned back praising God at the top of his voice, and threw himself at the feet of Jesus and thanked him (Lk 17:15-16). This is the second time in Luke's gospel that a Samaritan is presented to us as a model of godly behaviour. The first time is in the familiar story of The Good Samaritan (Luke 10:25-37). Jesus acknowledges that the healing of the Samaritan leper is more than skin deep. He is made whole in body and spirit.  Hence, Jesus says to him: 'Stand up and go on your way. Your faith has saved you' (Lk 17:19). What a great tribute to the faith and godliness of a derided heretic!
Both Naaman and the grateful Samaritan show that genuine gratitude flows from hearts attuned to the presence and action of God's spirit, faith-filled hearts, appreciative of the gifts they have received from God and others. Sometimes it takes a painful experience to make us truly grateful, as was the case with Naaman and the Samaritan. When things are going well, we can easily take our blessings for-granted. Like love, we may have to learn gratitude the hard way and by practice.
A few weeks ago, I watched a delightful movie about finding true love.  Entitled Love comes softy, it is set in the far west region of America in the 19th century and tells the story of a young woman, Marty, who re-discovers love after the tragic death of her husband, Aaron.  She enters a marriage of convenience with a recently widowed rancher, Clark, who is struggling to care for his young daughter, Missy.  Towards the end of the movie, Marty realises that she has come to love Clark. In his response, he says to her: Love isn't always fireworks. Sometimes it comes softy'. Gratitude can be like that, too, coming slowly and softly. When I was a young lad, I took for-granted all I had received from others, especially from my Mum and Dad. Only much later in life did I come to realise and appreciate the sacrifices they made for me and to be truly grateful. Wilferd A. Peterson describes thanksgiving as an art,  the art of thanks-living. I will end this homily with an abbreviated version of his reflection:
'The art of thanksgiving is thanks-living. It is gratitude in action.
It is thanking God for your talents and abilities by accepting them as obligations to be invested for the common good.
It is thanking God for all that other have done for you by doing things for others.
It is thanking God for opportunities by accepting them as a challenge to achievement.
It is thanking God for beauty by helping to make the world more beautiful.
It is thanking God for inspiration by trying to be an inspiration for others.
It is thanking God for health and strength by the care and reverence you show your body.
It is thanking God for each new day by living it to the fullest.
It is thanking God by giving hands, arms, legs, and voice to your thankful spirit.
It is adding to your prayers of thanksgiving, acts of thanks living.'
So, we pray in the words of William Shakespeare: 'O Lord, who lends me life, lend me a heart replete with thankfulness'. Amen.
To listen to an alternative Homily from Fr Tom Casey of the SMA Media Centre, Ndola, Zambia please click on the play button below.