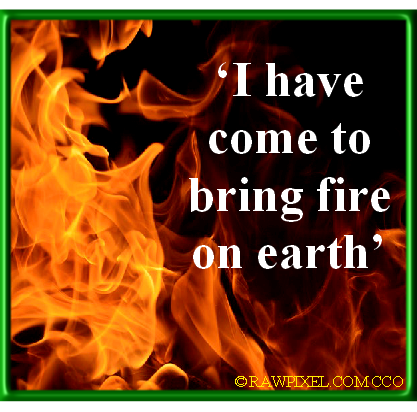 Sunday, 14 August 2022
Jeremiah 38:4-6, 8-10                    Hebrews 12: 1-4, 8-19, 9-11                    Luke 12:49-53
Theme: Setting the world on fire: Jesus' mission and ours.
In today's gospel reading, Jesus says: 'I have come to bring fire on earth, and how I wish it were blazing already' (Lk 12:4). Jesus was not a spiritual guru teaching timeless spiritual truths. He was the Messiah sent by God to finally establish his rule of justice, peace, truth and love, first in Israel and then, through Israel, among all nations. As manifested in his words and deeds, this would mean good news for the poor, healing for the sick, and liberation for the enslaved and oppressed. Jesus' mission was to launch a revolution. He wanted to set the world on fire, but the fire he brought was the fire of an unquenchable and unconquerable love, not the fire of hated or division. His entire ministry, especially his outreach to the poor and marginalised, represented an absolute reversal of the scale of values which held sway in first century Palestine. He knew he would meet with opposition and even rejection from the upholders of the unjust status quo, the powerful religious and political elites of his day. It was this awareness that triggered his statement in today's gospel that he had come not 'to bring peace on earth…but rather division' (Lk 12:50).
This blunt statements seems shocking, contradicting everything we know about Jesus. Nothing could have been further from his mind than to foment violence and division. He was no rabble-rouser as were so many revolutionaries before and after him. On the eve of his passion and death, when Peter took out his sword to defend him as he was being arrested, Jesus rebuked him sternly, saying, 'Put your sword back in its scabbard; am I not to drink the cup that the Father has given me?'(Jn 18:11).  Jesus' way of establishing God's reign on earth was not the way of violence. He emphatically rejected the politics of violent revolution adopted by the Zealots (the IRA of his day). He also rejected the strident nationalism of the Pharisees which created all kinds of divisions among the people. He chose instead the path of redemptive suffering. His way was to turn the other cheek, to walk the second mile and, ultimately, to take up the cross. He defeated evil by letting evil do its worst to him, by suffering it in love and forgiving his enemies. Jesus wanted peace, but not peace at any price, not the false peace achieved by violence or by compromise, and he was willing to pay the price of being faithful to his kingdom mission to the bitter end.  
Our second reading today from the Letter to the Hebrews exhorts us to imitate the zeal, courage and fortitude that Jesus showed in the face of 'opposition from sinners' (Heb 12:3). As disciples of Jesus, we are called to continue his mission in the service of God's reign. Like him, we will meet with opposition and even rejection. We may not have 'to keep fighting to the point of death' (Heb 12:4), but we cannot avoid the cross in one form or another. Our first reading recalls the suffering endured by the prophet Jeremiah during a time of great upheaval in Israel. Accused of undermining the morale of the people of Israel, he was condemned and thrown into a deep well where he would have died but for the merciful intervention of a foreigner (a Cushite), Ebed-melech. Despite persecution and continued threats to his life, Jeremiah remained faithful to his uncomfortable vocation as God's spokesperson.
We have more recent examples of prophets who spoke 'truth to power', to borrow a phrase from Bayard Rustin, and suffered for it. The heroic witness of Archbishops Helder Camara and Oscar Romero is well known. Less well known is the witness of a young Irish priest who worked in the Vatican Diplomatic service for many years. His name was Kevin and, a few weeks ago, I had the privilege of reading a moving account of his life and untimely death, written by his brother, Jerome. Kevin worked in many countries, including hot spots like Syria, Argentina and Cuba. He was the secretary of the Papal Nunciature in Buenos Aires from 1976 – '79, years when thousands of people were 'disappeared' (tortured and killed) by the military junta that followed the collapse of the Peron government.
Kevin drew up lists of the missing and asked the army generals where they were. According to Robert Cox, an American journalist working for the Buenos Aires Herald at the time, Kevin came to be hated by the generals. They taunted him, dubbing him 'the little red priest'. I am reminded here of the words of Helder Camara, 'When I give food to the poor, they call me a saint. When I ask why they are poor, they call me a communist'. But Kevin was not daunted. Speaking to a friend about his actions on behalf of the 'disappeared', he said: 'Now I know why I became a priest.' Finally, following an apparent attempt on his life, he was withdrawn from Argentina and given another assignment. Yes, there is no escaping the cross if we are to be faithful disciples of Jesus. But we should not lose heart but persevere 'in the race we have started', keeping our focus on Jesus 'who leads us in our faith and brings it to perfection' (Heb 12:2).
Michael McCabe SMA, Cork, August 2022
To listen to an alternative Homily from Fr Tom Casey of the SMA Media Centre, Ndola, Zambia please click on the play button below.