The Cork Sick Poor Society, probably the oldest charitable society in Cork City, benefited from a Christmas Carols Service held at St Joseph's SMA Parish, Blackrock Road, Cork on Sunday, 16 December 2012.
"It was founded in 1853 by John Francis Maguire to give assistance to victims of the great famine. Since then social conditions have improved but there are other problems. In 2012 so many people in our community can become marginalised due to unexpected circumstances. Families often find themselves under severe financial pressure due to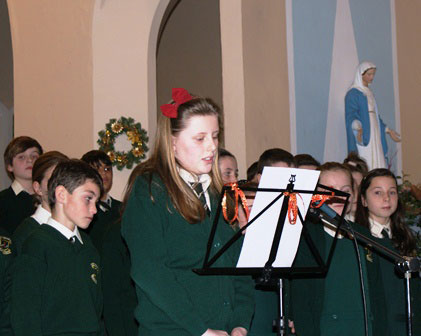 unemployment, illness, bereavement and harmful addiction, separation, unequal access to opportunities and other forms of discrimination. The task of the Sick Poor Society is to reach out to such families who are in these difficult circumstances and to provide them with material and other assistance. This work is undertaken on a voluntary basis and all monies are used solely for the benefit of needy families" was how Kay Burke [pictured left] described the charity during the Service.
Pupils from Crab Lane Primary school, with their Principal, Denis O'Sullivan and assisted by Aoife McCarthy, sang some Christmas Carols before 6th class pupil, Hannah Tuohy, [on right] read the Nativity Story.
The Parish Choir, under the baton of Elaine Kelly and accompanied by Mairéad Scully, included in their repertoire 'Said the little lamb to the shepherd boy', 'Have yourself a merry, merry Christmas' and 'We wish you a Merry Christmas'. Mary Heanue, soprano, sang 'O Holy Night' which drew the largest round of applause from the 150 or so who attended the hour-long Service.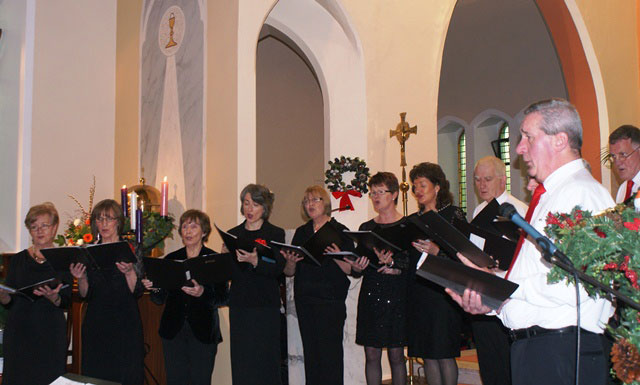 In her Christmas Reflection, Kay reminded us that it was A Christmas Carol, by Charles Dickens, which revived the Christmas celebrations we are familiar with today. In it, Dickens describes Christmas as a time for joy and giving. In the following years Christmas stories became more and more popular together with the Christmas tree, gifts and the overall Christmas spirit.
The Gift of the Magi, by O Henry, epitomises the Christmas spirit: loving and giving. It goes thus:
'Once upon a time there was a young couple Jim and Della who had not much
money but they desperately wanted to buy each other a Christmas present. As they were a very happy couple, they knew each other's greatest wish – Della had beautiful long hair which reached below her knees and she longed to be able to buy tortoise shell jewelled combs to keep her hair in place. Jim had a gold watch which belonged to his father and grandfather but he had no gold chain from which to hang it. He had it on an old leather strap – he used to be so embarrassed if he was asked the time and had to pull his watch out of his pocket.
It was Christmas Eve and despite months of saving, Della had less than 2 dollars – which came no where near buying a gold chain for Jim's watch. Then she got an idea and set off for the new French hairdresser. "Will you buy my hair," she asked? "Yes," said Madame, "and I will give you 20 dollars for it." "Give it to me quick", said Della and the deed was done! She set off immediately and after some time found a chain that would be worthy of THE watch. It cost 21 dollars. She purchased it and hurried home to prepare their Dinner wild with excitement.
Jim arrived home. When he saw Della he sat down, in complete shock. "Your hair! Della," he gasped, "what has happened to it?" "Don't be upset", she replied, "my hair will grow again. I sold it so that I could buy you a watch chain. Give me your watch and I will attach it." Jim put his head in his hands and smiled. He handed Della a package inside which were the handsome jewelled combs. "I sold my watch he said in order to buy the combs for your beautiful hair."
Christmas is the time for us to think of people less fortunate than ourselves. This is what the volunteers of the Cork Sick Poor Society do.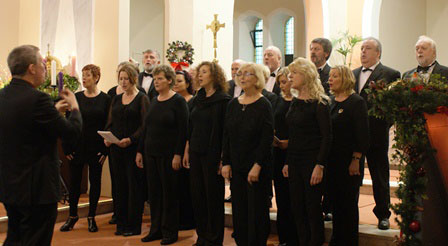 Concluding her reflection, Kay invited us to pray:
"In the midst of all the excitement, cards, shopping and parties please make us more understanding of the lack of comfort in so many people's lives."
Christmas is also a time to give thanks for the gifts the Lord has given us.
"We pray God source of all life, help us to understand that all we have is a gift from you. May we be good stewards of all that has been given to us and may we be generous in sharing all your gifts with others."
The Crosshaven Singers, with their Choir Master, Gerard O'Connell brought the Carol Service to an end with several Carols and all three choirs reassembled to sing Silent Night before the Parish Priest, Fr Tommy Wade, thanked all concerned with the preparation for the Carol Service.