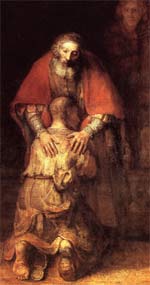 Readings for
12th Sunday of Year (A)
25 June 2017
Jeremiah 20:10-13
Psalm 68
Romans 5:12-15
Matthew 10:26-33
A Thought for the day …
The Gift of Forgiveness….
'Don't wash your dirty linen in public' is a proverb that has been part and parcel of our lives and has often caused a lot of anger and hurt in later life.  I would say that much addictive behaviour results from keeping hurts secret and allowing them to eat away at our happiness.
Jesus tells us in today's Gospel to bring these secrets to a healing place and give them light for it is only in the light that they can be healed.  Of course we are not talking of revealing personal and confidential matter to all and sundry but there is always a confidential place where any person can unburden themselves and come away feeling a lot lighter.
There is a multiplicity of counsellors and psychotherapists around where many people go to unburden themselves and that is good. But long before the advent of these specialists we Catholics had the Sacrament of Penance and reconciliation.  This sacrament is certainly a place where we can talk about all our hurts, whatever they are, in the sure hope that we will receive healing and the gift of letting go of our resentments.
Holding on to resentments is one of the ways that we isolate ourselves from others.  We re-live past hurts and when they are re-lived they take on a life of their own. The longer they remain in the darkness the more they continue to grow into a giant of a beanstalk.  But when they are brought into the light as they are in the Sacrament of Penance they lose their power over us.  As always the Word of God sets us free and the reconciliation we receive invites us to be witnesses to the power of forgiveness.
– Fr Dan Cashman sma
Wilton, Cork