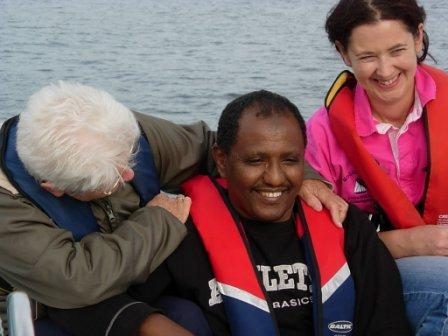 WHAT DOES COIS TINE DO?
In the past Cois Tine provided the wide range of services listed below. At present services have been cutrailed due to a number of reasons i.e.

the decline in demand for services due to the fact that very few new asylums seekers are arriving in Ireland. As a result, over the past few years, the need for many of our services such as a drop-in centre, training and counselling reduced greatly.

A decline in the availability of funding has also made providing services more difficult.

At present therefore Cois Tine's services are limited to outreach visitation to Direct Accommodation Centres in the Cork City area. This work is undertaken by a small group of volunteers and aims at befriending, providing information and emotional support. To a lesser extent than before we support some training and multicultural events and also maintain our website.
We still have offices at St Mary's Pope's Quay and are delighted that we have been joinded in the same building by NASC- the Irish Immigrant Centre. In these difficult times this is a logical and practical development that will allow us to work more closely, to utilise scarce resources more effectively and also develop new services in response to client needs.

In the near future we will review our service provision and, if both human and financial resources are available would like to focus on pastoral outreach to Africans living in the community. This work will be undertaken in cooperation with other local agencies and faith groups.

___________________________


In the past Cois Tine provided a range of pastoral support services for Asylum Seekers and Refugees esepcially those of African origin. For convenience these services are classified under the headings of Social, Psychological and Spiritual.
Social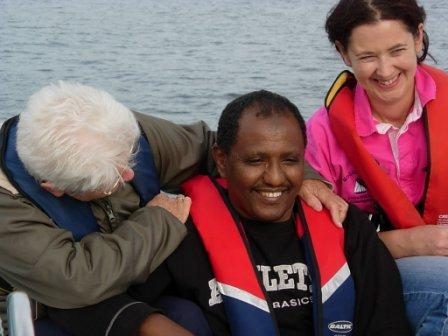 • Drop-in Centre: Open Tue-Thur, 10.30am–4pm.
• Meeting space/rooms: Open weekdays, Mon-Fri, some evenings and weekends.
• Advocacy: On behalf of individuals – help in dealing with officialdom, agencies etc.
• Drumming Circle: With a multicultural membership, meets weekly.
• Mna Cois Tine (Cois Tine Women's Group). Meets every two weeks.
• Events/Parties/Trips: At various times and to mark various occasions.
• Cork African Women's Group: Meets at least once a month an more often when necessary.
• Computers/Internet Access: Available for immigrants during Drop-in Hours.

All the above have elements of recreation, practical/emotional support and assist in the process of integration. We view them as an integral part of our ministry to welcome the stranger.
Training Courses: These take place throughout the year and cover topics such as:
o Computer skills: Group Courses and individual tuition.
o Personal development.
o Women's Health.
o Organisational Development.
o Pastoral care: (for volunteers working with Immigrants).
Training aims to increase skills, to help immigrants integrate into the local community and to provide asylum seekers with constructive activities while they await decisions on their asylum applications.

Awareness Raising/Promoting Integration: Through the following means –
o Web Site: Highlighting justice issues affecting Immigrants.
o Networking/Committees/Steering Groups: Providing a Christian perspective with the aim of ….promoting inclusion, integration and the welcoming of the stranger.
o Public/Church Events: Providing input and presentations on issues affecting immigrants.

We believe that these activities are important to making the inclusion of immigrants in our community and Church a normal and accepted part of life.
Support and facilitation of Immigrant Community Groups: By providing –
o Meeting facilities/rooms: Allowing new community groups to organise and function.
o Extended Opening hours: Evenings and weekends by arrangement.
o .Training: Especially in organisational development.
The overall aim of these activities was to empower immigrant groups and to increase their capacity to organise and to engage in active citizenship. In 2009 twenty-three groups used Cois Tine for their meetings and activities.
Psychological
o Counselling: Three trained Counsellors provide a service at Cois Tine.
o Alternative therapy: Massage is provided especially for immigrants who cannot engage with the Counselling process.due to language.difficulties.
o One-to-one contact with Immigrants: Giving people time and individual attention has always been at the centre of Cois.Tine's work. This takes place during pastoral outreach care work or in our premises. Over 5,000 visits were made to our premises in 2009. Contact was made with many more people during outreach visitation of.Accommodation Centres, Homes and Hospitals.
o Befriending: Cois Tine is open to maintaining contact with clients for as long as they need.
These services are all about welcoming and caring for individuals by providing them with the emotional support and information they need to cope with the burdens they have brought from their homelands, the stresses of the asylum system and the problems of settling into a new culture and place.

Spiritual
Cois Tine provides spiritual support for Catholic immigrants and is respectful of the religious traditions of non-Christian immigrants. Catholic immigrants are supported through:
• Liturgies.
• Home visitation/spiritual support.
• Liaison with Parishes.
• Spiritual Direction.

Through the Spiritual, Psychological and Social services outlined above Cois Tine provides pastoral support aimed at helping immigrants as they begin their lives in Ireland.