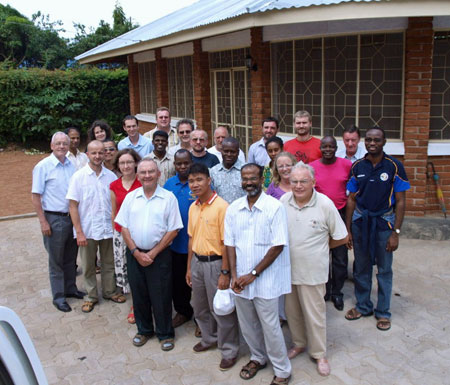 There are 16 priests (14 SMA & 2 Priest Associates) and 5 Lay Associates working in Tanzania in 2012
Statistics for the United Republic of Tanzania are as follows:
Area: 945,000 sq. km.
Population: 36 million.
Population Growth Rate: 1.7%
Capital: Dar es Salaam
Head of State: President Jakaya Kikwete
Independence:
Tanganyika: 9 December 1961;
Zanzibar: 19 December 1963;
Tanganyika united with Zanzibar, becoming Tanzania: 26 April 1964
Ethnic Groups:– native African 99% (of which 95% are Bantu consisting of more than 130 tribes), other 1% (consisting of Asian, European, and Arab)
Religions: mainland – Christian 30%, Muslim 35%, indigenous beliefs 35%; Zanzibar – more than 99% Muslim.
Regional Superior:
Fr Janusz Machota SMA (Poland)
@
Vice-Regional Superior:
Fr John Gallagher SMA (Ireland)

SMA Regional House
PO Box 10936
Mwanza
Tanzania
Tel: +255 (0)28 2560296

16 priests work in Tanzania:
Irish Province – 4
Strasbourg District – 1
Bight of Benin District-in-formation – 2 (1 each from Benin and Nigeria)
Great Lakes District-in-formation – 4 (2 each from Kenya & DR Congo)
Philippines District-in-formation – 2 priests and a seminarian on Pastoral Year (Stage)
Polish District-in-formation – 3. Two of these are Associates of the Polish DF.
5 SMA Lay Associates complete the SMA Team in Tanzania
— 2 each from the Netherlands and Poland and 1 from the USA.
15 SMA priests work in 6 parishes:
Arusha Archdiocese – Archbishop Jospahat Lebulu (since 1999)
– Frs John Gallagher (Mayo, Ireland) and Premsyk (Poland) work in the rural parish of Moita Bwawani;
– Frs Cyril Imohiosen (Nigeria), Tomasz Zielinzki (Polish Associate) and Bp Noel O'Regan (Cork) work on the outskirts of Arusha city in the parish of Moshono.
Mwanza Archdiocese – Jude Thadaeus Ruwa'ichi OFM Cap (since 2010)
– Frs Michael McKee (Tyrone, Ireland), John Kilcoyne (Mayo) and Tomasz Rossa (Polish Associate) work in the rural parish of Ngudu;
– Frs Tony Gill (Dublin) and Jean-Baptiste Vodounkpé (Benin) and Rémy Matadi (DR Congo) work in Pasiansi parish, Mwanza City.
Shinyanga diocese – vacant
– Frs P J Kelly (Lawrencetown, Co Galway) and Julius Chelanga (Kenya) work in the rural parish of Kilulu;
– Frs Raulyn Estalane (Philippines), Josaphat Nzioka (Kenya) and Emmanuel Mafumba (DR Congo) work in Mwandoya parish.

SMA Administration
Fr Janusz Machota (a member of the Polish District-in-formation) is the fulltime Regional Superior and assists in the surrounding parishes in Mwanza. He is the third Regional Superior of the SMA team in Tanzania since its foundation.
The Guestmaster at the SMA Regional House is Fr Robert Wolff (Strasbourg) who also helps in neighbouring parishes.
SMA Vocations in Tanzania
The SMA Vocations Director is Fr Rémy Matadi who also works in Pasiansi parish, Mwanza.
At present the SMA has four Tanzanian priests: Fr Ephrem Kway (on mission in Nigeria), Fr James Shimbala (on the staff of the SMA International Formation Centre, Calavi, Benin Republic), Fr Joseph Marwa, responsible for the Great Lakes DF Preparatory Programme in Kawbe, Zambia and Fr Edwin Mmasi, ordained in 2010, who is on mission in Kenya.
There are presently eight other Tanzanian SMA seminarians. Please keep all of them in your prayers.
History of Mwanza Archdiocese:
10 April 1929: Vicariate Apostolic of Mwanza Erected
25 March 1953: Created a diocese
18 November 1987: Erected as an Archdiocese.
The estimated population of Mwanza in 2004 was just under 3 million people. Of that figure it is estimated that 29.7% are Catholic (875,000)

Bishops who served in Mwanza:
Anton Oomen MAfr was Vicar Apostolic (1929 – 1948)
Joseph Blomjous MAfr succeeded him in 1950 and became the first bishop of the Diocese of Mwanza on 25 March 1953, serving in that capacity until 15 October 1965.
Bishop Lwamosa Butibubage succeeded as the second Bishop of Mwanza from 15 January 1966 until 18 November 1987.
Anthony Mayala was Archbishop of Mwanza from 18 November 1987 until his death on 19 August 2009.
The present Archbishop, Most Rev Jude Thaddaeus Ruwa'ichi O.F.M.Cap, was appointed on 20 November 2010 and received the Pallium from HH Pope Benedict XVI on 29 June 2011, the 60th Anniversary of the Pope's Ordination as a priest.

SMA in Mwanza
Dutch Lay Missionary, Marga v Barschot, leads a Street Children project called Upendo Daima (means "unconditional love" ). She has been a missionary for eight years.

US Lay Missionaries, Suzette Kelly and Josianne work in the Shaloom Aids Project – kindergarten and after-school tutoring; computer learning. There are approximately 2,000 clients (patients, their family members and orphans). Ben Grace is conducting Healthcare research.