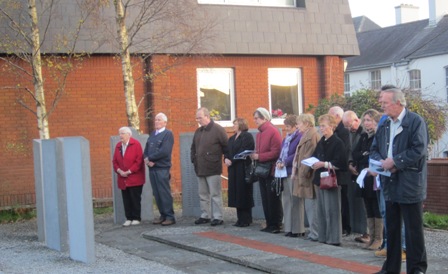 SMA Remembrance Day 2011 – Wilton, Cork
The annual Mass to remember the deceased SMA members and their families was celebrated on Saturday, 5 November 2011, in St Joseph's SMA Parish Church, Wilton, Cork. Masses will also be celebrated in other SMA venues throughout the country. Though most SMA are buried in Wilton cemetery (314) there are also a number buried in other parts of Ireland with their own families. Two SMA priests, Fathers Paul Simon and J D Barrett and two seminarians are buried in St Joseph's cemetery in Ballyphehane, Cork. This cemetery was once the property of the SMA.
A large number, especially in the early years of the Society, are buried in different parts of Africa, from Egypt in the north to Zambia in the south; from Nigeria and west to Liberia. The names of 163 of them are inscribed on 5 large Memorial stones in Wilton cemetery and some of their relatives gathered there during the Blessing of graves after the Mass.
The SMA Founder, Bishop de Brésillac and his first band of missionaries who were buried in 1859 in Freetown, Sierra Leone, are now reburied in the SMA House in Lyons, France. Memorial Stones stand in the Wilton cemetery to remember those who are not buried in Cork. Our picture shows the relatives of some of those SMA priests and brothers who are buried elsewhere.
Fr Denis Collins SMA was the Chief celebrant, assisted by Fathers Leo Silke SMA, Charles Bundu (from Shinyanga diocese, Tanzania) and Dan Cashman SMA. The church was well-filled with relatives and friends of deceased SMA bishops, priests, brothers and seminarians.
Sr Thomasina Hughes OLA (pictured left), a niece of Bishop Thomas Hughes SMA, first bishop of Ondo, Nigeria, read the second reading.
Read the homily of Fr Collins here.
Mark & David Healy presented the bread and wine for use in the Mass. In the cemetery ceremony afterwards they stood at the graves of their grand-uncles, Fr Jimmy (died 3 April 2011) and Fr Hugh.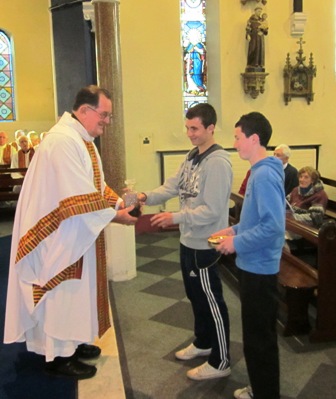 These young lads had other things they could have done this afternoon, as their father reminded me, 'they're normally at hurling at this time'! I'm sure Fr Jimmy and Hugh are proud of them for thinking of them.
Some of the congregation were rememebring relatives they had never known, who had died in the 1920's and 1930's. It was a wonderful opportunity for our SMA priests to meet relatives of decased colleagues and to swap stories of their brother, uncle, grand-uncle or cousin.
Recalling that some of our SMA members are buried far from home, Fr Collins quoted the founder of modern Turkey, Mustpha Ataturk: "
At the end of the Mass all processed to the SMA community cemetery where more than 200 SMA's are buried for a Service of Blesing.
In a touching reminder of their loved ones the congregation gathered at the headstone of their particular relative and they spread throughout the cemetery. Fr Liam O'Callaghan SMA and his niece stood at the grave of Fr Liam's brother, Denis, who was still a seminarian when God called him home. Close by was a nephew of Fr Desmond Ryan, who died in 1926. During the blessing of the graves, Fr Denis Kelleher, from Cloyne diocese and brother of the late Fr Richard Kelleher SMA, led the congregation in a decade of the Rosary.
After the ceremony, all enjoyed a warm cup of tea and snacks in the Wilton Parish Centre. Thanks to all who prepared such a wonderful ceremony and get-together for the wider SMA family.