Aspects of SMA life in Zambia
SMA Formation House, Kabwe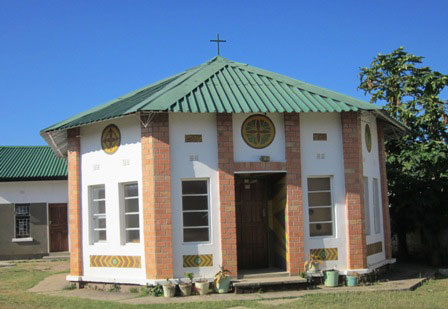 The 1983 SMA General Assembly decided to welcome vocations from African countries where the Society was established. In 1994 it was decided to establish a Formation House in Kabwe so that local Zambians who wanted to be SMA missionaries could attend the local Major seminary for Philosophy studies. Two Dutch SMA priests – Bernard Wieggers and Win Jansman – came to Kabwe town and established a presence in a house bought by the then SMA Regional Superior, Fr P J Gormley. Since then, eleven Zambians have been ordained in the Society.
Since 2011, the focus of the Formation House has changed. It will no longer cater for those doing Philosophy but will be the centre for the SMA Preparatory Programme for Eastern / Central Africa. Students from DR Congo, Kenza, Tanzania and Zambia will begin their formation in this house.
On completion of the one year programme, those accepted for the SMA will go to the SMA House of Studies in Nairobi for Philosophy studies. There are eight students doing the 2010 / 2011 Preparatory programme – five from Zambia, two from Tanzania and one Kenyan.
The Superior of the Formation House and sole formator is Fr Joseph Marwa (from Tanzania). He is assisted by other SMA who come to the House to provide different courses to the seminarians.
Postal address: SMA Formation House, P O Box 80692, Kabwe
Friends of Africa
Mr Barry Trainor is a Social Worker from Warrenpoint, Co Down. He works with homeless children and vulnerable women in the Kitwe area. This project is supported by the Friends of Africa group in Ireland.
Mass Media
Fr Tom Casey (from Emly, Co Tipperary) worked for many years in Ibadan Archdiocese, Nigeria. After transferring to Zambia, Fr Tom became involved in Mass Media. Thanks to his own skills and training at the Kairos Centre (SVD Missionaries) in Maynooth, he now trains Zambians to make Radio programmes and he produces DVD and Video programmes for SMA animation purposes. He divides his time between the SMA Regional House in Ndola and his parish in Mufulira, about 2 hours drive away, which has four outstation villages.
Twafwane Village
This self-help project caters for former Street children and vulnerable women. Since 2008, thirty-two houses have been completed on land given by the local District Council. It caters for four different groups: street children, widows, those living with HIV / Aids, and vulnerable women. Around each house there is grouns for residents to plant some vegetables and flowers.
Chaplaincy work, Ndola
Fr Don Burke (from Waterford City) celebrated the 50th Anniversary of his ordination in 2011. He has several chaplaincies in the Ndola area.
Fr Cathal McKenna (from Omagh, Co Tyrone) is Guestmaster at the Regional House. He is also Chaplain to the Charity Sisters and to the John XXIII Lay Group.
St Augustine's Major seminary, Kabwe
There are two SMA priests on the staff of this seminary: Fr Pauric Kelly (Cornamona, Co na Gaillimhe) is a Spiritual Director and Fr Michael O'Shea (Cork City) teaches Church History and English.