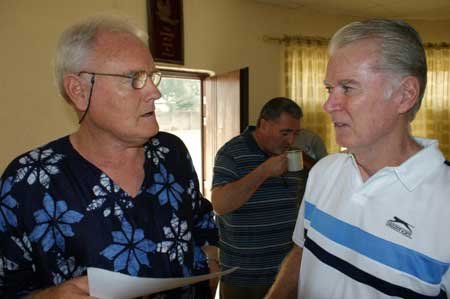 66 SMA priests and deacons have just concluded a two day meeting in Abuja to assess their missionary work and to make plans for the future. The setting for their gathering was the DRACC Centre in Abuja. The meeting, due to begin on Tuesday, did not begin until the following morning as many travelling from Lagos experienced flight delays. Fr Emmanuel Andoh SMA was the Facilitator for the meeting.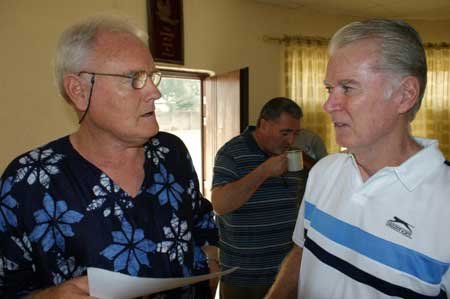 Fr Maurice Henry and Fr Frank McGrath in earnest conversation.
There are SMA members from 6 different parts of the Society attending: the three Districts-in-formation (DF) based in Africa (Bight of Benin, Gulf of Guinea, Great Lakes), the Indian District-in-formation and the British and Irish Provinces.
Of particular interest to all was the progress of the Bight of Benin DF as it encompasses Nigeria as well as Benin, Central African Republic and Niger. Fr Basil Soyoye is the Superior of this unit.
After an Opening Mass led by Fr Donald Mulenga SMA (ordained in Zambia in 2009 and now on mission in Nigeria) the Charge d'Affaires at the Vatican Nunciature, Msgr Jean Sylvain Emien, addressed the meeting and expressed his joy to the SMA members present as he traces the inspiration for his priestly vocation to the SMA missionaries he knew in his home country, Ivory Coast. Msgr Emien recalled that Bishop de Bresillac opted to go to Africa after reading the signs of his times. He invited the SMA today to continue to read the signs of the times and adapt our missionary work to meet them.
The proposed uniting of the two SMA Regions in Nigeria shows that, as regards our administrative structures, we are indeed responding to that challenge.
Fr Tom Hayden SPS was invited to address the gathering on Intercultural Dialogue. Fr Hayden reminded all that, with regard to our living together as SMA members, we must continually work at this, despite 150 years of experience.
Other matters which the participants discussed
1) Vocations & Mission animation work going on in Nigeria;
2) Developments in the Bight of Benin District-in-formation.
3) The different missionary apostolates of the SMA in Nigeria were evaluated and some plans for the future decided on.
In October 2010 the two SMA Regions (presently based in Abuja and Ibadan) will be merged into one Region for Nigeria. Sr Rita Schwartzenburger OP spoke on the implications and challenges etc of this development.
The Headquarters for the new Region (to be erected in October 2010) will be Abuja where a new SMA House is under construction with Father Maurice Henry SMA supervising the work.
(Thanks to Fr Basil Soyoye for assistance in the compiling of this article)