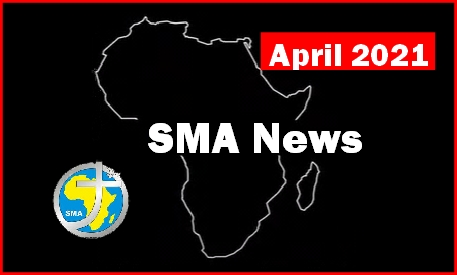 Welcome to the latest edition of the monthly SMA News.  Each month this international programme reports on SMA events and activities from around the world.  It is coordinated by the SMA International Media Centre in Rome and is produced in both French and English.  The English version of the Programme is edited and produced here in Ireland by Mr Paul O Flynn and narrated by Fr John Dunne SMA. 
This edition contains reports from SMA's working in Liberia, Tanzania and the Democratic Republic of Congo.  It also reports of the recent visit of Fr Antonio Porcellato,the SMA Superior General to D R Congo. 
To view you may be asked to accept cookies on the bottom of your screen.
Liberia:  A report about the work and ministry of Fr Garry Jenkins SMA with blind people in Bomi County.
Tanzania: News of the Tanga Project supporting Albino young people in Mwanza.
D R Congo: A story about life in an SMA Formation House celebrating 25 years since its foundation.
Should you have problems trying to view this video copy this link into your address bar.  https://youtu.be/C10E-FjSAiQ