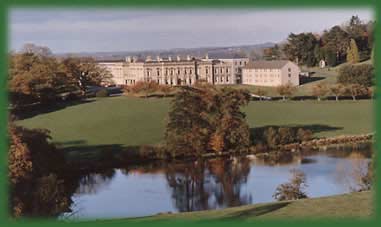 SMA House, Dromantine, Newry, Co. Down, BT34 1RH 
 A warm welcome from the SMA community awaits all visitors to Dromantine
Dromantine is the location of the magnificent Dromantine Retreat & Conference Centre.  It also is a centre for missionary animation and a residence for retired SMA priests.
Dromantine is located about 6 miles north of Newry and just off the Newry – Belfast Road. The House and Grounds are exquisitely situated in some of the most beautiful countryside of County Down.
The SMA African Link welcomes visitors, school groups, families to a wonderful collection of African art – carvings, masks, paintings and cloth. 
Retreat & Conference Centre

– 23 double and 42 single rooms
– all rooms en-suite
– facilities for Internet connection
– large conference hall
– 2 smaller lecture rooms
– many meeting rooms
– chapel and prayer room
– coffee dock

These Facilities, the Grounds and the location make it ideally suitable for Retreats, Chapters and Conferences. Contact the Centre for Details and Booking Form here.

Dromantine is a source of much-needed funding for the Missionary Work of the SMA.

Missionary Association Cards
Making use of our SMA Missionary Association Cards is one important way of supporting our work in Africa.

The Family Vocations Community (FVC) is a long-established powerhouse of prayer and funding for the training of SMA missionaries worldwide.

Summer Camps are held in July and August each year for the children of FVC members. This aims to generate interest in the missions among young people.

For further details of any of the above contact the Main Office on (028) 30821964.

History of Dromantine:  SMA House, Dromantine was acquired by the Society of African Missions in 1926. It was purchased because the SMA needed to accommodate the growing number of students who were joining the Society to become missionary priests.  For 45 years it was the Major Seminary of the SMA.  In 1972 the seminarians transferred to St Patrick's College, Maynooth, the National Seminary for Ireland, and Dromantine continued to be a centre of missionary animation.
 Personnel
 Address

Fr Damian Bresnahan   – Leader & Conference Centre Director
Fr Dan McCauley – FVC Director
Fr Hugh Lagan – On-going Formation 
Fr Desmond Corrigan – Retreat Resource Person

Fr Eddie Deeney – Retired
Fr. Peter Thompson – Retired
Fr. Cathal Mc Kenna – Retired
Fr. Hugh O' Kane – Retired 

Society of African Missions
Dromantine, 96 Glen Road
Newry, Co Down. BT34 1RH

Tel: (028) 3082 1224
Fax: (028) 3082 1963
email: [email protected]