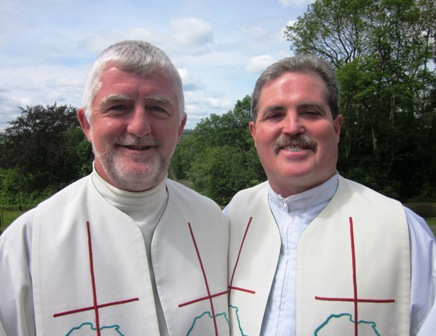 Silver Jubilee Celebrations in Dromantine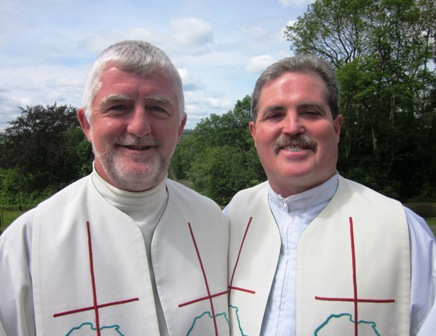 At the conclusion of the annual SMA Retreat in the Dromantine Retreat & Conference Centre, Newry the Irish Province marked the Silver Jubilee of the ordination to the priesthood of Fathers Eugene McLoughlin (on right of our picture) and Noel O'Leary (on left). More than 50 priests, led by the Provincial Leader, Fr Fachtna O'Driscoll, joined in the concelebrated Mass in St Theresa's Oratory.
Fr Con Murphy was the Retreat preacher and, coincidentally, was the Provinical Leader who accepted the Permanent Commitment of both Jubilarians in 1985, a year before their Ordination.
We later joined the local SMA community for a wonderful meal prepared by the Dromantine staff. Thanks to one and all for a wonderful day!
Fr John Kilcoyne SMA was invited to preach at the 25th Jubilee celebration Mass on the Feast of the Sacred Heart, 1 July 2011 in Dromantine. Fr Eugene and Fr Noel were joined by more than 50 SMA priests in the concelebrated Mass.
Apart from the privilege of being at this Jubilee Celebration today and participating in the achievements of Eugene and Noel of attaining 25 years of commitment to SMA missionary priesthood, I cannot help but feel a strong sense of personal continuity in the occasion – and I suppose that in itself says something of the times we live in…
The last such celebration in our province was in 2008 and it was the 1983 class, that of Kevin O'Gorman and myself. There was a three year gap to the next Ordinations in the Irish Province, those of Eugene and Noel.
And today, 25 years later, we celebrate with gratitude the gift of their priesthood, their contribution to SMA priesthood and mission – in Ireland, Liberia, Zambia and Nigeria. They have in different capacities worked hard at fulfilling the Mission they were entrusted with 25 years ago, and pray that the Lord continues to bless them in their ministry
And indeed in the light of this so rare celebration we cannot all but pause and look at where we all are today in a very new reality presaged by that relatively short gap of 1983 – 1986, the beginning of a new reality for us in the SMA and indeed for the Irish church in general – a reality that, for us at least, has been by no means a totally negative experience, anything but.
The gap of 1983 – 1986 would be followed by others in the 1990's until the major jump of 12 years from 1999 – until Kevin Conway's ordination on the 18th June this year. God knows how big the next jump will be.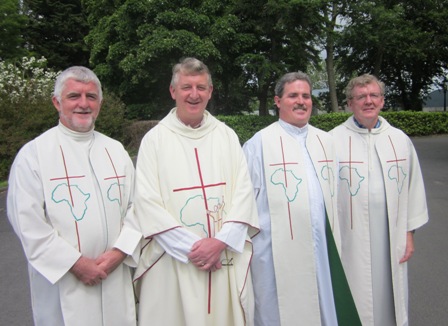 I have known Eugene and Noel since our days in Maynooth in the late 70's and early 80's. And while by the time we left Maynooth, in 1983, there may have been signs of change, a slowing down in the number of vocations, we could not have imagined that we were approaching the end of an era.
Our picture shows Fr Noel, Fr Fachtna O'Driscoll SMA (Irish Provincial Leader), Fr Eugene and Fr John Kilcoyne.
We could not have even considered that the seminaries we visited and played football in during the heady and unbelievable days of 1982, when to almost everyone's surprise, not least our own, we won the Inter-Seminary Leagues in both soccer and Gaelic, would nearly all be closed by now.
I needn't mention the so many other changes – because for one thing you know them as well as I do or better, and for another I don't want to be accused of doing an Enda Kenny on it and plagiarizing Tom Walsh's homily at Kevin's and my 25th, when he reminded us of how the issues that exercised our minds in the early 1980's and I think I can add mid eighties would be so much different than those that actually materialized and created our reality today.
One thing of course that we all have to agree on is that our perspective as SMA Irish Province members from the 1980s to the second decade of the new millennium has drastically changed.
In the 1980s I think we were pretty sure of our role. We were instilled with the idea of our indispensability, our numbers were still needed in Africa, our resources were still needed, our leadership. Our role was, in line of that of our Founder, Bishop de Brésillac, to be primary evangelizers, builders of local churches, and education. We were full of optimism and sometimes not inconsiderable arrogance.
Pretty much every mission where Irish members were appointed to, as in Eugene's case Liberia, and Noel's Nigeria, was led by Irish Regionals. And most of the SMA missionaries there were Irish. At the time, Regional Superiors and their Councils answered to their sending unit. So, after Ordination, we went from home to home from home – at least in terms of structures, and indeed mission culture.
That situation no longer pertains.
When Noel and Eugene began their training in Wilton, Cork it was under the initial guidance of Fr Seamus Nohilly (on left in this picture) and Fr Peter Thompson (right).
By the time Eugene and Noel arrived in their respective appointments, the new enterprise of the African, Asian and Polish Foundations were only three years old.
Often in the seminary, we heard the exhortation that one of our main objectives was to work ourselves out of a job. I'm reasonably sure that few of us in the 1980's actually believed that, by some criteria at least, we would achieve that objective in our lifetime. Or to put a different emphasis on the axiom – how much the job would have moved away from us, members of the older units just 25 years later.
How the situation has changed. By the time Eugene arrived in Liberia and Noel in Nigeria in late 1986, the new units were in their infancy. By the time Kevin Conway was ordained on June the 18th of this year, Kevin was coming out of a formation system in which he was the sole Irish member of the 260+ in formation. And a large part of Kevin's SMA formation actually took place in Africa.
Another interesting statistic: Kevin is the 74th ordained member of the whole post Dromantine era in our Province: 74 in 39 years as against the 587 members ordained during the 45 years of the Dromantine period. And there are at this time more than 150 ordained members in our three Districts-in-formation in Africa, not counting the number in the Indian, Philippines and Polish Districts-in-formation, which puts the total number well over 200 priests.
Last year I attended the first Assembly of the Great Lakes District-in-formation in Nairobi, Kenya. As the Regional Superior of South Africa (living in an area that has not one natural lake) I was an ex-officio a member of its Council. The introductions at the start were interesting. Going around the group, as members introduced themselves .. ordained 2000, 2003, 2007, John Kilcoyne 1983, .. You could almost see jaws dropping .. not just a cultural gap but a generational one. Not to mention the topics under discussion.
All of which must suggest that the residual certainty of Eugene's and Noel's ordination period of the mid 80's as that of my own has so definitely passed.
We have, to borrow a phrase that I rather like, gone from being experts with answers for others and become pilgrims with questions for themselves
To acknowledge this, that now we need to be questioning ourselves, that our time of certainty, of security, needs humility and maturity.
Now we can look at this in a very dejected, negative way – it's all over, or put it in much stronger words as many are – go into museum mode as a cynic once suggested.
Or we can acknowledge and give thanks for our achievements, in actually achieving the primary objective of our founder: building up a local self-supporting Church with its clergy that is also missionary. And we can congratulate ourselves for the work we have done in terms of standing with, in solidarity with, the most needy of the people of Africa.
I don't have answers for the incredible negative things that have happened at home ..
But, with Eugene and Noel, and all of us here today, I can rejoice in the story of SMA success that this celebration is part of: success both in Africa, the original locus of our Mission, and with the ongoing success of our Society at home, in furthering and enabling this work (Mission Awareness and Promotion). I think I'm not far wrong in saying that at this time in our Society's history the Irish Province, thanks to our many and generous supporters, is financing a substantial part of the work in Africa. The fact that we are able, in spite of many obstacles, kept the respect, trust and support of so many people here at home is a great achievement in its own right, and our developing role of African awareness, and Justice and Peace initiatives.
Our story is far from over. At that Nairobi meeting last year, one of the major issues being discussed, was where to find accommodation for the growing numbers of students coming into the philosophy programme, and in South Africa for the first time, we had candidates for the Society.
I attended the Dromantine Open Day last month. It poured rain! I was amazed at the numbers of people who turned up and with the involvement of the new SMA groups: SMALA and FOA. I have seen the work of the Friends of Africa in the field, both in terms of longer two year commitments and short six week programmes both of which, I believe, can be of great potential for the ongoing of Irish Province Mission.
I would like to believe that all these areas are being actively developed.
Today I/we rejoice in Eugene's and Noel's Jubilee, their priesthood, their ministry.
Our picture shows Frs Eugene and Noel cutting their Jubilee Cake at the celebratory Lunch after Mass.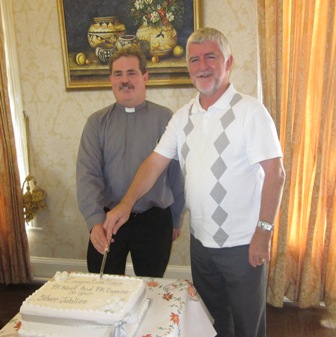 Today, we feel gratitude. We SMA's are a reticent group. Rejoicing, effervescence is not often part of our vocabulary or demeanour. Indeed I was downright scared by some of the exuberance I experienced during my sabbatical in California. (Every time we came to the sign of peace at liturgies I almost panicked – what would they come up with next?). It has become downright counter-cultural for us in the Irish Province, or Irish Religious / Church members to actually be upbeat. But there are times when we should blow our own trumpets, like David dance in the presence of the Lord. We have learnt by now that nobody else will do this for us. We must tell our own story, sing our own song.
Today we rejoice in our shared commitment, shared life commitment, shared priesthood, shared mission, and shared membership of our Society of African Missions, and perhaps these days shared vulnerability as we look to the future – vulnerability that in light of the Feast of the Sacred Heart that this celebration coincides with today is hardly something to be ashamed of.
Ad Multos Annos.