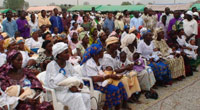 SHENDAM 100
35 babies are baptised by
Fr Kieran O'Reilly SMA baptising one of the infant
s
Procession of Bishops at the Centenary Mass
Section of the Congregation at the Mass
Some of the priest concelebrants
Cardinal Diaz meets local and
religious leaders at the Mass
The Centenary of the arrival of the first SMA Missionaries in Northern Nigeria was celebrated at Shendam on 10 February 2007.
The town of Shendam was en fate for the occasion. Adjacent to the present parish church an outdoor altar was erected covered by a large canopy as protection from the intense 40 degree heat and sun.
An estimated 30,000 Catholics from all the parishes of the Archdiocese of Jos and the neighbouring Dioceses gathered at Shendam for the celebrations.
His Eminence Ivan Cardinal Diaz, the Prefect of the Congregation for the Evangelisation of Peoples, was first among a host of dignataries who attended. He was accompanied by His Eminence Anthony Cardinal Okogie, Archbishop of Lagos. The Apostolic Nuncio to Nigeria, Archbishop Renzo Fratini attended along with thirty-one of the Archbishops and Bishops of Nigeria. Several SMA missionaries and assoicates who had worked in northern Nigeria travelled from Ireland, Scotland, England, France, Holland and USA to attend. Archbishop Ignatius Kaigama, Archbishop of Jos, hosted the great occasion.
The Plateau State Governor, His Excellency Michael Bot-Mang, led the civic delegation present. which included ministers of the State Govenment and members of the State and National parliaments. His Royal Highness, Miskoom Hubert Shaldas II, the Long Gomai of Shendam, who is the grandson of the Long Gomai who received the first missionaries in 1907, led the local attendance. religious leaders present included the Emir of Wase and the Anglican bishop of Jos.
The ceremonies began with the baptism of thirty-five infants by Fr Kieran O'Reilly SMA, Superior General who travelled from Rome for the occasion.
Afterwards, a monument to "all missionaries who gave their lives in the service of of the Gospel in northern Nigeria" was blessed and unveiled by Cardinal Diaz.
The Centenary Mass followed and was concelebrated by the two cardinals, thirty-one bishops and over 300 priests who were present. The Mass was introduced by an enactment of the arrival of the first missionaries – Fathers Waller, Belin and Mouren SMA. Among the priests concelebrating was Fr Frank Meehan SMA who was parish priest of Shendam in 1957 when the Golden Jubilee of the arrival was celebrated and at which the surviving member of the first trio, Fr Mouren, was present.
The great host of people at the Centenary celebration was a sufficient testimony to their work and the work of missionary priests, brothers, sisters and laity over the past century. Much was said by the speakers at the Mass in paying tribute to that work.
Cardinal Diaz read a message of congratulations from Pope Benedict XVI and concluded by imparting the Apostolic Benediction on behalf of the Holy Father.