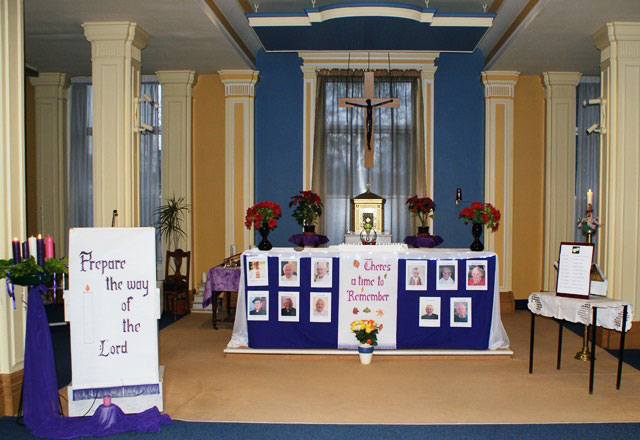 Ten priests, an Honorary member and ten relatives of our priests and lay staff were remembered during the annual Service of Light in Blackrock Road on Wednesday, 10 December. The Community Leader, Fr Eddie O'Connor, led the Service. After an Opening Prayer and reading from the Gospel of St Matthew [11:28-30 – Come to me, all you who labour and are overburdened.. ], a candle was lit in memory of each one and a community member spoke about each of the deceased SMA priests and Honorary member.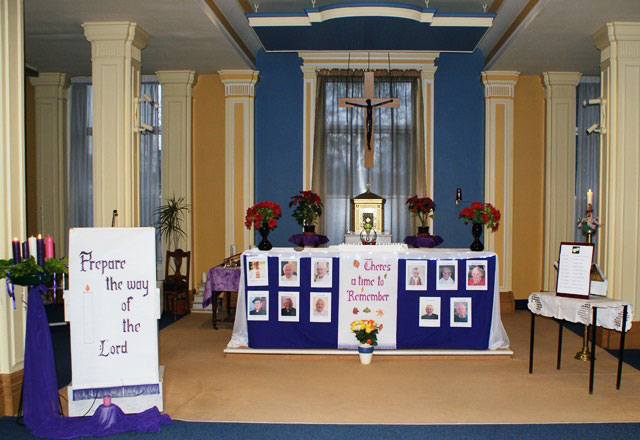 Fr Dan Murphy, died 19 October, aged 82, was remembered by Fr Michael McCabe.
Fr Tony Butler, died 16 October, aged 73, was remembered by Fr Gerry Murray.
"On the morning of Tony's funeral the family arranged a number of photographs around his coffin, each depicting an event in his life. But there was no need.
For the congregation in the church that morning spoke volumes about his life and how he interacted with people – rich and poor, learned and struggling, young and old.
The 'Echo' newspaper spoke of the laughter he brought to the city of Cork. I am sure Tony that the heavenly city has enjoyed your arrival."
Fr Thomas Furlong, died 6 October, aged 90, was remembered by Fr Denis Collins.
Fr Sexton Doran, died 9 September, aged 81, was remembered by Fr Michael Igoe.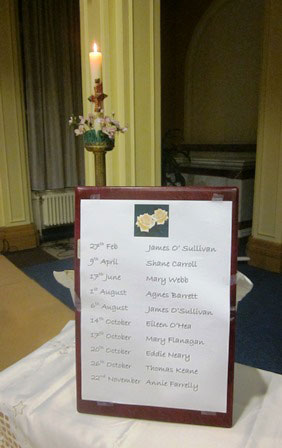 Speaking of Fr Bill Foley who died 30 July, aged 78, Fr Martin Kavanagh spoke of his great intelligence and ability, and the many posts of responsibilities he discharged with remarkable efficiency and kindness. His stroke limited his capacity to engage in the many different activities he liked to but he was a compassionate listener and many found him a wise and gentle counsellor. "My abiding memory of him will be of his welcome and hospitality to all. I have no doubt he recieved a great Céad Míle Fáilte in heaven last 30 July."
Fr Michael McEgan, died 18 June, aged 80, was remembered by Fr Tommy Wade.
Fr Martin J Walsh, died 29 July, aged 86, was remembered by Fr Hugh Harkin.
Fr Seán Hayes, died 15 July, aged 78, was remembered by FrJohn Flynn.
Fr Liam O'Callaghan, died 5 April, aged 95, was remembered by Bishop Tim Carroll.
Fr Seán Ryan, died 22 February, aged , was remembered by Fr Malachy Flanagan.
During the Service, Fr O'Connor read out the ten names of relatives who died during 2014. A candle in their memory was lit by Nurse Siobhán Humphreys.
Fr Michael Brady, remembering Miss Beta Feeley who died on 10 October, aged 92, said that Beta was "a determined woman, well able to express herself and liked to have her way when she felt she was right. Everything she did was for the Missions, the poor in Africa. A woman who loved the better things of life giving everything to the poor. Beta was unique, enquiring, questioning and loyal."
Fr Dan O'Brien brought the Service to a conclusion reading a Prayer prepared by the Marymount Hospice team: We Remember Them. It reads in part:
At the rising of the sun and at its setting, we remember them. …
At the beginning of the year and at its end, we remember them. …
When we have joys we yearn to share, we remember them.
Read full Prayer here.