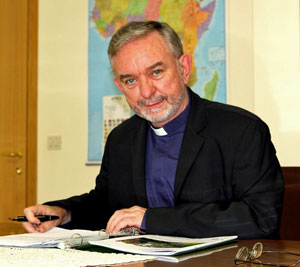 Resignation of SMA Superior General
Following the appointment of Fr Kieran O'Reilly SMA, by Pope Benedict XVI, as the Bishop of the Diocese of Killaloe, in Ireland, Fr. O'Reilly submitted his resignation from the office of Superior General on the 14th July 2010.
Fr. Kieran, on resigning, made the following statement to the members of the Society:
"I take this opportunity to thank all the members of the Society of African Missions – Priests, Brothers, Honorary members as well as Lay Associates, who have supported me and encouraged me during my time in leadership.
In my address to the 2010 Plenary Council, held in SMA House, Cadier en Keer, Netherlands, I stated the following:
"The members of the Society of African Missions have been my second family for forty years, they have nurtured my missionary priesthood, given me constant support and encouragement, and endless opportunities to learn and to serve as a missionary on many different levels of the Society in Liberia, Nigeria, Ireland, and Rome".
I restate these words here and thank you for your collaboration and cooperation with me and the different members of the General Councils and Generalate Staff, that I have worked with over my fifteen years in Rome, nine of which I had the honour to serve as Superior General. I thank especially the members of the present General Council: Fr. Jean-Marie Guillaume, Fr. Paul Ennin and Fr. Tom Wright.
I kindly ask for your prayers as I undertake the new ministry to which I have been called in the Church, in Ireland.
I take this opportunity to wish Fr. Jean-Marie Guillaume, Vicar General, who now according to the SMA Constitutions & Laws, article 87, assumes the leadership of the SMA every good wish and blessing.
May each one of us hold fast to the prayer of Micah 6:8
"This is what the Lord asks of you:
Only this,
To act justly,
To love tenderly
And to walk humbly with your God".
Kieran O'Reilly SMA July 14th 2010