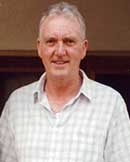 Fr John Dunne SMA
Profile:
1944: Born in Knockaneavan, in north Co Cork, Ireland
1963-1971: Studies with SMA at Cloughballymore, Wilton & Dromantine
1970: Permanent member of SMA.
1970: Ordination
1971-1980: Jos Diocese, Nigeria
1980-1982: Boston, USA – further studies
1982-1989: Formation staff SMA House, Maynooth
1989-1995: Cork – SMA Vice-Provincial, Irish Province
1995-2002: Lome, Togo – Superior, SMA African Foundation
2003-2005: Rome – Director Mid-Life Programme for missionaries
2005-2007: Superior SMA House of Formation, Nairobi
2007- Vice Provincial Leader, African Missions, Cork
Contact:
Fr John Dunne SMA
African Missions
Blackrock Road
Cork

e-mail: [email protected]
Africa needs YOU…
Fr John (Sean) Dunne's interest in SMA started from a visit by Fr Liam O'Sullivan SMA to the CBS in Mitchelstown where John was a student. Liam was then the Vocations Director and "spoke about Africa and the importance of Africa and the needs of Africa and he kept saying 'maybe somebody would like to go". That was in 1961. Later, in 1963, when finishing his schooling, John wrote to Liam seeking information about SMA and expressed interest in joining the Society. And that year he began his studies at the SMA House, Cloughballymore, Kilcolgan, Co Galway.
Following ordination in 1970, John was sent to the north of Nigeria. "First I joined a group of SMA to learn the local language, Hausa… then I was hoping to be appointed to pastoral work, but I got the shock of my life when I was sent to teach in school… Mary Immaculate Teacher Training College at Kafanchan in Jos Diocese". For the next ten years John was involved in education, holding various appointments in Katsina, Pankshin and Vom.
In 1980-82 he was at Boston, USA and attained a MA in counselling. In 1982-89 he was on the Formation team at SMA House, Maynooth, where SMA students studying at St Patrick's College, Maynooth were based.
At the SMA Provincial Assembly of 1989 John was elected Vice-Provincial Superior and served the Province in administration work until 1995. Next he was appointed to spearhead the developing SMA African Foundation and was based in Lome, Togo. "I found this a very interesting experience, watching and living with a
growing and developing membership of SMA in Africa". This gave him the opportunity to know many African countries where SMA members work. Having completed six years in Lome, he is moved to Rome with a team running an ongoing-formation programme for missionaries. Then in August 2005 he took up a new appointment as leader of the Formation Team at SMA House of Studies, Nairobi where over twenty SMA students are preparing to become missionary priests.
In 2007 John was elected as the Vice Provincial of the Irish Province. He is now based in Ireland.
What motivates him? What attracts him to the missionary task?
"I suppose it is that I believe one's life is important and that we are part of something that is bigger than ourselves. I look at what that means for me from time to time and feel part of the overall struggle to fulfil the mission of the Church and in particular the SMA part of that mission".
Would you consider joining in the struggle?
Would you like to join John in the Church's missionary task?
Contact the SMA Vocations Director, African Missions, Blackrock Road, Cork