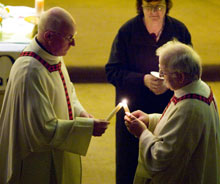 Priests in the Parish
Fr Kevin Conway SMA PP
Fr Freddy Warner SMA CC
61 Blackhorse Road, Walthamstow, London E17 7AS
Parish Phone: (+44) 0208 520 3647

'Handing on the baton'
A special celebratory Mass to say Goodbye to Fr Donal M O'Connor & Fr Tom McNamara and to welcome Fr John Browne & Fr Eddie Deeney to the parish was celebrated in Our Lady of the Rosary & St. Patrick Church, Walthamstow, London on Saturday, 27 January 2007.
Tributes were paid to the outgoing Parish Priest and the Assistant Pastor.
Warm words of welcome were extended to the new Parish Priest and the Assistant. The handing on of the baton was symbolised in the exchange of candles between the priests and the people. 

Fr Donie O'Connor SMA passes the light
to Fr John Brown SMA (left)


Concelebrants from left: Frs Brown,
O'Connor, McNamara and Deeney


Fr Brown (right) and Fr Deeney pass
on the light to parishioners present


Fr Brown (right) and Fr Deeney distribute
Holy Communion
In 2009 Fr Deeney was replaced by Fr Mariusz Rarak, a diocesan priest working in Association with the Polish branch of the SMA. Fr Mariusz was a missionary with the SMA working with the Pygmy peoples of Berberati, Central African Republic from 2003 to 2008.