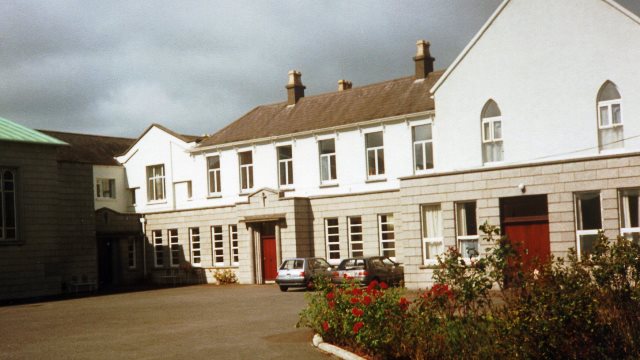 OLA jubilance and joy were evident throughout the week leading up to Friday 13 May 2016. On that day twenty-five-years previously, Sisters Mairéad Hickey and Deanna Donohue had arrived in Mwamapalala. The OLAs were already working in many countries in West Africa for over one hundred years. Now they were answering calls to go further afield in Africa. Many said that the then Parish Priest, Fr Dick Kelleher SMA [RIP], had worn a path on the avenue leading up to Ardfoyle Convent, Cork – again and again he had come begging for Sisters. At last his request was answered. Fr. Dick and a colleague, Fr Ed Hubert SMA, from Holland, were at Mwanza Airport to welcome the OLA Sisters, and Fr John Denvir had seen that the OLA residence was not just ready but shining! Asanteni to all!
We have a memento of the first day, 13 May 1991, the OLAs reached Mwamapalala. In our small chapel we treasure a New Testament Bible (written in KiSwahili) and given to Srs. Mairead and Deanna as a gift. Each one's good wishes – in English, Irish or KiSwahili – were written on the inside page of the Bible. The following signatures bear witness to that day: Fathers Dan Cashman, Dick Kelleher, Tony Gill, Padraig Devine, Paddy O'Rourke, Fionbara O'Cuilleanáin, Hugh Lagan, John Denvir [all members of the Irish Province] and Fr. Ed Hubert SMA [from the Dutch Province]. You are all still remembered.
During the fortnight previous to the silver jubilee celebration the OLA house at Mwamapalala had got a badly-needed coat of paint. The rainy season had suddenly stopped but, fortunately for us, rain poured down almost each day for over a week previous to our Big Day and the whole compound was clothed in a fresh green hue and looked so lovely. Sr. Cecilia had delicately decorated our small chapel and seen to the cuisine with our cook, Norbert. All was ready – Tayari!
Our former Parish Priest and his companions at Sayu-Sayu were not free to come on Friday 13 so they came the day before and that was the day the celebrations started. That too happened to be the day Sr. Kathleen McGarvey [OLA Irish Provincial Superior] arrived from Ireland accompanied by Sr. Philomena Mulligan, OLA Councillor, and our Assistant Bursar, Mrs. Joyce Long. Fr. Paul Masanja and Fr. Paul Shija arrived soon after 1:30pm. We chatted and reminisced until Sr. Kathleen with our visitors from Ireland drove in. Our first Mass of Thanksgiving began and afterwards we enjoyed a delicious meal.
The actual day of remembrance started with the arrival of our OLAs from Bugisi: Srs. Emmannuela, Rita, Teresa and Yvette. They were followed by OLA Sisters from Mwanza: Cassie, Celestina and OLA postulant Mary Mark. Soon after Fr. Mick McKee, SMA, who was our Chief Celebrant, arrived with his colleague, Fr. Jean Francois, SMA Canada. A truly cosmopolitan group were ready to cross over to the chapel and as we entered, our present Parish Priest, Fr Emmanuel Kahabi, and Fr. Joseph Komanya, the Principal of our diocesan secondary school, joined us. We represented Ireland, Tanzania, Canada, Ghana, Nigeria and Bukina Faso. Thankfully some of our Staff were free, and arrived in time to celebrate our Mass of thanksgiving. We intoned the "Come Holy Ghost, Creator, Come" and our celebration began.
We paused after the Gospel and Fr. Mick urged us to remember and be grateful for everything in the past and to surrender to God all that would be in the future. Commenting on the Gospel reading, John 21: 15-19, he underlined Jesus' question to Peter: 'Do you love me?' Jesus did not rebuke Peter or make any reference to Peter's triple denial. He simply wanted him to declare his love for Jesus. God wants us too to surrender, and welcome the look of love with which the Father gazes at each one of our lives. Commenting on Acts 1: 12-14, Father McKee reminded all present to go frequently to our personal 'Upper Room'. Good advice!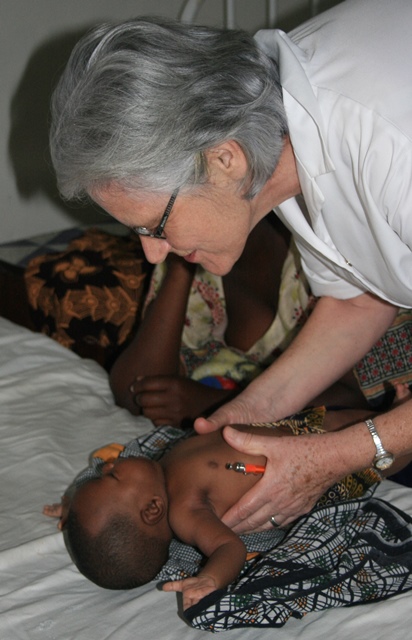 Fr. Mick said that the OLAs at Cork knew well whom to choose for Mwamapalala. Sr. Deanna with her practical mind-set turned to the dispensary and quickly upgraded the services offered there. She improved the facilities, continued the training of the assistant nurses, and gave on-going talks to the patients so that they might lessen the frequency of their visits to clinics. Sr. Mairéad was one hundred per cent pastoral-minded soon set off on her bicycle to local villages. Accompanied by a catechist or some youths she visited and taught catechetics at local primary schools and joined the Small Christian Communities in their meetings and prayer sessions. Sr. Sally arrived in Mwamapalala in Sept 1992. She taught Mathematics in the local diocesan secondary school. OLA Mwamapalala was always known for its hospitality. Sally added another dimension, that of dance. Fr. Mick pressed a button and a waltz tune was heard but then he said Sally wanted to vary the pace and rhythm of dance and would soon get all out on the floor for the Siege of Ennis and Mick then gave us a taste of the sound and pace of swifter music. Even our Tanzanian workers recognised and relished these tunes as Sr. Sally's choice of dance music.
After reflecting on our OLA beginnings at Mwamapalala, we all participated in some spontaneous bidding prayers. We remembered those who had gone before us to their eternal reward: Fr. Dick Kelleher (1992), Sr. Sally (2014) and a diocesan Parish Priest Fr. Sosthenes Masengesi (2012). May all rest in peace. As we were near the Eve of Pentecost, Sr. Celestine had prepared flyers, shaped as doves, with a gift and fruit of the Holy Spirit written on each. Fr. Mick blessed the basket of 'gifts' and each one present picked her / his gift of the Spirit. Before singing our 'Asante Mama Maria' (Thank you Mother Mary) Sr. Emmannuela, our OLA Regional Leader, thanked our chief celebrant and all present for joining us and welcomed them to share our celebratory meal in the Sister's Dining Room. OLAs and friends relaxed, relishing the delicious food but all too soon Sr. Kathleen had to drive the 'Doctors for Africa' land cruiser to the front of the house. Sr. Philomena, Joyce, and Sr. Anne were bound for Ireland, Cassie was accompanying them and with Kathleen seated at the wheel we set off for Mwanza. Unfortunately the dancing and singing were interrupted by goodbyes. Like Queen Elizabeth, the OLAs have first celebrated their birthday of arrival in Mwamapalala twenty five years ago, but they will also have the official celebration on 6 August. "Karibuni" to all.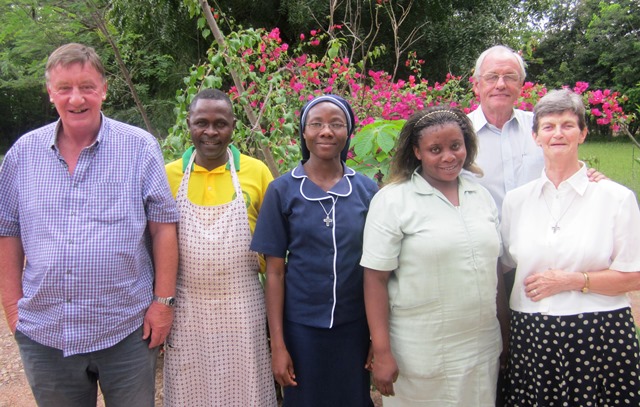 In the meantime, we give thanks and we celebrate the memory of all OLA Sisters who, since 1991, have come to Tanzania: Sisters Mairead Hickey, Deanna Donohue, Sally Forde [RIP], Cassie Hurley, Anne McCormack, Regina Opoku, Lucy Dumenu, Mary Taylor, Dolores Kearney, Josephine Obi, Mary T Barron, Celestine Agwu, Perpetua Acquah, Kathleen Costigan, Monica Mafiana, Rita Dung, Emmannuela Ohumaegbulem, Margaret Cummins [RIP], Catherine Esiekpe, Maura Cranney, Comfort Amevor, Anne Cahill, Juliette Aruya, Agnes Gyima, Margaret Okundaje, Lucienne Tandjateba, Angele Sanoga, Suzanne Koumgotoum, Micheline Najjar, Cecilia Amissah, Celestine Ikpeni, Teresa Roberts, Yvette Ilboudo, Eileen Cummins, Dympna McEneaney, Martha Ahern and OLA postulants Mirna and Nisreen from Lebanon, as well as our Provincial Leaders, Councillors and visitors. Thanks too to our SMA and Diocesan colleagues and to all our lay missionaries and volunteers, including student doctors. All of you have made such a tremendous contribution to the advancement of our mission in Tanzania: a special prayer for you and for all our benefactors.
Go raibh míle maith agaibh go léir.
Sr Anne Cahill OLA