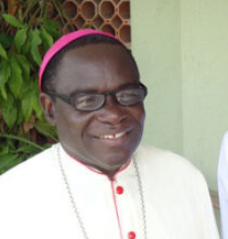 In a report carried by Agenzia Fides, the Vatican-based News Agency, the Bishop of Sokoto, Bishop Matthew Hassan Kukah, stated that "Nowhere else in the world do people die as in our country. There is no place in the world where citizens can be killed every day without the government showing the slightest sign of empathy or concern for what is happening". Bishop Kukah was speaking at the Funeral Mass for the late Fr Alphonsus Bello, the priest found dead after being kidnapped on May 20 in the nightly assault on the parish of St Vincent Ferrer in Malumfashi, in Katsina State. Fr Joseph Keke, who is still in the hands of the kidnappers, was kidnapped with him.
"I think the President of Nigeria and several governors can actually turn to Nigerians and say: dear Nigerians, I have sworn that I will not protect you. I will not protect you from foreign invaders, I will not protect you from being killed. I will not protect you from kidnappings, I will not protect you from bandits, I will not protect you from kidnappers", says the bishop.
The plague of mass kidnapping of students affects children of all religious faiths. On Sunday last, 30 May, over 100 pupils at an Islamic school in Niger state in the northwestern part of Nigeria were kidnapped from a school in Tegina by a group of armed men who arrived on motorcycles.
"Our politicians," continues Bishop Kukah "have unfortunately not committed themselves to the democratic ideals of integration, diversity, good governance and the implementation of the principles of a democratic society".
"The politicians", he added, "had reached out to their supporters and stated that they will institutionalize a theocratic state in Nigeria by creating a Sharia state in Nigeria… Now we have so much bloodshed fueled by false promises".
"As Christians, regardless of the violence in our society, we must remain faithful to God's promises. As Christians, we remember that only the cleansing blood of Jesus Christ gives us hope", the bishop concluded.
Bishop Kukah, in an interview with Aid to the Church in Need (CAN) said that he is in touch with the kidnappers and finds it is difficult to speak with them. "It is one of the most painful experiences, talking and pleading with hardened criminals and murderers."
Speaking about the Federal Government who have shown little or no inclination to do anything to curb the banditry unleashed throughout the country and are following a pro-Islam policy, he says, "They have no wish to create an egalitarian, integrated and united country. Their focus is the ascendancy of Islam even in a form that over 80% of ordinary Muslims do not support. We are in the throttle of the Salafist variant or strain of Islam."
The Nigerian Bishops' Conference had already warned in February (see Fides, 24/2/2021) that "Nigeria is in danger of breaking up due to the serious insecurity that is widespread in the Federation".