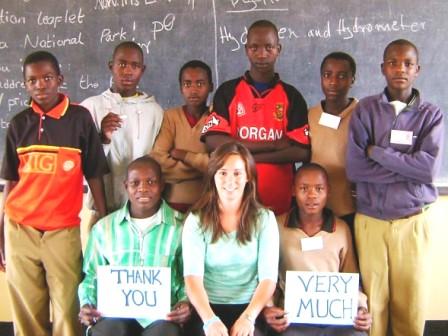 My experience in South Africa
Louise Loughran hails from Co Tyrone. Louise is a member of the Friends of Africa (FOA). She recounts her visit to South Africa in 2010 as part of an FOA team involved in different projects.
In July 2010 I, along with 6 other volunteers and our leader Bernie, set of to South Africa with Friends of Africa (FOA). We spent almost 6 months prior to leaving Ireland raising £3,000 each through fundraising events and attending training days to prepare us for what we were to expect in South Africa.
From the very moment we touched down in South Africa we were made extremely welcome. We were met at the airport by a group of young people of the Parish we were going to be working in, along with the Parish priest (Fr Pius Afiabor SMA from Nigeria) who was a constant support for us throughout the trip.
Our picture shows an other FOA – Maria McLaughlin – with a group of school children in Moita Bwawani parish, Tanzania where the Parish Priest is Fr John Gallagher SMA (Crossmolina, Co Mayo).
Over the 6 weeks we were involved in numerous projects in the area of Kanana where we were based. Our main project was St Michael's Crèche. As a group of volunteers we used our experience to transform the Crèche by painting it, drawing pictures on the wall, laying down lino floors, fencing the area off for the safety of the young children and helping to make their play area safe and enjoyable to be in. This project really brought us together as a group and we developed many attachments to the teachers, children and the community.
We completed some small projects when we got a spare minute. We helped paint the room for the children in Reception year at St Michael's Primary school, Kanana. We transformed the room from a very plain and basic classroom, into a comfortable learning environment with numerous learning resources on the walls to help the children develop their English.
One of our last projects was in St Gerard Majella's Middle school, Kanana. We spent one week in the school and was each given an opportunity to teach whatever subject we felt comfortable with. This was a lovely experience because it gave us an insight into the standard of education and the conditions in which the pupils worked under. The pupils were so enthusiastic to learn and to get to know us and it helped us understand their community a lot better.
Aims of Friends of Africa:
1) To be a voice for the people of Africa in our home countries.
2) To fundraise for designated projects in Africa.
3) To send volunteers to work on specific projects in Africa.
4) To make friends and support each other both home and overseas.
Reflecting on my experience it was a very balanced trip. From the hard work that we all did during the day; to the relaxing nights and fun packed weekends that were organised for us, the 6 weeks disappeared. I left South Africa feeling touched by the people I had met. They were so thankful for anything that we did for them and showed great appreciation for our work. Friends of Africa are making such a difference all over Africa and I am grateful for the opportunity to be a part of that!
For further information on the Friends of Africa : http://friendsofafrica.org.uk/