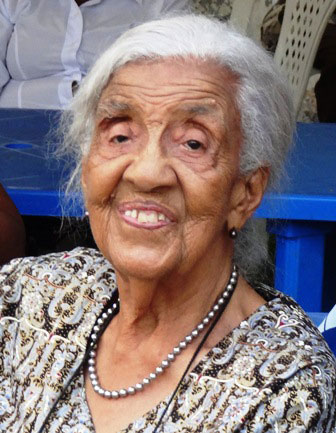 Mrs Katie Oruwariye was a lifelong friend of SMA priests and brothers and, since the 1990's, the SMA seminarians training in Ibadan. At her request the funeral Mass was celebrated in the SMA Formation House Chapel at Bodija with His Grace, Most Rev Dr Felix Alaba Adeosin Job as Principal Celebrant. Fr Tim Cullinane SMA preached the following homily.
Let us lift up our hearts to the Lord… Let us give thanks to the Lord our God.
Your Grace, Rev Fathers, Sisters, Family and friends of Auntie Katie
As a young missionary priest I was very moved at the funeral of an uncle of mine who died in Lagos at an advanced age. Before that I thought of a funeral whether it is of a young or old person as a very sad occasion but what touched me at that funeral in Lagos was the way Nigerians celebrated the death of an old person. Instead of the sadness, I expected there was singing and dancing and a band playing. It was real celebration of life, a time of joy not sadness. Today too, though we are sad to see Auntie Katie leaving us, our strongest feeling should be one of thanksgiving joy and celebration.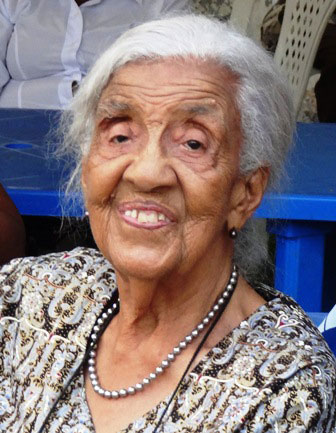 In this Mass we celebrate her life. We thank God that He has blessed her with a long life. The Bible says our length of days in 70 or 80 for those who are strong but Auntie Katie has gone far beyond this and was in her 97th year when she died. God has also blessed her with 4 children of her own, two adopted children and many grandchildren, living as she did to see her children's children.
Our 2012 picture is of Mrs Uruwariye at an SMA celebration.
St Paul says, "The life and death of each of us has an influence on others." Not only was Auntie Katie's life, long but it was also very fruitful for her family and the community. She had a passion for charity work and really lived out today's gospel so I have no doubt the Lord will say to her, "come ye blessed of my father… With her gentle and charming presence she had a gift of getting money out of people who might otherwise be reluctant to give. She was involved in supporting the St Joseph's Motherless Babies home and many other charities. In last week's Independent Dr Ajayi mentions how after attending a lecture of his in which he said that there were over a million people in the Nigeria with visual impairment due to cataracts, she was so moved that she came to him later and said that her 90th birthday was coming up shortly and that she would like to tell her friends that instead of giving her gifts for her birthday they should donate the money to Dr Ajayi's clinic for cataract operations. As a result sight was restored to 60 poor people who otherwise could not afford cataract operations
She was also very concerned about the material and spiritual welfare of her children and grandchildren and was so happy when did well in life. A woman of deep faith herself, with a great love for the Mass she did her best to pass on here deep faith to them. I remember last year when one of her grandchildren was getting confirmation in New York all the trouble she went to get information about the child's baptism in Nigeria so that the confirmation could go ahead and how happy she was to tell me that her grandchild had been confirmed.
She was a real mother to all of us here in SMA Bodija and was a great supporter of the work of the house. She took a special interest in the students and even in her late 80s made the long journey to Korogho in North Ivory Coast for the Priestly ordination of Jean Baptiste Traoré SMA. On a personal note, this year I do not know how I will celebrate St Patrick's Day without her chocolate cake. No one could bake chocolate cake like Auntie Katie
She was a very good teacher of English and took a special interest in her students. She taught in the Nigerian College of Arts and Technology, St Anne's School, Ibadan, St Theresa's School Ibadan and SS Peter and Paul. It is good to see so many of her former pupils here today many of them ordained priests and even a bishop, Bishop Badejo of Oyo.
I am told her grandchildren call her BLG …What does it mean? "Be like Grandma." Not only her grandchildren but all of us have a lot to learn from her especially from her positive outlook to life. Though in her life she had sorrowful mysteries as well as joyful mysteries, she always looked at the positive side of life, seeing the glass half full and not half empty. As she saw it life is good, God is good, the world is good and there is good in everyone. Shortly before she died she said to one of our priests, "Africa has been good to me. I have no regrets."
In giving a funeral homily the Church advises us that we should not go overboard in praising the person who has died. Even a Saint like Saint Thérèse of Liseux said at the end of her life, "I come before the Lord with empty hands. Rather we should, today, praise the God who has worked should great thinks in the life of Auntie Katie. What was great about Auntie Katie was the way she responded to God's grace in her.
A funeral Mass is as much about ourselves as it is about the person who has died. The death of anyone, and today the death of Auntie Katie, makes us pause from our work and think about our own life. She was a great lover of English literature and one of his poems talking about death John Donne says, "never seek to know for whom the bell tolls, it tolls for you." And the novelist Saul Bellow says "death is the dark backing that a mirror needs if we are to see anything."
As followers of Christ, it is our faith that can give us hope in the face of death. St Paul says, "No eye has seen or heard what God has prepared for those who, love him" (1 Cor 2:9). St Cyprian (d 258) wrote: 'Let us shut out the fear of death, and keep our mind on the immortality that follows death…what man who lives in a foreign country would not hurry to return home?' We reckon paradise to be our home. A great throng awaits us there of those dear to us, parents, brothers, sons, daughters. A packed and numerous throng longs for us, of those free from anxiety for their own salvation, who are still concerned for our salvation. What joy they share with us when we come into their sight and embrace them… What pleasure there is there in the heavenly kingdom, with no fear of death, and what supreme happiness with enjoyment of eternal life.
Jesus himself said, at the Last Supper when the apostles were saddened by his impending departure "Do not let your hearts be troubled, trust in God still and trust in me… there are many rooms in my Father's house… I am going now to prepare a place for you. I shall return to take you with me so that where I am you may be too" (John 14:1-4).
Our belief is that Jesus has come and taken Auntie Katie home to himself. At the funeral of Pope John Paul II the present Pope in his homily used a very moving image. In Rome every Sunday at midday the Pope comes to the window of his apartment in the Vatican and blesses the people in St Peter's Square. Pope Benedict said that he saw the late Pope looking down from his window in heaven and blessing the crowd assembled for the funeral.
This morning I get a sense that though Auntie Katie may have left us in body this she is looking down on us from the window of her room in her Father's house and still praying for us as we continue to pray for her in this Mass. For us who are left behind and who mourn for I offer these words:
"We can shed tears that she has gone or we can smile that she lived.
We can close our eyes and pray that she'll come back or we can open our eyes and see all that she has left.
Our hearts can be empty because we can't see her or we can be full of the love she shared with us.
We can turn our back on tomorrow and live yesterday or we can be happy for tomorrow because of yesterday.
We can remember her and only that she has gone or we can cherish her memory and live on.
We can close our minds, be empty and turn back or we can do what she would want: smile, open our eyes, love and go on."