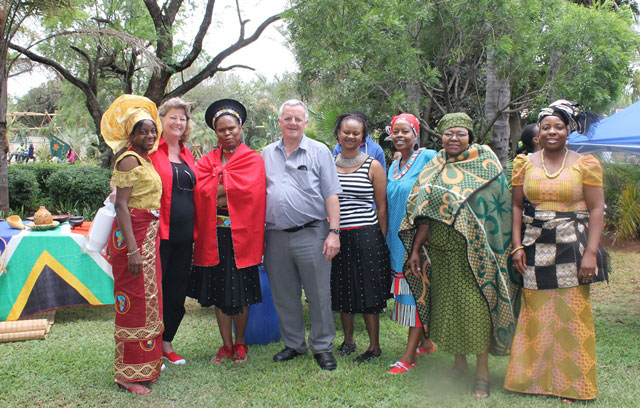 Fr Michael O'Leary, an SMA from Cork City, was ordained in 1978. His first appointment was to Monrovia, Liberia and later he moved along the west coast to serve as Parish Priest of St Joseph's, Gowon Estate in Lagos, Nigeria. For the last 14 years Fr Michael has been ministering in South Africa. His parish [in Montana, Pretoria] has grown over the years into a broad-based multicultural community where the people are very active in social outreach as well as liturgical innovation.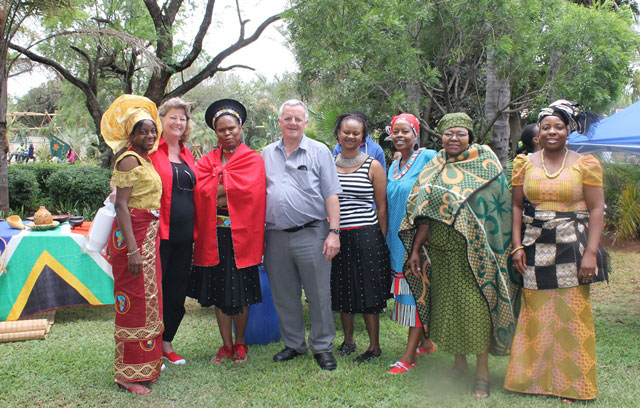 Recently the community gathered at their Church of the Presentation in Montana, Pretoria to celebrate their internationality. Our picture shows parishioners from various countries and some from different South African cultures and one European as well as Fr Michael O'Leary.
Our second picture shows a number of priests from different parts of Africa. They are from left: Fathers Daniel Kibwu'a [Consolata missionary from Kenya], Michael O'Leary, Joseph Mangon'go [Consolata missionary from Kenya], Godwin Abbah [Redemptorist from Nigeria] and SMA Father Joseph Ogungbe [from Nigeria].
Both Consolata priests are working in Pretoria while Fathers Ogungbe SMA and Abbah CSsR are ministering in Rustenburg diocese. By happy coincidence, Fr Godwin was raised in the Gowon Estate parish in Lagos when Fr Michael was the Parish Priest. As Fr Michael states: "It's nice to see some of the fruits of my work of that period!" And so say all of us Fr Michael… keep up the good work!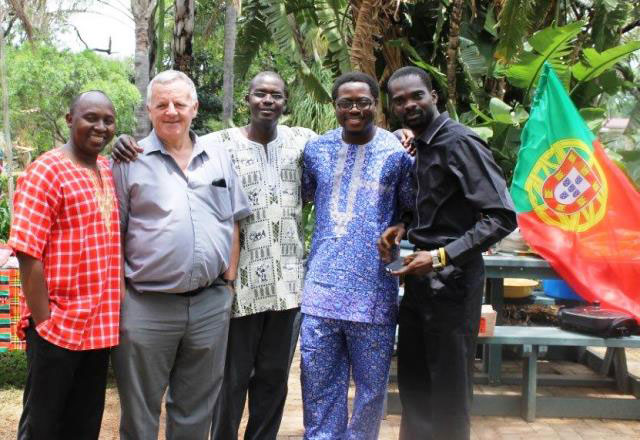 The arrival of the Redemptorist community in Nigeria was at the behest of the late Fr John Burke SMA who invited an American branch of the Congregation to establish a parish in Lagos. From there they grew and began training seminarians for their community. Appreciation for the initiative of Fr Burke was expressed when, in 1997, he was made a Redemptorist Oblate.