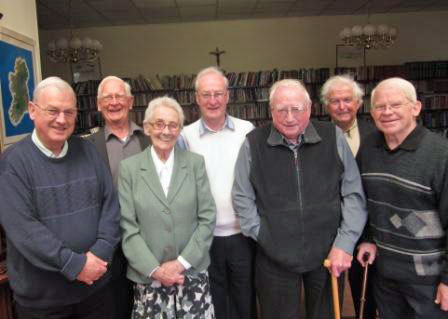 Maureen O'Sullivan honoured by the SMA
Maureen O'Sullivan, From Cahirciveen, Co Kerry qualified in the 1940's as a Nurse and Midwife. Her first assignment was as a District Nurse in Cabra, Dublin.
The Nursing Board received a request from Bishop Patrick J Kelly of Benin City diocese for a Nurse and, in 1949, Maureen volunteered to go to Nigeria. Until 1964 when she returned to Ireland to care for her aged parents, she gave of her indefatigable energy and expertise to help improve health care all over the diocese. Her first appointment was to St Camillus' Hospital, Uromi where she worked with Dr Joan Clatworthy MMM. Maureen also served in Asaba, Ogwashi-Uku, Okene and Sapele.
Our picture shows Maureen with SMA priests she worked with during her time in Nigeria. From left: John Quinlan, Richard Wall, Hugh Harkin, Bill Kennedy, Dan Cashman and Frank Geoghegan. Both Fr Wall and Fr Geoghegan are home on holidays from Nigeria and South Africa respectively.
During this time she trained many nurses and midwives, all of whom held her in the highest regard.
She called on the Bishop whenever she needed money for some project or other. Bishop Kelly might not always be in a position to give it and they had many heated discussions down the years. But as Maureen said at the lunch in her honour in Blackrock Road, "I always won!"
During her missionary life she opened many maternity centres and clinics in rural areas of the diocese. Maureen also promoted child welfare and community development.
After her return to Ireland, a government inspection of Uromi Hospital took place and threatened the hospital with closure. Who could he turn to? Bishop Kelly (a native of Ahascragh, Co Galway) came home on leave and headed straight for Cahirciveen and Maureen's home. Believing that Maureen was the only one who could take on the job he asked her to return for 6 months to Uromi. Maureen's concern for her parents were paramount. She was fearful something might happen them in her absence. Bishop Kelly assured her that they would be fine and nothing untoward would happen. Knowing the reputation Bishop Kelly had for prayer and closeness to God, Maureen agreed, confident that her parents would be ok.
With Fr Michael McGlinchey SMA (from Dunamanagh, Co Tyrone), they rebuilt and refurbished the hospital to such a standard that it easily passed the government inspection. From that threat of closure in 1964, St Camillus' is still functioning under the direction of the Nigerian religious congregation, the Daughters of Divine Love (DDL).
Maureen returned to Ireland but, after the death of her mother, she felt the 'pull of the missions' and returned to serve for a further period in Benin City. However, she again returned to Ireland when her father needed constant care. When he died in 1978, Maureen returned to Nigeria and, from 1978 – 1985, worked as a Midwife in Ijebu-Igbo Hospital in the diocese of Ijebu-Ode.
After her final departure from Nigeria, Maureen spent some years in South Africa. For the past 24 years Maureen is involved with Sr Consilio at Cuan Mhuire, Athy. Cuan Mhuire is Ireland's largest voluntary provider of Rehabilitation Treatment for individuals suffering from addiction and other related issues. In Cuan Mhuire Maureen runs a small shop and the money raised from it is used to send some of the residents to Lourdes. In recent times, Maureen's building skills are being put to use in supervising the construction project in the Cuan Mhuire Centre in Newry.
Nearing her 89th birthday, Maureen has never lost her love for the missions and remains an SMA supporter in many ways.
At the celebration lunch in the African Missions, Blackrock Road, the SMA Provincial Leader, Fr Fachtna O'Driscoll presented Maureen with a piece of crystal gift and cheque in commemoration of her great work. Maureen intends to use the sum given her to bring some Cuan Mhuire pilgrims to Lourdes. After lunch was over, Maureen and some of the SMA priests she knew in Benin City all those years ago swopped stories of their time together.
Our picture shows two of the SMA priests who worked with Maureen: Fr Bill Kennedy SMA and Fr Richard Wall SMA, who was home on holidays from his mission in Uromi diocese, where he has served for fifty-five years.
May the Lord continue to watch over you Maureen. May you continue to be His minister of healing and peace.
Home page Intro:
Maureen O'Sullivan is an amazing lady, with boundless energy and commitment to serving God's people, in Africa and Ireland. More than 20 years of her life was spent in ministering in the diocese of Benin City, Nigeria.
Recently, the SMA with whom Maureen had such close links, decided to honour her for her work in Nigeria which she began in 1949. Maureen is pictured here with Fr Hugh Harkin who knew her when he worked in Benin City diocese in the 1960's.
The SMA Mother House at Blackrock Road, Cork was the venue for the celebration lunch and presentation. In the presence of the local SMA community and several priests home on holidays from different missions in Africa, Maureen was lauded (and thanked) for her inspiration to SMA and other missionaries