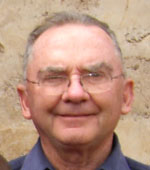 MASUMBWE CHILDREN'S HOME, TANZANIA NEEDS YOUR HELP
Priests from the Irish Province of the Society of African Missions (SMA) first came to Tanzania in 1989. Since then, other units of the Society have also come here. Today there are 22 priests and lay missionaries here, representing 11 nationalities.
Six years ago Fr Tony Gill (from NCR, Dublin), pictured above, was asked to establish a new parish at Masumbwe. With Fr Patrick Agbodi SMA (from Nigeria) they found that many children here had lost both parents because of AIDS and other illnesses. In the whole district there was no orphanage. We discussed this situation with pastors from other churches, the local Muslin Imam and people of good will and decided that we should try to do something about the matter. The children needed to be taken off the streets and given an opportunity to attend school regularly.
A man who had been building a guest house but was unable to finish it offered us the site. It was ideal because it was near a primary school where the children could attend.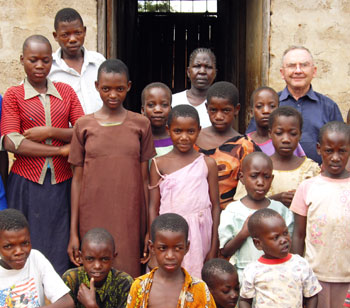 And so our hostel began, with ten children. Today we have twenty-six. Sabina Joseph, the lady in the picture with me, is the Matron and she, with the local staff, cares for the children who come from different churches. They are referred to us by the Local Government Office. Overseeing the administration of the project is a multidenominational committee with members from the Pentecostal, Lutheran, African Inland Church, the local Imam and myself. The Chairperson of our Committee is a Nurse and she looks after the medical needs of the children.
We have an adjoining plot of 2 acres where we grow maize and sweet potatoes for our needs. The different churches also donate food when possible, as does the Local Government though they have been unable to give us anything, so far, this year. On average, in addition to what we grow, it costs us €25 per day to feed the orphans. Our total budget for the year – to cover school fees, medical care, clothing, food, water etc – is €15,266.
Near the original house we have built a hostel for older children who attend the secondary school. This cost €5,000 and was helped with a donation from the Knights of Columbanus in Navan, Co Meath as well as other donors in Ireland. It also contains a small library where they can study in the evening. As a result, five boys are able to attend the secondary school and will remain with us until they reach Form 4. (Fr Gill was raised in the shadow of Croke Park, the home of the GAA and is a lifelong supporter of the Dublin GAA team – maybe that's the reason for the blue paint! Editor's note)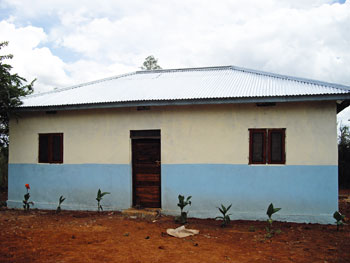 However, as the original building, is no longer adequate (size, condition etc) we now need to build two additional dormitories. We plan to build two more dormitories – one for girls and one for boys – which will accommodate an additional 30 children.
Our budget for one dormitory, including 14 beds and mattresses, comes to €5,800.
Should you want to help the children please forward your donations to Fr Martin Kavanagh SMA, Development Office, African Missions, Blackrock Road, Cork.
Many thanks for your interest and I hope you will be able to help us.
Fr Tony Gill, SMA and Fr Jean-Baptiste Vodounkpé SMA