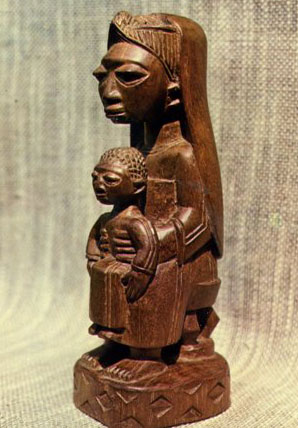 Mary, The Holy Mother of God
1st January
Numbers 6:22-27
Gal 4.4-7
Luke 2.16-21
A priest once told me of a scene he often witnessed in his part of northern Nigeria. One day he was on a hillside observing the valley below. He saw a Fulani walking ahead of his cattleherd who were followed by his 3 wives and a number of children. Obviously this was the place of a woman in the Fulani culture. We know from many cultures women are in a similar situation. But our God is the upside down God who chooses very differently to us. Another image for us in the Old Testament is that of the land being furrowed by the plough in preparation for the sowing. God does that to us too, at time turning our plans upside down.
In choosing Mary God goes very much against the normal status of women in society. We know too that Jesus had women going around with him ministering to him from their own resources. So when God chose Mary, someone of no importance from a worldly point of view, He was making a powerful statement for us to take note of.
Why is Mary so important for us?
First of all, because God decided it to be so. Mary allowed Jesus the Son of God to enter into our world in human form. St. Paul in the second reading today says that God sent his Son born of a woman. So Jesus came as a human being, not an angel, born just like you and me to underline for us our capacity to become children of God and heirs to the kingdom of heaven. All this was made possible by Mary. We forget perhaps that Mary didn't know the future.
In the gospel today we are told that 'she treasured all the shepherds had to say and pondered them in her heart'. Mary also was confirmed by Elizabeth when she visited her, hearing her say that 'of all women you are the most blessed'. She also heard some very disturbing words from Simeon in the Temple that 'a sword would pierce her own heart'. So Mary like us, as a woman of faith, as a believer, had to trust God for whatever would happen in the future. Believing implies a journey and some deep inner searching of our hearts. So Mary had to make her own journey of faith and this why she ponders in her heart what was happening around her in the various circumstances of daily life. For us too faith is a process in which we have our ups and downs, periods of light and darkness. Mary will surely help us if we ask her as her own witness shows us how to move forward on the path to the God of our hope.
Another aspect of Mary's greatness was not only the fact she heard God's call and always said 'yes' but she was a Bringer of Joy to others.
Mary brought joy to Elizabeth when she visited her and we are told that the "child in her womb leapt for joy". Mary also brought joy to the young couple at the wedding feast of Cana when they were embarrassed by the shortage of wine. Mary was sensitive enough to notice this and approach Jesus for help. Mary is still a bringer of joy to us interceding unceasingly with Jesus for what she knows is best for us so God may have the glory.
Recently someone said to me of another person he works with "That person turns me off" meaning his attitude and personality do not attract me to him but turns me away.
Might we not say that "Mary turns us off" in the sense that she turns us away from herself and shows Jesus to us?
Mary never seeks the glory for herself but constantly directs our attention to Jesus. When she was praised by Elizabeth for being the Mother of her Lord, Mary's first words are 'My soul glorifies the Lord'. And in all pictures or statues of Mary with the Infant Jesus, she holds Jesus out to us for our attention as if to say. "Here is the One you need to draw close to, the One you need to follow. Forget me."
Sadly, quite often we Catholics are accused of treating Mary as if she were God. Sometimes of course one does hear Catholics treating Mary like this. But if we listen to Mary's own words in the gospels we are certain that she never even remotely thought this herself. Surely her words: "Be it done unto me according to your word" leave us in no doubt that she never considered herself anything but a servant, a child of God. We know too that the last recorded words of Mary in the Gospels are "Do whatever he tells you". (John 2.5).  
"Lord Jesus, thank you for giving us Mary as our mother. May we become more and more like her who had the great gift of hearing your word and always put it into practice. Amen"
Fr. Jim Kirstein SMA