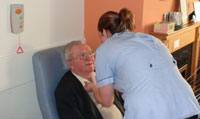 "There were ambassadors from Ireland in Nigeria long before the arrival of the diplomats" said H E Liam Cunniffe, then Irish Ambassador to Nigeria in a tribute to the the long-term presence of Irish missionaries in Nigeria. Today many of these great missionaries are retired and need to be nursed and cared for.
As in every family people grow old. The SMA has always had a special regard for its senior members. "Members who are no longer able to carry out their missionary activity becasue of sickness or old age are entitled to the special care and attention of their Superiors and of the otehr members of the Society". (SMA Constitutions & Laws)
On reaching retirement, either through illness or old age, the SMA priest / brother is able to retire in the various houses of the Society. Occasionally one may retire in the care of his family. For someone who is in need of nursing care we have St Theresa's Nursing Unit attached to the SMA House at Blackrock Road, Cork where full time quality nursing care is provided.
Support for Aging, Sick and Retired missionaries who have borne the heat of the sun and spent their lives in the service of others is very important. Indeed they have been the ambassadors from Ireland, pioneers in primary evangelisation and development of peoples. Spent and broken they need to be cared for today.
You are invited to support that caring work.
Will you help us in providing good care for our former missionaries?