A Report from AGENZIA FIDES, the Vatican News Agency for the Congregation for the Evangelization of Peoples, is reporting that the Archdiocese of Bangalore, Karnataka State in southern India, has decided to temporarily transform Catholic schools into hospitals for patients affected by Covid-19. Archbishop Peter Machado decided to do this after noting the difficulties in managing the emergency in Catholic hospitals and public structures.
The explosion of the second wave of Covid in India has paralyzed the health system. Across India there is a shortage of beds, oxygen and medicines. "Our initiative to make school facilities available can help alleviate the stress on hospitals in managing the health crisis in the country", the Archbishop told Fides. "We appreciate the tireless and selfless service rendered in the most difficult circumstances by doctors and nurses, Catholics and non-Catholics, and we want to offer all the help and support possible".
The Archdiocese and the Catholic hospital network have also launched a telephone helpline to reach the victims and their relatives, providing information on the management of the disease, the availability of beds and oxygen. In this way, patients will be directed to temporary Covid assistance centres, those set up in school buildings and other structures, especially dedicated to those who are on the road to recovery after initial therapeutic treatment, thus relieving the pressure on hospitals.  The Archdiocese makes a school available to each hospital in order to set up a post-Covid care centre. The "Azim Premji" Foundation offered advice and financial support.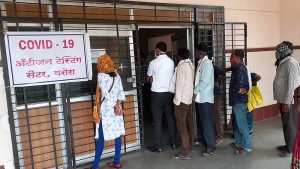 Since last year, Christian hospitals in Bangalore have been at the forefront in the fight against the pandemic. Father Paul Parathazham, director of St John's Medical College Hospital in Bangalore, expressed deep concern over the rapidly growing number of infected people, which is causing enormous stress on medical facilities.
"We should prepare for greater challenges if the current wave does not decrease", he told Fides. In particular, the private network of 'Christian Mission Hospitals' has joined the state government in fighting the pandemic using its own resources, "serving the poorest and most marginalized people and not only in Bangalore but also throughout Karnataka State", Sister Gracy Thomas, superior at St Martha's Hospital, Bangalore, told Fides. (Agenzia Fides, 28/4/2021)