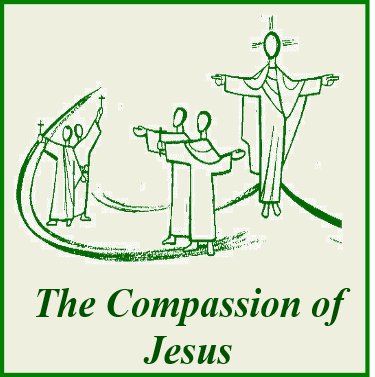 Readings:  Exodus 19:2-6; Romans 5:6-11; Matthew 9:36-10:8
Theme: The Compassion of Jesus
God's tender love and compassion for his creatures is the dominant theme of our Mass readings today. In our first reading from the book of Exodus, God's loving care for the people of Israel is conveyed in a beautiful image: 'I bore you up on eagle's wings and brought you to myself' (Ex 19:4). The appropriateness of this image came home to me recently, as I was strolling along by the Atlantic pond near our house in Cork, and noticed a mother swan carrying her baby swans on her back. I was immediately captivated by the sight, as were several other people who were walking nearby.  This is surely a touching expression of motherly love and care for her fluffy little bundles of joy.  Later, I was informed that, while eagles do not carry their young on their back, as swans do, when the young eaglets are learning to fly, the mother eagle flies under them with her wings spread out to catch them in case they fall.  
When the Israelites became discouraged as they wandered through the  wilderness of Sinai, following their miraculous escape from Egypt, they needed to be reminded that God, who had intervened to facilitate their escape, would never desert them, but would accompany them always and make his people, 'a kingdom of priests, a consecrated nation' (Ex 19:6). We, too, need to hear those same words of encouragement, especially when we feel overwhelmed by the burdens of life.
In our second reading, St Paul underlines the unconditional quality of God's loving care for us. God's love, says Paul, is not like that of people who only love those who deserve it, and who might be prepared to give their lives for those they consider worthy of such a gesture. Just how different, and infinitely greater, is the love of God is shown by the fact that he sent his Son to die for us while we were still sinners (cf. Rom 5:8). Paul encourages us not to let ourselves become slaves to our fears and doubts, but to be filled with 'joyful trust in God' (Rom 5:11). Just imagine, he says, that if God loved us when we were estranged from him, how much more will he love us now that we have been made citizens of his Kingdom? Our weaknesses and sins can never be stronger than his love.  While we may be tempted to give up on him, he will never abandon us.
Our gospel reading from Matthew, gives us a lovely picture of the compassion of Jesus for the people he encountered in his ministry. The English expression 'he felt sorry for them' (Mt 9:36) does not even come close does to capturing the depth of his feeling for the pain and suffering of the poor and oppressed people  whose lives he wanted to transform.  Far from observing the pitiable conditions of the people – 'harassed and dejected, like sheep without a shepherd' (Mt 9:36) – with detachment or disinterest, he was moved from the depth of his heart to respond to their plight. He knows that the political leaders and the religious authorities of his time have no real concern for them.  Their focus is on maintaining their privileged positions and feathering their own nests, while neglecting the hungry, the sick, and the oppressed of the land.  Jesus, in contrast, identifies with his people's sufferings. His compassion leads him, not only to embark on a personal ministry of healing and hope, but also to choose and select a twelve of his disciples to collaborate with him in this mission
The mission on which Jesus sends his twelve chosen disciples, is clearly an extension of his own ministry: 'Go and proclaim the message: The kingdom of heaven is near. Heal the sick, bring the dead back to life, cleanse the lepers, and drive out demons' (Mt7-8). The demons and illnesses symbolise all that is opposed to human life—physical, mental, spiritual (Mt 9:35). The authority that Jesus confers on the twelve is an authority, not over people, but over evil. It is the liberating power of his word, which can overcome evil and create a new world. As disciples of Jesus, we, too, are called and sent to continue his mission of healing and hope in the world of our time.
The gospel reading concludes with the directive of Jesus to his apostles: 'You received without charge, give without charge' (Mt 10:8).  Those commissioned by Jesus do not work for personal benefit. They do not seek to become famous    or revered, and especially not to enrich themselves. They are happy to be instruments in the service of their Lord and Master, and to strive to live by the words of a popular contemporary hymn: 'Freely, freely you have received; freely, freely give. Go in my name, and because you believe others will know that I live.'
I conclude with a thoughtful reflection on compassion from the pen of Flor McCarthy, SDB.
'The person in misery does not need
a look that judges and criticises,
but a comforting presence.
Jesus looked at the ordinary people,
and seeing how needy they were,
he had compassion on them
and began to minister to them.
Compassion means that I suffer with you;
I accept into my heart the misery in yours;
I become one with you in your pain.
I may not be able to relieve that pain,
but by understanding it and sharing it,
I make it possible for you to bear it.
Lord give us warm and generous hearts
so that we may be agents of your compassion to others.'
 Michael McCabe SMA
To listen to an alternative Homily  for this Sunday, from Fr Tom Casey of the SMA Media Centre, Ndola, Zambia please click on the play button below.