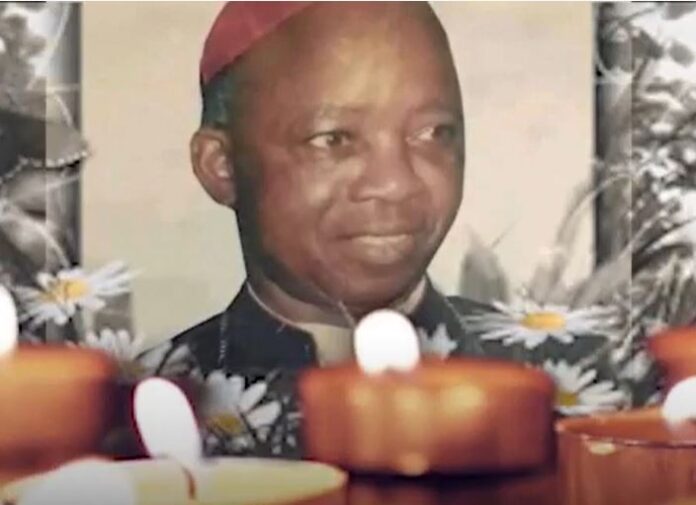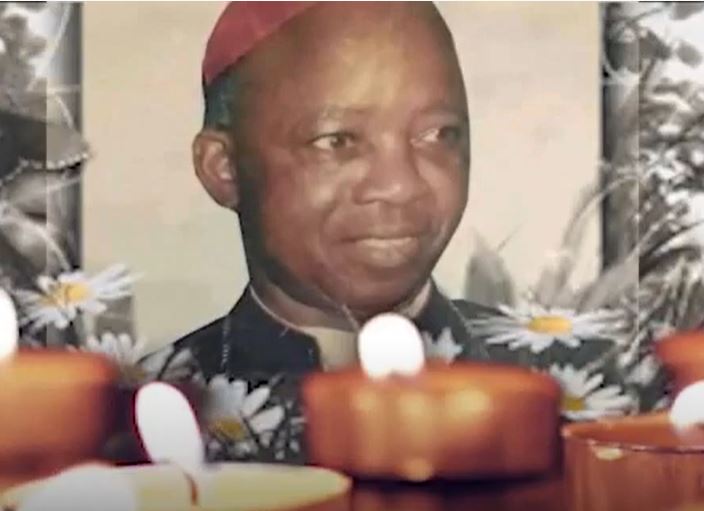 By John Cardinal ONAIYEKAN, Archbishop Emeritus of Abuja, Ahmadu Bello Stadium Kaduna: January 6th 2021.
"Glorious in the eyes of the Lord is the death of his faithful."
The Death of an Archbishop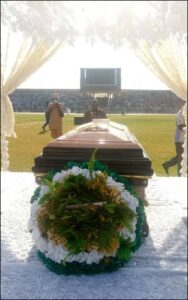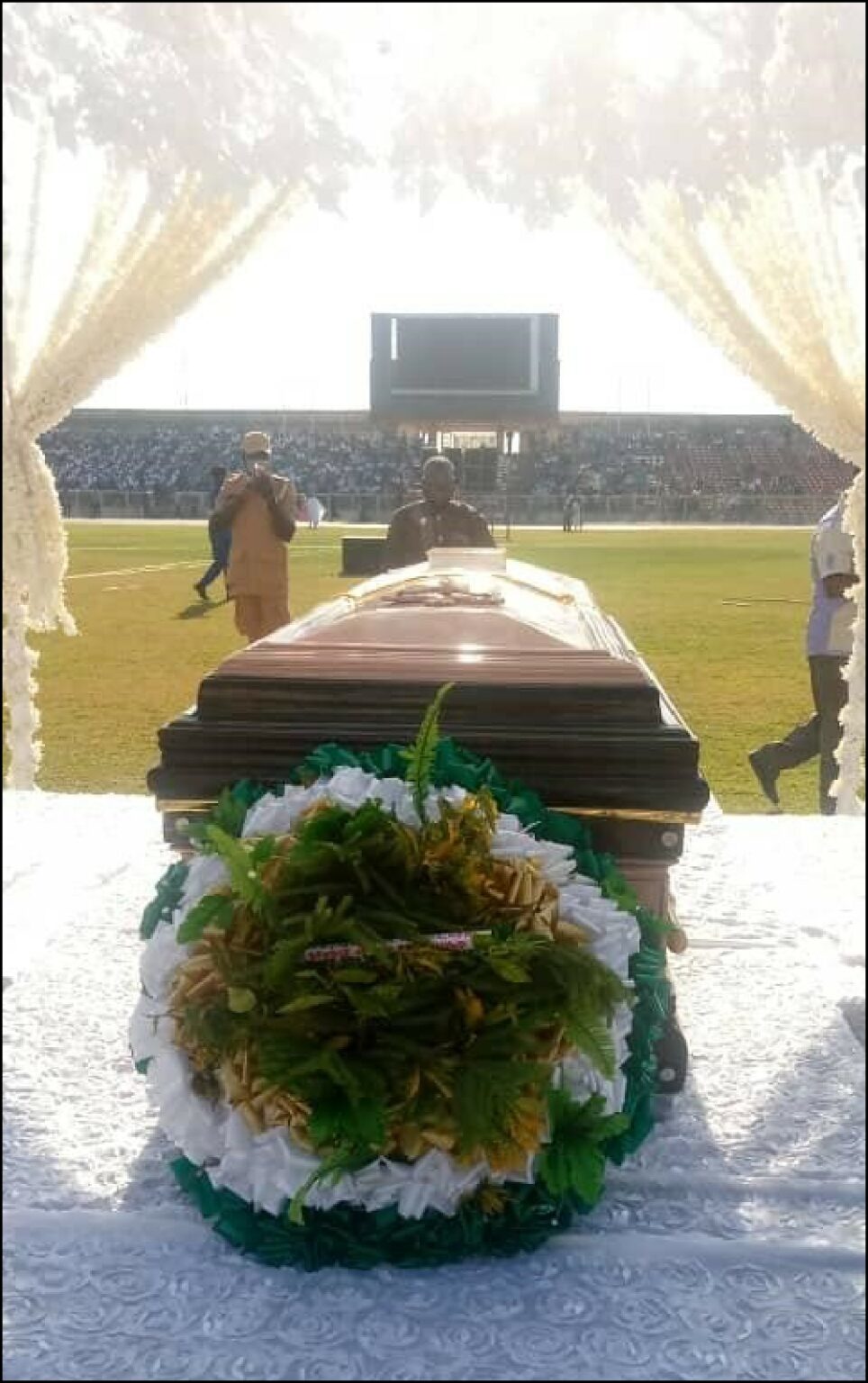 The death of His Grace, Most Rev. Dr. Peter Yariyok Jatau, Archbishop Emeritus of Kaduna, our brother and father, is glorious not only to God but to all of us who have known him and shared with him the inestimable gift of faith in the Lord Jesus Christ. He slept in the Lord at the ripe old age of one year short of ninety. Despite modern tremendous progress in medical sciences, what the scriptures say centuries ago is still largely true, that "the sum of our years is seventy, and eighty for those who are strong". With him, and for him, we thank God that he has run the race of life well, and kept the faith to the end. His crown of glory is secure, as promised by the Lord Jesus for all those who love his coming and serve him well. Your Grace, Peter Jatau, rest in peace, with Mother Mary, with your patron St. Peter the Apostle, and with all the saints in heaven!
The readings of the Eucharistic celebration at this occasion have been appropriately selected to give firm basis for our strong confidence in the heavenly glory promised to our departed brother and father, as well as to us too, if we remain faithful.
The prophet Isaiah, more than 600 years before Christ, announced that on God's holy mountain,
the Lord God of Hosts is preparing for all peoples a banquet of rich food.
He h as destroyed the veil which used to cover all peoples. He has destroyed death for ever; he has wiped away the tears from every cheek; he has taken his people's shame away. Is. 25:6-9
Yes, for the Lord God has spoken.
On that day, when that day comes, we shall see the Lord in whom we have put our trust. Let us exult and rejoice, for he has saved us.
In the Gospel reading, we hear how Jesus invited his disciples up a mountain, and from there announced to them the seven beatitudes. Happiness and blessings await those who follow what Jesus demands. Blessed are the poor in spirit, the kingdom of heaven is theirs. The gentle will inherit the land. Those who mourn now will be comforted. Those who hunger and thirst for what is right will have their fill. The merciful will have mercy shown to them. The pure in heart will see God. Peacemakers will be recognized as children of God. Then, he turns to them and tells them directly: "Blessed are you when people abuse you and persecute you….on my account. Rejoice and be glad, for your reward will be great in heaven." Mat. 5:12
Finally, in the second reading, St Paul assures his Roman audience and us that "all of us, when we were baptized into Christ Jesus were baptized into his death. We believe that if we died with Christ, then we shall live with him too." Rom. 6:3-4.
These are the glorious promises that sustained the life of faith of our brother and father. He was a man of deep faith in Christ, which he acquired as a conscious young adult, against all odds in those days.
In Pursuit of the Catholic Priesthood.
He decided to be not just a Christian and Catholic, but even to be a priest of the Catholic Church, at a time when it must have looked like foolishness madness. But he had discovered the wisdom and power of God, which surpasses all expectations. His pursuit of the priesthood took him away from home early and far away to Ibadan, Benin City and back to Ibadan from 1950 to 1963, when he completed his studies to be ordained on July 7th 1963, in Jos, for which diocese he was ordained. It was in his last semester in the seminary that I arrived there as a young 19 year old recruit. He was then a deacon and Prefect of the Seminarians. By his ordination, after Fathers Ohieku and Makozi of Lokoja in 1961, he became the third indigenous priest of Northern Nigeria, and the first "hausa man" to become a Catholic priest. He would be followed soon by three other pioneers: Kevin Aje, Gabriel Ganaka and Chistopher Abba, all of blessed and glorious memories. May their souls rest in peace. Amen.
Ordained at the age of 32, he launched with all zeal into his pastoral work in the diocese of Jos. He was sent in 1964 for Canon law studies in Rome, which he completed with a doctorate degree in three quick years and promptly returned home in 1967 to resume high level pastoral assignments.
The Pioneer Indigenous Archbishop
His appointment by Pope Paul VI in August 1972 as Co-adjutor Archbishop of Kaduna did not come as a surprise to those who knew him well. He was a right and mature choice, at the age of 41, as his later performance was to clearly demonstrate. With the retirement of Archbishop John MacCarthy in April 1975, he automatically moved in as his anointed successor. His episcopal ordination had already taken place more than two years earlier, at exactly this same venue then new Ahmadu Bello Stadium. Although his period as Coadjutor must have given him some opportunity to understudy his predecessor, it was no doubt a great challenge for the relatively inexperienced "black bishop". As Metropolitan Archbishop, he had responsibility not only over his already wide and complex Archdiocese of Kaduna of those days. He also had some form of canonical supervisory role over the entire Kaduna Metropolitan Province, which at that time covered the whole of the former Northern Region of Nigeria, more than two-thirds of the whole area of Nigeria. The growth and development of the Archdiocese in the 38 years that he was chief pastor have been documented elsewhere for this occasion. Many more will be written later as source material for the history of the Church in this part of the country. Of more importance, however, is the record that the angels have kept for him in heaven.
The Quiet Achiever.
Our late Archbishop can be described as a "quiet achiever". He has managed to get quite a lot done with little or no applause. His reward will be all the more great in heaven from the divine Master who sees all that is done in secret and rewards everyone according to his or her works. But I hope I will be permitted to take advantage of the privilege I have standing at this pulpit to mention just three areas where I am sure the Lord Jesus had taken note of the efforts of our late Archbishop.
4a. Ecclesiastical structures. Every now and again, we hear that new dioceses are created here and there, or new bishops appointed. This does not just happen by some magical fiat in a shrine in Rome. Many people down the line in the body of the church have to make suggestions, offer proposals, work on documents, and give opinions when requested. This is delicate hard work, in which the Metropolitan Archbishop has significant roles assigned to him. It is in this regard that we must congratulate our late Archbishop for quietly and effectively collaborating with the Holy See in putting in place many ecclesiastical structures within his jurisdiction. Before 1975, two jurisdictions had grown out of Kaduna. The first was Sokoto as Prefecture Apostolic on 29 June 1953, then Diocese on 16 June 1964. Then came Minna as Prefecture Apostolic on 9 November 1964,and then Diocese on 17 September 1973. After 1975, under the watch of Archbishop Jatau, the following emerged:
         
Kano, as Independent Mission in 1991, Vicariate 1995 and Diocese in 1999.
Kafanchan was born in 1995, with territory from Kaduna and Jos.
Then Zaria came on board on 5th December 2000.
Nor can we forget the major restructuring that took place in March 1994, with the birth of the two new Ecclesiastical Provinces of Abuja and Jos, both out of the former Kaduna Province.
4b. Nurturing an Indigenous Clergy. When Archbishop Jatau started his episcopal ministry in Kaduna in 1975, there were only a handful of Nigerian priests among a presbyterium made up almost entirely of Irish SMA Fathers. This group of gallant Christian missionaries had worked with admirable zeal for God and genuine love for our people from the very beginning of the Kaduna ecclesiastical jurisdiction on 24th August 1911, then curiously baptized the "Prefect Apostolic of Eastern Nigeria", later re-baptised, more appropriately on July 18th 1929 as the "Prefecture Apostolic of Northern Nigeria". Five years later, on April 9th, 1934, the territory was finally named the Prefecture Apostolic of Kaduna, on the same day that the new Prefecture Apostolic of Jos was created, both of which became full-fledged dioceses on June 24th 1953. This story was concluded on July 16th 1959, when with the formal establishment of the Nigerian hierarchy, Kaduna Province was created, along with the other two in Lagos and Onitsha, with Kaduna as the Metropolitan See.
All these are not just fanciful empty change of names and titles for a territory. Rather, the are an indication of the great work of evangelization that had taken place through the grace of God and the efforts of the entire people of God, clergy, religious and laity, foreign missionaries and local members, men and women, young and old. But today, we do well to emphasize the missionary zeal of the many mainly Irish missionaries, priests and Rev. Sisters, who left their country to bring the message of the Christian gospel to our people. Significant work took place during the colonial era, not without some restrictions and obstacles on many occasions, as our missionaries tried to work their way through the balancing act of the colonial administrators of the proverbial "indirect rule". It is clear that a solid foundation had been laid by the time political independence came in 1960, followed soon by the tremendous events before, during and after the Nigerian civil war, which brought with them a whole set of challenges, problems and opportunities that are presently still on-going.
Perhaps the most urgent of those challenges was the need to nurture a vibrant local clergy, able to cope with the growing demands of a fast moving society. In this, the Archdiocese of Kaduna, under the leadership of Archbishop Peter Jatau made giant strides. It now on credible record that "In 1975 when Archbishop Jatau assumed full control of the Archdiocese, there were only three indigenous priests, but as at the time of his retirement in 2008, Kaduna Archdiocese could boast of no less than 125 indigenous priests". This is perhaps not considering the many, almost a hundred others, originally ordained for Kaduna, but now priests of the many new dioceses created out of Kaduna. Thus this Archdiocese is now not only reasonably self sufficient in local clergy, but has been sending missionaries out to help out within and beyond Nigeria. To Gid be the glory.
4c.  Tremendous work for Justice, Development and Peace. The great pastoral and spiritual achievements to which we have referred above were all the more significant by the fact that they were carried out in a socio-political environment that was anything but supportive and encouraging. Every bit of success was as a result of dogged patient efforts, often swimming against the current. Today, all over the Archdiocese, the Christian faith, especially in its Catholic version, is no longer a marginalized, minority group, at best tolerated, in an overwhelming Muslim society. The members of this group are finding their feet in the ground, holding their heads high, and contributing their quota to the development and peace of the greater society.  This is as it should be, and in this there is no turning back. With a minimum of good will, this is a positive development in the overall good of the community, which nobody or group should see as a threat to their interest.
Archbishop Jatau was no only a frontline Catholic Church leader. He was also a true and prominent member if his Baggiu nation of Southern Kaduna. He was no stranger to the socio-political journey and experiences of his people. He succeeded in bringing together the best values of his two identities. He was able to apply the principles of his Catholic Social Doctrines to the struggles of his people for just emancipation and inclusion, with quiet but no less effective spirit of non-violent diplomacy. He has proved that in a situation of long entrenched social dislocation and political inequality, it is always better to light a candle than to curse the darkness. This explains his massive investment in the rural development of not only his own tribesmen, but of all marginalized groups within his jurisdiction. The results and the fruits are there for all to see.
The Struggle Must Continue:
After his canonically determined retirement from active episcopal ministry in 2008, Archbishop Jatau must have spent some quiet time during his almost twelve years of retirement thinking back and looking around at his many years of struggles for justice, development and peace in our nation. My fear is that he must have found himself deeply saddened to see much of the gains of his struggles being rolled back by new agents of social disintegration and political disorganization. It is obvious that it is not yet uhuru, and the struggle has to continue, until we attain our divine destiny of a great, peaceful and prosperous nation. In his heavenly rest, we owe him the duty to continue the struggle.
His vivid example of deep faith and patience must not be lost on us left behind to continue his legacy. It was a faith that allowed him to see beyond and through the foibles of the human weakness of those who think they have the  power to do whatever they like, a faith that gave him the confidence and trust that on the long run, the truth and the good will prevail.
Now that he has run his race, there is still a long way to go. The project Nigeria is still very much work in progress, or is it work in retrogression? It is hard not to agree with the many who are saying that in our nation, things are getting worse by the day. This is not to deny that there are indeed some people, lucky they, who have not had it so good. But even their prosperity gets lost in the wider and deeper sea of the misery that is engulfing the vast majority. Basic human needs, security of life and property, minimum level of peace and harmony in the land: these are not luxuries but the necessities of life that one should expect of any true government. Those in pain should be allowed to cry. Pointing out what is not going well with the nation should be seen as an act of patriotism which government should welcome and appreciate, not shouted down and demonized. In our present serious predicament, what is needed is to bring all hands on deck, so that we can together rescue our nation from sliding into avoidable chaos. By the nature of things, the responsibility for facilitating this joint action rests with those who have accepted the role of ruling us. We can only pray that those who should hear this simple advice will listen and take relevant action.
CONCLUSION:
As we pay our last earthly homage to our brother and father, the late Archbishop Peter Jatau, we are reminded that he is one who firmly believes in the viability of the Project Nigeria. Building a one united Nigeria is for many of us a desirable enterprise. But it is an enterprise that costs a lot in terms of sincere efforts to live with one another in a spirit of mutual respect, and equal opportunity for all, in solidarity and common mind. Before we discard this as a price too high to pay for unity, we must carefully count the alternative costs of tearing ourselves apart, a cost that will surely be much higher than what it takes to stay together.  May the Almighty and merciful God lead us through the path of justice, peace and love, to the goal of a united and prosperous nation, under God.
May the soul of our late Archbishop Peter Yariyok Jatau, and the souls of all the faithful departed, through the mercy of God rest in peace. Amen.