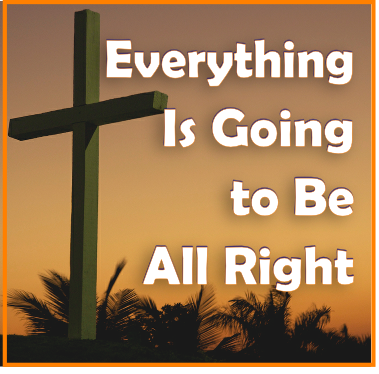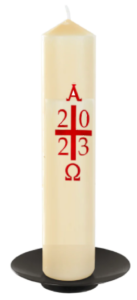 The Easter Candle which is lit during the Easter Vigil brings out the message of Easter better than many words. In the candle, which symbolizes Christ, the celebrant cuts a cross with a stylus representing Christ's crucifixion on Good Friday and five grains of incense to signify his five wounds. Then he lights the candle to symbolize that Christ has risen, saying, "May the light of Christ rising in glory dispel the darkness of our hearts and minds" In the candle too is written the year we are in 2023, saying to us that Christ did not just rise over 2,000 years ago in Jerusalem but that he is rising now here where we are in 2023.
At present we live in a time of anxiety and uncertainty with the war in Ukraine, with Covid 19 not gone away, and each of us with our own personal problems and challenges. As we go through life none of us can escape Good Friday moments but after Good Friday there is always Easter Sunday as shown in the  poem, " Everything Is Going to Be All Right" by Irish poet Derek Mahon which has an Easter message of hope. While the poet admits that hardship and mortality are a part of life, everything is going to be all right.  Lying in the bed in West Cork in the  morning with the sun shining in through his dormer window, when Covid was at its worst  he wrote:
"How should I not be glad to contemplate
the clouds clearing beyond the dormer window
and a high tide reflected on the ceiling?
There will be dying, there will be dying,
but there is no need to go into that.
The poems flow from the hand unbidden
and the hidden source is the watchful heart.
The sun rises in spite of everything
and the far cities are beautiful and bright.
I lie here in a riot of sunlight
watching the day break and the clouds flying.
Everything is going to be all right."
The message of Easter is that everything is going to be all right. Christ has risen and is with us taking us through the struggles of life and even in death leading us to resurrection.  We will hear this message in the Easter hymn, the Exsultet during the Easter Vigil.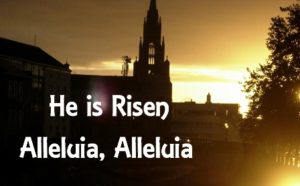 "Rejoice Christ has conquered     
Darkness vanishes forever
This is the night
When Christ broke the prison bars of death
and rose victorious from the underworld."
However, for Easter to have meaning for you, you must be able to get in touch with resurrection experiences in your own life, maybe you contacted Covid and recovered from it. Maybe someone close to you died  and, looking back on it you were given the strength to cope or your heart being lifted by the blooming of the daffodils after the deadness of winter or a child being born or a broken relationship repaired or a good meal with friends.
The resurrection is all around us if we have eyes to see it. "We are an Easter people and Alleluia is our song." Christ our hope has risen" and we are called to live out of that reality that gives us joy and hope.
Tim Cullinane SMA