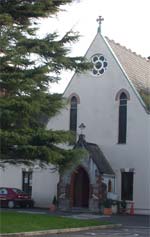 The first SMA establishment in Ireland (April 1877) was at Lough View on the Old Youghal Road, Cork. In October 1877 the SMA moved to a larger premises at Elm Grove, Mayfield, where a Secondary School for those who wanted to be missionary priests opened.
In June 1879 a property was purchased on the Blackrock Road from Madame Maria McCarthy who lived in France. She was the widow and executrix of John McCarthy (probably one of the McCarthy's of the McCarthy Monument on the Blackrock Road, opposite the African Missions House). Fr Francois Devoucoux SMA began building a College and chapel, aided by a donation from a wealthy Yorkshire farmer, Mr Thomas Hinsworth.
The College cost £2,400 to build and was completed by April 1880. In 1881 the students were transferred from Elm Grove to the new College.
The Chapel – today known as St Joseph's Church – was completed in 1881 at a cost of £1,499-3s-2d. The contractors were John Sisk & Sons.
The Church, which is intimate in scale and Victorian-Gothic in style, is cruciform in plan with a seating capacity of approximately 500. The walls are constructed in coursed square necked limestone blocks with clay bricked dressings around the doors and windows. The steep pitched slate-covered roof with ornate terra cotta ridge tiles is supported on exposed decorative trusses resting on the external walls and embossed corbelled pad stones. Gothic style porches give access to the building. The design and painting of the stained glass windows was carried out by Cormac Mehegan in 1950 and the fabrication and installation by Tom Henley took four months. The windows portray St Joseph, Our Lady and St Therese. The Church is Ireland's National Shrine to St Therese of the Child Jesus, the Little Flower, Patroness of the Missions.
The Parish is created… St. Joseph's SMA Church became a Parish Church on 6th September 1988.
20 October 2019 – Fr Alphonse Sekongo became the first non-Irish SMA to be appointed Parish Priest.