FVC Day in Claregalway
Fr Kevin Conway SMA was one of ten SMA priests ordained in 2011. During the course of his studies – in Ireland, Philippines and Kenya – he was supported, both prayerfully and financially, by a vast legion of supporters throughout Ireland. They are members of the SMA Family Vocations Crusade (FVC). Fr Kevin celebrated with many members of the Family Vocations Crusade (FVC) at two centres in Connacht recently.
Our picture shows Fr Kevin waiting to receive the Gifts at the Offertory of the Mass in Claregalway.
Founded in 1960 in Dromantine, Newry, the FVC has brought together thousands of supporters who sponsor our students for the priesthood.
FVC Sponsors agree to
Pray for vocations daily
Encourage vocations in their homes through a positive attitude to the Christian faith
Make a financial contribution annually to the SMA.
FVC members are gathered into a Group whose leader is called a Head Sponsor. Every year those FVC groups who have completed their eight year sponsorship period are invited to meet one of the newly-ordained priests (if possible) or some of our other priests so that we can express our thanks to them for their support. Of course, we also invite them to restart and, if possible, start their own group!
The FVC Director for Connacht, Roscommon-born Fr Brendan Dunning SMA, hosted the groups who completed their Sponsorship term at a Mass celebrated by Fr Kevin Conway SMA. Afterwards, everyone was invited to a 'Cup of Tea' and received the blessing of Fr Conway. Saturday, 17 September saw 80+ supporters gather in Fourmilehouse, Co Roscommon and the following day the SMA House in Claregalway welcomed nearly 200 supporters. Gabriel Monaghan played his guitar during the Mass and helped with the singing.
Fr Brendan, pictured left, thanked all our Sponsors and benefactors and encouraged them, despite the hard times they are living through, to continue their support of the missions. Listening attentively to him is Fr Seamus Nohilly SMA, the Leader of the Claregalway SMA community.
Another group of mission supporters – not only for the SMA but all the different missionary societies and congregations in Ireland – are the members of the Apostolic Work Society. Our picture shows the Galway Diocesan President, Marie Dempsey, who spoke about the work of Apostolic at the end of the Mass.
Apostolic Work members support the work of Irish, and other, missionaries through supplying Church goods – chalices, ciboria, vestments, altar linens etc – as well as financial support for projects missionaries are involved in. They are also a powerhouse of prayers for all missionaries. May they continue for many years to come in their missionary vocation.
Our picture below shows some of those who gathered at the SMA House in Claregalway for a celebration of the Mass and a Social gathering. Included in our photo is a long-standing SMA supporter, Tess Delahunty, from Feakle in Co Clare who was conferred with the Bene Merenti Medal for her service to her local Church and community.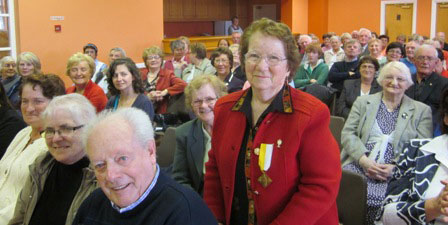 If you are interested in knowing more about the Family Vocations Crusade (FVC) click here.