Funeral ceremonies for Bishop John Moore SMA
Rt Rev John Moore SMA, Bishop of Bauchi, Nigeria died on 20 January 2010 in St Vincent's Hospital, Elm Park, Dublin at the age of 68 years and 8 days.
Born on 12 January 1942 in the parish of Harold's Cross, Dublin, in the Archdiocese of Dublin, he was the second son of John and Mary Moore (née Broughal). He is survived by his brother Gerard (Dublin) and younger sister Mary (Johannesburg, South Africa).
Removal from St Vincent's Hospital, Dublin to the African Missions (SMA) House, Blackrock Road, Cork
The removal of Bishop Moore's remains took place from the Mortuary Chapel at St Vincent's at 12.30pm on Thursday, 21 January. Prayers were led by Father John O'Brien SMA, Superior of the SMA community in Ranelagh, Dublin. Also present was Bishop Moore's brother Gerard with his wife Joan as well as other relatives and friends from the Harold's Cross and Templeogue areas of Dublin. Fr O'Brien was assisted by Fr Andrew Batare, priest of the diocese of Bauchi who is studying in Dublin at this time as well as Father Edward Muge SMA and Fr Frank Meehan SMA.
Ceremonies at the African Missions (SMA) House, Blackrock Road, Cork
The cortege from Dublin arrived after a four hour journey at Blackrock Road just after 5pm. There to receive the remains were Fr Colum O'Shea and the local SMA community. Also present was the Provincial Leader, Rev Fr Fachtna O'Driscoll, the Vice Provincial, Rev Fr John Dunne and the third member of the Provincial administration team, Rev Fr Damian Bresnahan.
Evening Prayer for the Dead was celebrated by the community, following which Bishop Moore's remains laid in state until Friday evening at 7pm.
From Thursday evening until Friday at 7pm many visitors, religious and lay, called to pray at the coffin and share stories of different events in the life of the late Bishop. As was typical of the John Moore that we all knew most of the events brought a smile and even some laughter. OLA, OLF, St Louis and Ursuline of Jesus Sisters as well as SMA's and his family recounted different incidents that occured during his 44 years of dedicated missionary service as a priest and bishop in Nigeria.
On Friday afternoon we welcomed John's family, particularly his sister Mary and her husband Michael who had flown overnight from Johannesburg, South Africa and two of his nephews who arrived from the USA. His brother Gerard and his wife Joan came from Dublin with their sons, who had flown overnight from the USA. Other relatives and friends came from throughout the country.
Mention should be made of two great friends of John who worked with him in Jos: Fr Jim Smyth (who flew from New York) and Fr Jim Shevlin.
Fr Tom Ryan SMA, Vice Provincial of the British Province and Fr Leo Glancy, representing the Cardinal Archbishop of St Andrews & Edinburgh (Scotland), who was unable to attend as he was travelling to Africa, were also in attendance. Fr Glancy worked in Bauchi from 1968 – 1975. Cardinal O'Brien sent a letter of condolence recalling his personal friendship with the late bishop and his last visit to Bauchi to see the progress there in recent years.
Many priests of the Archdiocese of Edinburgh were essential co-workers with the SMA and local clergy in the development of what we now call the diocese of Bauchi. In 1963 the late Cardinal Gray sent priests from Edinburgh to Jos diocese. They were given responsibility for the development of that part of Jos diocese. For more than 25 years they worked tirelessly to proclaim the Good news there. Many still remember the late Fr Danny Simpson who worked in Bauchi for more than 35 years, continuing to remain on mission after the formal end of the agreement with Edinburgh. He, and his fellow Edinburgh priests, have made an indelible mark on Bauchi which Bishop Moore always acknowledged. The links forged with the Archdiocese endures through the support of the people and priests of St Andrews & Edinburgh.
A special welcome was given to Fr Paul Gokok, Administrator of St John's Cathedral, Bauchi who arrived from Nigeria. Along with Fr Fergus Tuohy SMA they had to travel to Abuja through part of Plateau State sadly suffering from civil unrest. We thanked God for their safe arrival.
5.30pm, Friday: Evening Prayer of the Church was celebrated by the community and others who had arrived from far and near.
7pm, Friday: Fr Colum O'Shea welcomed the large gathering to the community chapel for prayere before the removal of Bishop Moore's remains to St Joseph's (SMA) Church, Wilton. The Bishop of Cork & Ross, Rt Rev John Buckley came to pay his respects despite an important meeting of the Irish Episcopal Conference. His presence was greatly appreciated by the family and community.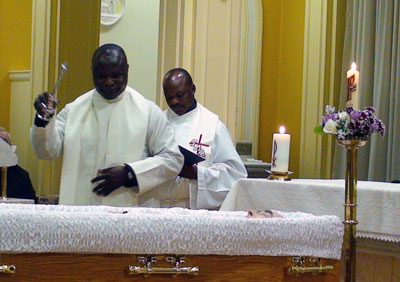 Fr Andrew Butare and Fr Gokok led the prayers and blessing of the remains before removal to Wilton.
Reception of the remains of Bishop Moore at St Joseph's (SMA) Church, Wilton
Fr Dan Cashman SMA led the prayers when the funeral cortege arrived after its brief 20 minute drive accross the city of Cork to the second house of the SMA in Cork, which has the SMA cemetery attached. It is also a parish staffed by the SMA. Fr Cashman, a classmate of the late Bishop, reminded us that whenever John was in a group there was more often than not lots of laughter. After the prayers in the Church all were invited to the SMA House for light refreshments. Text of Fr Cashman's homily here.