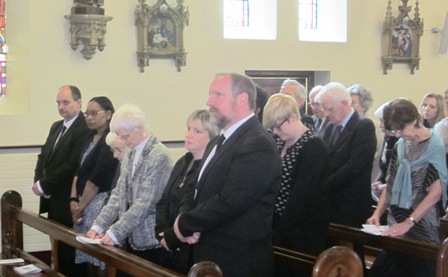 Following his death at the SMA House, Blackrock Road, Cork, Fr Donal Michael O'Connor, was laid to rest after Concelebrated Funeral Mass at 12 noon on Monday, 3 June 2013.
Obituary Homily at Requiem Mass
The following is an account of the different ceremonies for Fr Donie before his burial in Wilton cemetery.
Fr Donal O'Connor's remains returned to Blackrock Road on Saturday afternoon at 5.30pm. Fr Colum O'Shea and the community along with Honor O'Connor, Annette Ricketts and his cousin Sr Brenda Mary were there to receive the remains. Following the placing of the coffin before the Altar, Evening Prayer for the Dead was recited by all.
At 7pm, one of Donie's students, Martin Kavanagh, led the Rosary. After each decade verses from Psalm 23 (The Lord's my shepherd) were read. At the end of the Rosary prayers the community sang one verse of the hymn – Day is done, reminding ourselves that though Donie's days on earth are complete he has now begun his eternal life with God.
Day is done, but love unfailing dwells ever here
Shadows fall, but hope, prevailing, calms every fear.
Loving Father, none forsaking, take our hearts of Love's own making
Watch our sleeping, guard our waking, be always near.
At 7pm on Sunday evening the community gathered again for prayers and the removal of Fr Donie's remains to St Joseph's SMA Church, Wilton. Fr Colum O'Shea led the prayers and gave a brief reflection which is summarised here.
"Fr Martin Kavanagh, who was a student of Donie's in Maynooth, spoke about him last night. He spoke fondly of the man that he and all his former students held in high esteem and with great respect. Others who knew him in different situations would agree.
I knew him briefly in the 80's when he was in Maynooth and he struck me as being cool and calm.
I did not meet Donie again until a couple of months ago when he took up residence here. Those of us who have been with him during these weeks could not but have been touched by the way he accepted the inevitable. Those qualities of coolness and calmness were manifested again. They were tough weeks for him but he never complained. He was resigned to God's will."
For someone who gave his life in serving and caring for others here he was now dependent on others. He was well cared for by the nursing and caring staff of St Theresa's and by Annette. They did everything possible to make his final days as comfortable as possible. He died peacefully on Friday evening, with Annette and Sharon at his side, the feast of the Visitation of Our Lady.
May his gentle soul rest in peace."
Removal to Wilton
After the final prayers Fr Donie's remains were brought across the city to St Joseph's SMA Parish Church at Wilton where they were received by a former student, Fr Jarlath Walsh SMA. Fr Con Murphy, who was on the SMA Maynooth formation staff with Donie, read from the Book of Wisdom and Fr Jarlath read from St John 14: "In my Father's house are many rooms; if it were not so, I would have told you. I am going there to prepare a place for you. And if I go and prepare a place for you, I will come back and take you to be with me that you also may be where I am. You know the way to the place where I am going." Afterwards all were invited for light refreshments in the community Dining room.
Funeral Mass and burial, Monday, 3 June @ 12 noon
Fr Donie's sisters, Catherine and Honor, and his good friend Annette Ricketts are joined by other relatives and friends at the Requiem Mass in St Joseph's SMA Church, Wilton.
Fr John Dunne, SMA Provincial Leader, led over 50 priests in the concelebrated Requiem Mass for Fr Donie. Principal concelebrants were Bishop Kieran O'Reilly SMA (Bishop of Killaloe, and a former student of Donie in Maynooth), Fr Patrick N McGuire SMA (British Provincial Superior, also a former student of Donie in New Barnet, London), Fr Kevin Mulhern SMA (who worked with Donie in Walthamstow) and Fr John Brown SMA (Fr Donie's successor as PP of Walthamstow).
Among the other concelebrants were classmates Frs Michael Igoe and Richard Wall (home on holidays from his parish in Nigeria) as well as many former students, both non-ordained and ordained. Another classmate, Fr Derry O'Connell, had returned to his mission in Jos Archdiocese (Nigeria) a few hours before Fr Donie's death.
The Bishop-emeritus of Lodwar diocese, Rt Rev Patrick J Harrington SMA, was also among the concelebrants.
Relatives and friends travelled from many parts of Ireland (including Kerry, Dublin, Kilkenny, Mayo, Wexford and Wicklow) to join Donie's sisters Kate and Honor as they said their final farewell to their beloved brother. Fr John Brown SMA, who succeeded Donie as Parish Priest of Walthamstow came with a group of parishioners to pay their respects to a gentle and kind pastor. OLA, Presentation, Mercy and other congregations of Religious Sisters were also in the congregation for the Mass.
Bishop Kieran O'Reilly SMA, assisted by Fr John Dunne, leads some of the prayers during the burial of Fr Donie.
After the Final Prayers and Commendation in the Church, Fr Donie was carried to his final resting place by his nephews and friends. Bishop Kieran O'Reilly blessed the new grave and Fr Tom McNamara SMA (a former student of Donie's and who worked with him in Walthamstow) led a decade of the Rosary. Before the end of the ceremony Fr Pat O'Mahony SMA (a former student) led the mourners in singing the Salve Regina.
Some parishioners and Fr John Brown SMA came from Walthamstow to commend Fr Donie, their former Pastor, to the Lord.
A friend from the past…
During his illness in Cork, Fr Donie was visited by a former pupil from Egypt: Gerard Momjian and his wife, Kay. Gerard was a member of the Armenian Community in Cairo, Egypt, and he attended the St George's College, Heliopolis, founded by the SMA. During his years there (1959-1962) the teachers (which included Fr Donie) made a big impact on him and he visited the SMA Houses in Cork recently to pay tribute. Though very ill at the time, Donie received Gerard graciously. In a moving conversation they spoke about the school and about Egypt and Fr Donie told Gerard and Kay that he would be soon going to God and would remember them and their family to Him.
After completing his education Gerard emigrated to Australia, and later, after he was married, went to live and work in Paris, France, where he now lives. His wife, Kay, is an Australian and they have two grown-up sons.
During his visit to Cork Gerard and Kay visited the SMA Motherhouse at Blackrock Road and the SMA cemetery at Wilton, where he saw the resting place of some of his former teachers, including Fr John Joseph Murtagh, who was Headmaster of St. George's College, during his time there. He also had very fond memories of Fr. Eugene Melody, an SMA priest who was later incardinated in an Irish diocese.
Read Obituary here. Homily of Fr John Dunne SMA