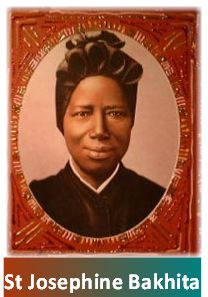 From Slavery to Freedom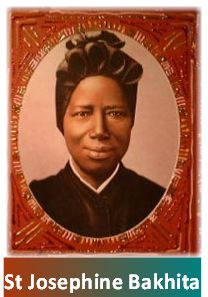 Josephine Bakhita was born in Darfur, Sudan in 1869. Kidnapped at the age of seven, she was sold and resold five times in the markets of El Obeid and Khartoum. She experienced all the humiliations, sufferings and deprivations of slavery.
In 1883, she was bought by Callisto Legnani, Italian consul in Khartoum. For the first time she was treated with care, rather than being beaten. Two years later he took Bakhita to Italy and gave her to his friend Augusto Michieli. She became Nanny to Augusto's daughter. While preparing to go to Sudan to run a Hotel on the Red Sea coast the Micheili's left their daighter and Bakhita in the care of the Canossian Sisters at a convent in Venice. When the time came to travel Bakhita refused to go. During the ensuing court case, the judge concluded that since slavery was illegal in Italy, she had actually been free since 1885. Bakhita, now twenty years old, found herself in control of her own destiny. She chose to remain with the Canossian Sisters. She was baptized and confirmed in 1890, taking the name Josephine.
She became a Novice in 1893 and made her profession as a Sister three years later. In 1902, she was transferred to the city of Schio, where she lived until her death. Her gentleness, calmness, and good humoured nature earned her the affectionate title of Nostra Madre Moretta ("Our Black Mother") among the local people.
Following a long illness Bakhita died on February 8, 1947. She was named a saint of the Church on October 1st 2000. During her canonization Mass in St. Peter's Square, Pope John Paul drew out the full meaning of her life in the following words: "The law of the Lord is perfect, .. it gives wisdom to the simple. (Ps 19: 8) These words from today's Responsorial Psalm resound powerfully in the life of Sr Josephine Bakhita. Abducted and sold into slavery she suffered much at the hands of cruel masters. But she came to understand the profound truth that God, and not man, is the true Master of every human being, of every human life. This experience became a source of great wisdom for this humble daughter of Africa. In today's world, countless women continue to be victimised, even in developed modern societies. We find a shining advocate of genuine emancipation. The history of her life inspires not passive acceptance but the firm resolve to work effectively to free girls and women from oppression and violence, and to return them to their dignity in the full exercise of their rights."