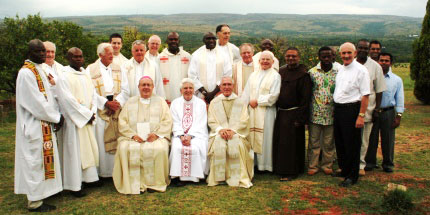 South African SMA's celebrate with Fr Brennan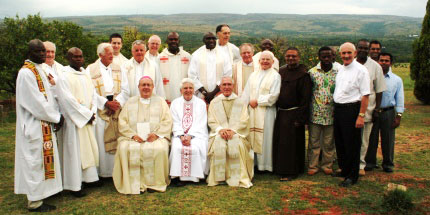 Fr Vincent Brennan SMA recently celebrated the Golden Jubilee of his Ordination with a Mass at the SMA House, hosted by the SMA Regional Superior, Fr Pius Afiabor SMA (from Nigeria). The celebration took place on the 155th Anniversary of the foundation of the Society by Bishop Marion de Brésillac. Seatede either side of Fr Vincent are, on his right, Archbishop William Slattery of Pretoria and, on Fr Vincent's left, Bishop Kevin Dowling CSsR, Bishop of Rustenburg where most of the SMA team in South Africa are ministering.
As well as caring for a parish in Modimong, Fr Brennan is the Secretary General of the Southern Africa Catholic Bishops' Conference. On completion of his term of office in March 2012 he will hand over to Sister Hermenegild Makoro.
Our picture also includes SMA Fathers Justin Inandjo, Michael Brady, Ishmael Gbagoue, Hugh Lagan, Noel Gillespie, Evantus Kene, Michael Flattery, Pius Afiabor, Frank Geoghegan and Liam Brady (Deputy Regional Superior) as well as Capuchin and Redemptorist clergy and seminarians.
Read more about the SMA team in South Africa here.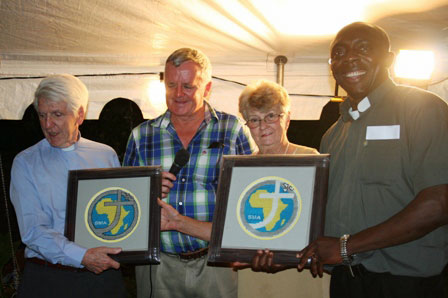 Fr Michael O'Leary SMA is Parish Priest of Montana parish in Pretoria. He is seen here presenting Fr Vincent with a framed copy of the SMA crest whilst Mrs Beulah Goodwin presents a similar one to Fr Pius Afiabor SMA. You can see more pictures of this celebration by clicking here.