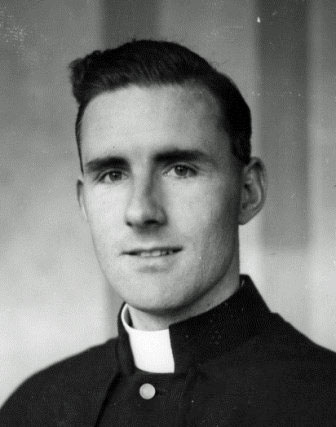 Fr Tom Furlong SMA died peacefully at 7.50pm on Monday, 6 October 2014, in St Theresa's Nursing Unit at the African Missions, Blackrock Road, Cork. For the past four days his confreres and staff had kept vigil at his bedside. He celebrated his 90th birthday on 10 August last.
Thomas Furlong was born on 10 August 1924 in Ballybricken, Waterford City to Stanislaus and Alice Furlong [née O'Neill]. He had three brothers, Stanislaus, Brian and Donal.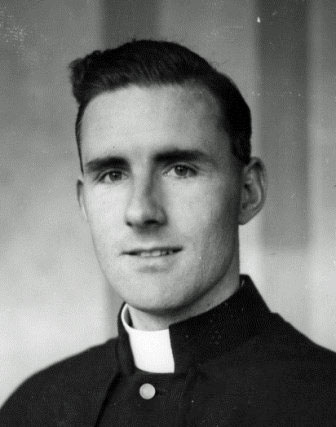 Tom received his primary education at De La Salle, Stephen Street, Waterford and, in 1938, began his secondary schooling at De La Salle Newtown. In early 1939 he first heard of the SMA through a neighbour and it was this meeting that brought him to enter the SMA Juniorate – Sacred Heart College, Ballinafad, Co Mayo [1939-1941]. He completed his secondary schooling at the African Missions in Wilton, Cork [1941-1943].
He began his formal studies for priesthood at Cloughballymore, Co Galway and became a member of the Society on 27 June 1946. From 1946 to 1950 he studied at the African Missions major seminary in Dromantine, Newry, Co Down. He became a permanent member of the Society on 12 June 1949 and, along with ten classmates, was ordained to the priesthood in the Cathedral of Saints Colman and Patrick on 14 June 1950. His first Mass was celebrated at St Columba's Church, Iona Road, Dublin the following day.
He was appointed to the Archdiocese of Lagos, Nigeria and he ministered there, in urban and rural parishes, for 36 years. His first appointment was to Lafiaji parish in Lagos City, Nigeria where Fr John Kilbey was Parish Priest. He also served in Ibonwon [twice], Ebute Metta, Mushin, Esure and Ado-Odo. His final appointment was back to Lafiaji in Lagos.
Fr Bernie Cotter wrote of Fr Furlong's mission days in an article in the African Missionary [Autumn 2000]: "He watched the bustling city of Lagos grow from a compact town into the vast, sprawling metropolis it has become today. During those years in the steamy, tropical heat he carried on a most fruitful apostolate, bringing the word of God to innumerable outstations many of which have now become fully fledged parishes in the Archdiocese of Lagos." In 1997, on the creation of Abeokuta diocese, some of the parishes and outstations where Fr Furlong toiled became part of the new diocese. In the rural area his work was largely that of Primary Evangelization [preaching the Gospel in areas where it had never been preached before]. Fr Cotter continues, "His service to the people of Lagos was marked by devotedness, dedication and fidelity, qualities of a man of strong character and great will power. Neither did he lose his love of Irish music, song and dance and he was a strong advocate of the Legion of Mary."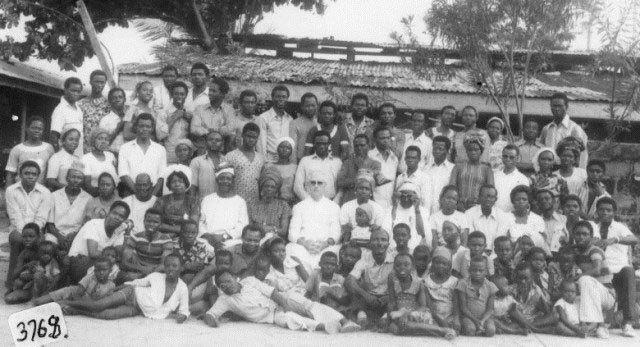 Fr Furlong with a parish group in Lafiaji, August 1974
Archbishop-emeritus of Ibadan, Most Rev Dr Felix Alaba Job, wrote of Fr Furlong on hearing of his death: "He will be forever remembered for his pastoral services and his promotion of the Legion of Mary in the 'old' Lagos Ecclesiastical Province… his days in Lafiaji parish, Ibonwon and our stay together in Ado-Odo when the two of us covered all Egbado area (Abeokuta diocese today): he pastor of Ado-Odo and I of Ajilete and Ilaro parishes" (with their dozens of outstation churches).
In 1986, ill health forced his recall from the 'mission fields'. But that did not mean he retired from active ministry. He spent the next nine years ministering in England, in Portsmouth, Birmingham and Southwark dioceses. He retired to the African Missions, Wilton in 1995 and earlier this year decided it was time to move to Blackrock Road.
When asked, on the occasion of his Golden Jubilee, what gave him the greatest joy in Nigeria he replied, "Travelling to so many outstations trying to spread the Word of God." And so, in the words of Sacred Scripture, we pray that after a long life of service to the Lord, Fr Tom has heard the words: 'well done, good and faithful servant.. come and share your Master's happiness.' [Matthew 25:23]
Fr Tom is deeply regretted by his sister-in-law, Evelyn Furlong, nephews, nieces, other relatives, friends and his confreres in the Society of African Missions. Rest in peace.