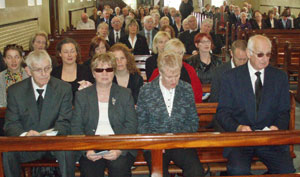 Homily delivered by Rev Fr Fachtna O'Driscoll SMA, Provincial Leader of the Irish Province
29 April 2010
Readings:
Eccl 3: 1-8, 11 and 1 John 4: 7-11, read by Fr Paul's nieces, Carol and Fiona
John 12: 44 -50, read by Fr O'Driscoll SMA
There is an old wise saying that goes "map out your life, but do it in pencil". When Paul D'Arcy took over the post of Provincial Secretary just over four years ago one of the tasks of that role was to organise the arrangements for all Irish SMA priests' and brothers' funerals. Little did we think then that within such a short space of time we would be celebrating Paul's own funeral. This is part of the mystery of life. Our opening reading from the Book of Ecclesiastes puts it very clearly and succinctly: "there is a time to be born, and a time to die;…a time to mourn and a time to dance; …. a time to keep silence and a time to speak". We are not the masters of time, God is. And God has now seen fit to call Paul into his full embrace.
All of us got a shock on Tuesday morning on hearing the news that Paul had died. Not that we were unaware that his health condition was grave; it was just that in the previous days he had seemed to regain some strength and was looking towards some quality of life for a little time to come at least. It was not to be, and we know too that the medical prognosis was not comforting and perhaps Paul was spared a lot of suffering by his sudden death. Since he was diagnosed with cancer in the late summer 2008 Paul has really marked out his life in pencil. He lived from day to day and accepted whatever was given to him with commendable grace. Trying to figure out the whys and whynots of death is a useless activity; far better to accept the mystery and hand our loved one over to the Lord. Perhaps this Feastday of Catherine of Siena, mystic as well as savvy politician, will inspire us to simply be with the mystery.
There is something special about being buried during the Easter season. All our readings at Masses this season speak of the resurrected Christ and the new meaning he brings to the lives of believers. And while the resurrection of Christ is not primarily about our own hope of resurrection to new life – it is primarily about the guarantee that the Kingdom of God is really among us – nevertheless it does offer hope to our faith that as St Paul puts it "if we have died with Christ, we shall also live with him". Our Christian belief assures us that all the ties of friendship and affection which knit us together in this life do not unravel with death. That is why Paul's natural family and his family of the SMA plus all his many friends are consoled today. We believe that his life is changed, not ended.
Paul dedicated his life to proclaiming the message that the Kingdom of God is among us. Part of that message is that at death we begin to share in the Kingdom of God in a new way, a way that leads through purification to ultimately sharing in the fullness of God's eternal kingdom. How many times did Paul share this consoling message of faith with grieving families as they tried to come to terms with the loss of a loved one? How well did he live the kingdom of God among us now by trying to make his own the passage from the letter of St John that we had in our second reading this afternoon: "let us love one another since love comes from God"…. and anyone who fails to love can never have known God, because God is love". Paul had a very clear grasp of the fundamentals of that message which St John outlines a little further on in the reading: "this is the love I mean: not our love for God, but God's love for us when he sent his Son to be the sacrifice that takes our sins away". This is a key phrase for understanding the Christian mystery. We do not have to compete with God's love. We do not have to try to 'out love' God. We simply respond to God's love. And so it is that resurrection to new life in Jesus is gifted to us freely from God. We do not earn it; we receive it. Paul D'Arcy preached that message to others and today we are confident that he will enjoy new life with God, not because of his own efforts but through accepting the love offered by God.
Paul was born in Castlebar, Co Mayo on 16th January 1945. The youngest of five children, he did his primary and secondary studies in Castlebar. He was an accomplished sportsman excelling in gaelic football where he was a tenacious corner back on the Mayo minor team; he excelled also as a basketball player. Fr Billy O'Sullivan recounted for us the other evening how Paul came to join the SMA after a vocation talk in St Gerard's College. He did the usual route through SMA formation of Cloughballymore and Dromantine until he was ordained a priest in December 1968.
His first assignment after ordination was to the Tyrocinium at Kagoro, Northern Nigeria to study the language and culture of the people among whom he would live and work. He excelled in the Hausa language, so much so that he was called back some years later to initiate new recruits into the language. An assignment to the diocese of Jos found Paul in such parishes as Kwa, Shendam and Pankshin – great names in the history of SMA mission in Northern Nigeria.
Paul was called back, in 1980, by the Provincial administration to take up an appointment as Promotion Office Manager for the Irish Province. He did this job for six years and during this time his sporting interests came to the fore – particularly his love for golf which he had by now developed – by organising the first ever Provincial golf tournament. Thankfully that tournament is still flourishing and thanks will always be due to Paul for establishing such a fraternal gathering. Paul was to spend the next nine years in service to the British Province as secretary to the Provincial and his team. The British Province has always been loud in its appreciation of Paul's service in that role.
A feature of Paul's career as a missionary priest has been a moving back and forth between pastoral and administrative assignments. So, in 1995, having completed his assignment with the British Province Paul took up a pastoral appointment in the diocese of Arundel & Brighton. He loved the ten years he was to spend there in the parishes of Chichester, Leatherhead, Weybridge and Banstead and here too his service was much appreciated. Indeed, Bishop Kieran Conry phoned me yesterday morning to express his condolences to the family and to the SMA and spoke of the fine character of a man that Paul was.
In 2005, Paul again responded to the call of SMA and accepted my invitation to return to the Province as secretary. I have worked with him in close quarters for the past four years and have found him to be a man of principle, a man of honour, a man of loyalty, a man of utter discretion, a kind, gentle and pleasant man, and a good friend. I will miss him, not just for his work and service but especially for his kindness and decency.
(Our picture shows, from left, Fathers Denis Collins SMA, Paul's cousin Tim Sullivan PP, Rob Morland SMA (British Province), Fachtna O'Driscoll SMA, Paddy Gilligan PP and Tom Fenlon SMA)
In the years that Paul and I worked together it was clear that like every priest Paul got his energy not from administrative work but from contact with people and from the few opportunities given to him to break the word of God with people. I chose the gospel of today – it was actually the gospel of yesterday's liturgy – because it speaks of how we should approach the word of God, both as listener and speaker. Jesus tells us that he speaks not his own word but the word of the Father. So anyone who would dare preach the word must first be very attentive to that word so that what they preach is not just their own word but genuinely the word of the Father as mediated through Jesus. I would sometimes see Paul prepare his homilies over in the office. What struck me was the care he gave to the issue; he was meticulous about reading the word and usually some commentaries to bring the word more alive.
But Paul's most powerful preaching was done not through word at all but through action. I'm reminded of the phrase of St Francis of Assisi: "Preach the gospel at all times. If necessary, use words." This was the preaching of life, how he faced his sickness. Quite a number of confreres have said the same thing to me over the last few days: "wasn't Paul very brave in the way he approached his illness." I can certainly testify for that being true, but he never indicated to me that anyone should regard him as brave. But brave he was. Since the day he was first diagnosed he has never wallowed in self-pity. He told me the other day of a morning in the cancer ward awaiting treatment when a woman patient said her first reaction when she was given the news was "why me" and Paul's instant response was to say "well, why not me". This was said without any sense of superiority or judgement but with total and simple honesty. That attitude has helped him to live through this illness with great dignity.
His illness did not dull his good sense of humour. It affected his singing but not his appreciation for music. Nor was his passion for sport dimmed in the slightest. His fondness for Man Utd grew, if that was possible. They say that in God's time there is no yesterday or tomorrow, so I suspect that Paul already knows who'll win the premiership this year – maybe he just couldn't face a Chelsea victory!
His relationship to his family strengthened through his illness; his fondness for his nieces and nephews which was reciprocated; the frequent visits to and from family were treasured as precious gifts. His love for Leinster and Irish rugby flourished – I wonder why? Yes, he took a quiet but very genuine delight in the sporting achievements of nephew Gordon.
Paul will be missed; by family, colleagues in SMA, wide circle to friends. But these ties have not unravelled.
Ar dheis lamh De go raibh a anam dilis.