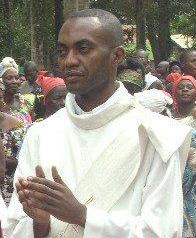 Fr Nakoé makes SMA history
29 September 1992 was an historic day for the Society of African Missions. On that day, Michael Adrie, became the first SMA priest in the African Foundation, ordained by Bishop Francis Lodonu of the Keta-Ho diocese, Ghana.
Pictured here is Fr Gérard Nakoé SMA who made another piece of SMA history recently.
Since then the SMA has opened several Formation Centres throughout the continent and, today, has more than 200 African seminarians. They study Philosophy in their home country before attending the International Spiritual Year programme in Benin Republic or in the Philippines. After a year working in an African parish they undertake Theology studies in Kenya, Ivory Coast or Nigeria. Finally, they return to their home country to be ordained in the presence of their family and community, whose faith helped to evoke in them a missionary vocation.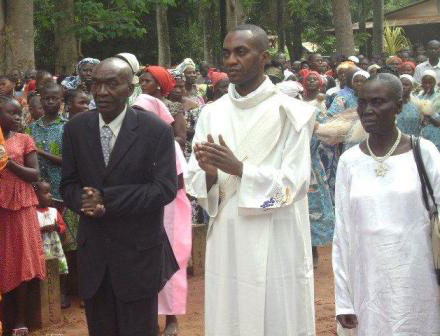 Due to the wonderful growth in the African Foundation it was decided to divide it into three separate units. These three Districts-in-formation are headed by African SMA priests.
In July 2011, the 150th SMA priest following in the footsteps of Fr Adrie was ordained. He is a member of the Bight of Benin District-in-formation. Fr Doka Gérard Nakoé, from the diocese of Berbérati in the Central African Republic, completed his theological studies in the SMA Foyer, Ebimpé, Ivory Coast. Sadly, the preparations for his Ordination were not as smooth as everyone hoped for. The political situation in Ivory Coast has led to serious civil unrest. Thousands of people had to flee their homes as different groups fought for political supremacy. And the seminaries were not immune from this violence. The SMA Foyer was looted and the property badly damaged. Our students had to flee into neighbouring countries and their formation programme badly disrupted. Despite this, Fr Gérard's family and friends prepared a wonderful celebration for their son. Two of our priests-elect, both from the Ivory Coast but studying in Kenya and Nigeria, were ordained in their seminary as a result of the unrest in their homeland. Thank God, some sense of peace is returning to the Ivory Coast and we pray that soon there will be full reconciliation and peace in that land.
Respectful of their tradition, Fr Gérard's parents led him to the Altar (pictured above) where they presented him to the SMA Regional Superior, Fr Dennis Agbenyadzi (from Ghana) who, in turn, presented the candidate to the Bishop for Ordination. After the outdoor celebration, everyone joined in a wonderful feast prepared by Fr Gérard's family and friends.
Throughout 2011, the SMA will ordain ten priests with two each coming from DR Congo, Ivory Coast and Poland and one priest each of the following: Central African Republic, Ireland, Nigeria and Togo. We wish Fr Gérard, and the other nine due to be ordained this year, every grace and blessing in their priestly ministry. Brother priests from the Bight of Benin DF are in 12 of the 16 countries where the Society has missions so Fr Gérard will most likely find himself working alongside fellow DF members as well as SMA priests from other parts of the Society.