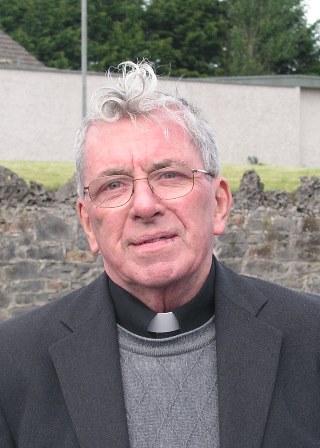 The Society of African Missions is mourning the death of Fr Michael Darcy on Friday, 10 May 2013, which took place at 2am in St Theresa's Nursing unit in the African Missions, Blackrock Road, Cork. Fr Michael was 79 years old.
Michael Darcy was born on 2 October 1933 in Drumconra (Kinawley parish) near Swanlinbar in the diocese of Kilmore, the second of three sons born to Cornelius and Cecilia (McGovern). His two brothers, Con and Philip, predeceased him. He was baptised in St Mary's, Kinawley the day of his birth. After completing his Primary education at Uragh Boy's National School, Michael went to the Sacred Heart College at Ballinafad, Belcarra, Co Mayo for his secondary education.
Ballinafad was the equivalent of a minor seminary for the Society of African Missions and Michael was there from 1949-1954. After completing his Leaving Certificate, Michael went to the Society's Novitiate – St Columba's College – at Cloughballymore, Kilcolgan, Co Galway where he completed the one year Novitiate programme, becoming a temporary member of the Society on 26 June 1955.
The 1960 Ordination class. Fr Michael is 2nd from the left in the middle row.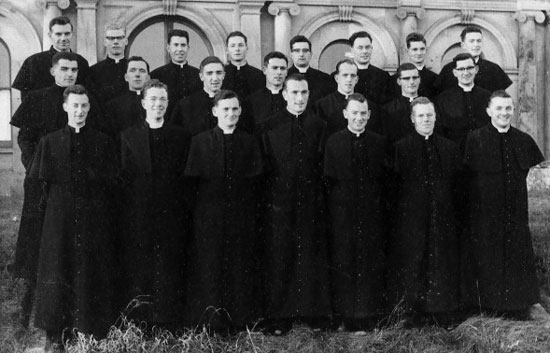 In September 1955, he began his Philosophy studies at the African Missions College at Wilton, Cork. Due to a change in the SMA formation programme, Michael did his second year Philosophy studies at the African Missions College, Dromantine, Newry. This was the location for the Society's Major seminary since 1926 and Michael was to complete his Philosophy and Theology studies there, becoming a permanent member of the Society on 14 June 1960.
He was ordained a priest on 21 December 1960, one of a class of 24 who were ordained in that class. Fr Michael was to serve nearly 27 years in the diocese of Jos, Nigeria. When he arrived there in 1961 the diocese was under the leadership of Bishop John Reddington SMA and when he left it, in 1989, Jos was an Archdiocese with Archbishop Gabriel Ganaka as Pastor of a growing and vibrant church.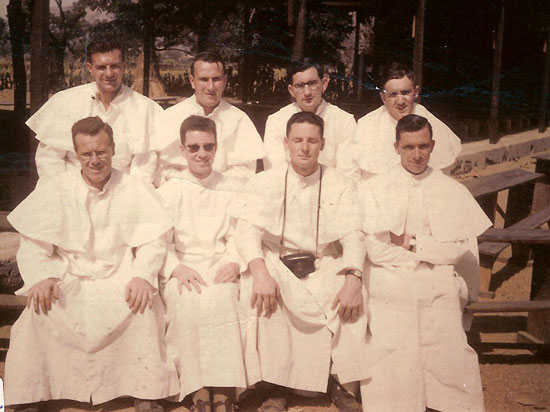 During his years in Jos, Fr Michael served in St Theresa's (Jos), Shendam, Pankshin, Kwa and Bukuru. Fr Jeremiah O'Connell recalls that in 1966, just after the outbreak of the Nigerian Civil War (when Biafra seceeded from the Federation), Michael saved dozens of Ibo parishioners from Bukuru. Many people were being attacked, from different ethnic groups, and Fr Michael used his car to bring many Ibos to the safety of the Police Headquarters in Jos Town. Despite several warnings that his life was in danger as he passed through different road blocks Michael brooked no opposition as he continued his trips in and out of Jos.
Our 1964 picture shows some SMA priests who were working in the north of Nigeria. Fr Michael is in the front row, extreme right.
In 1974, Fr Michael was involved in promotion work in Cork for the African Missionary magazine but returned to Jos in 1975 and left finally in 1979.
The original diocese of Jos has given birth to several new dioceses, surely a sign of God's blessing on the work of the missionaries and a huge band of dedicated Nigerian laity and clergy.
On his return to Ireland, Fr Michael served in the SMA parish, Wilton for some months. In 1991, he was on loan to the diocese of Cork & Ross where he ministered in Tracton parish. From 1994 to 2009, Fr Michael served in different parishes in the Archdiocese of Tuam.
Increasing ill health forced his retirement to the SMA House in Blackrock Road in 2009. Along with 13 of his classmates, Fr Michael celebrated his Golden Jubilee in 2010. Fr Michael had health problems for many years and in recent weeks his health deteriorated but it was only in the final week of his life that he was confined to bed. Two of his nieces, Bernadette and Fionnuala, visited him the day before his death and visits by his nieces and other family members, both to Dromantine and Blackrock Road, were always a source of great joy to him.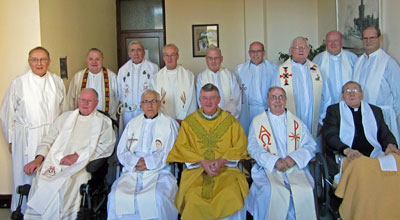 Our picture shows 12 of the class on the occasion of their Golden Jubilee Mass with the Provincial Leader, Fr Fachtna O'Driscoll. Fr Michael is third from the left in the back row.
Fr Michael's passing is deeply regretted by his sisters-in-law, Annie and Anne, nieces, nephews, other relatives and friends as well as his confreres in the Society of African Missions. At his request he will be buried in Killaduff cemetery, Swanlinbar, Co Cavan.
Funeral homily of Fr John Dunne SMA.
May he rest in peace.