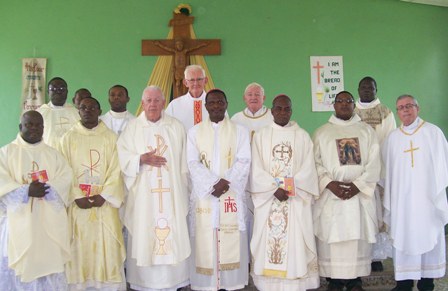 The Bishop of Ondo, Rt Rev Jude Arogundade, the bishop-emeritus Rt Rev Francis Alonge joined with diocesan and SMA priests to celebrate the 80th birthday of Fr Matthew (Mattie) O'Connell at St Theresa's SMA Parish, on Sunday, 4 November 2012.
It was also the occasion of Fr Mattie's 55th Ordination anniversary.
Amongst the SMA priests were Frs Reginald Nwachukwu (Superior of the Bight of Benin District-in-formation), Fr Valentine Hynes (first PP of St Theresa's, Ondo and now responsible for the SMA House in Obanikoro, Lagos), Fr Henry Obiora SMA, Fr Tim Cullinane (Spiritual Director at the SMA Formation House in Ibadan) and Fr Peter McCawille (Director of the Family Vocations Movement in Benin City). They are pictured above with Fr Mattie (3rd from left) and the two bishops and diocesan clergy.
After ordination in 1957 Fr Mattie was appointed to Nigeria where he spent many years before his appointment as Assistant to Fr John J Dunne (RIP) in St Peter the Apostle Parish, Neilstown in the Archdiocese of Dublin.
Upon his return to Nigeria, Fr Mattie was soon asked to take responsibility for St Theresa's Parish when Fr Hynes was transferred to Lagos.
Our picture shows Fr Mattie, Bishop Alonge and Fr Nwachukwu.
Fr Peter McCawille SMA gives a Report on the double celebration.