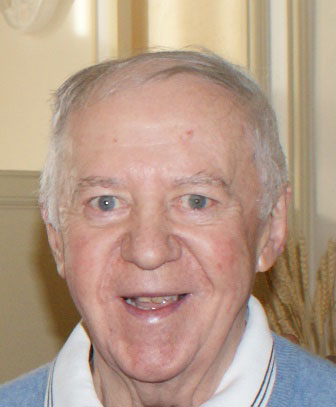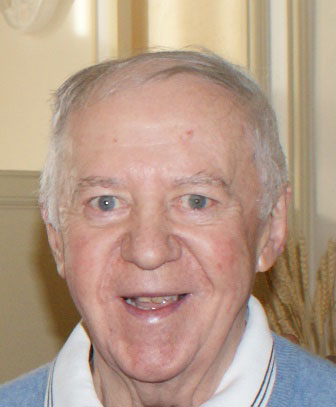 Fr John Casey passed to his eternal reward at 8.45pm on Monday, 2 March 2015, at St Theresa's Nursing Unit, African Missions, Blackrock Road, Cork. He was 84 years of age. Fr Seán Lynch SMA and his niece, Mary, were with him when he died.
John [known to most as Jack] Casey was born on 11 February 1931 in Cork City, second son of Andrew and Julia [née Carroll] Casey. His brother, Bill, and sister Bina [Coughlan] survive him. The family's original home was on the Commons Road though they later moved to Ballyhooley Road, Dillons Cross.
He was baptised two days after his birth and was confirmed in 1942. Fr Jack received his primary education at the Model School, Cork (1936-1941) and the North Monastery (1941-1943) and continued on there for his secondary education (1943-1949). He then studied at UCC and graduated in 1952 with B.Sc (Hons).
The 1958 Ordination class, with Fr Jack sitting 2nd from the left.
During his secondary schooling and at UCC he was a renowned chess player and was runner-up in the Irish Senior Chess Championships on four occasions as well as winning numerous rewards at local and national level in lower grades.
In September 1952 Jack began a two-year Philosophy programme with the Society of African Missions in Cloughballymore, Kilcolgan, Co Galway. With the decision to introduce a Spiritual Year programme for SMA seminarians, he did his second year of Philosophy at the African Missions Major seminary in Dromantine, followed by theology studies [1954 – 1958].
Jack became an SMA permanent member on 12 June 1957 and he was ordained a Deacon on 15 September 1957. Along with eleven classmates he was ordained to the priesthood on 18 June 1958 by Bishop Eugene O'Doherty in the Cathedral of St Colman and St Patrick, Newry, Co Down.
The newly-ordained Fr Casey celebrated his First Mass at Blackpool Church on 19 June 1958 when he was assisted by the late Fr Murphy O'Connor PP.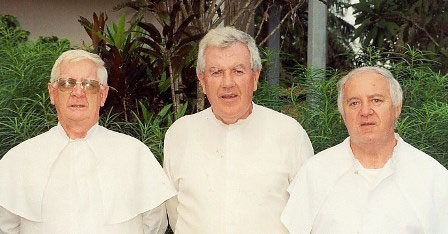 He was appointed to the diocese of Benin City, Nigeria which was led by Bishop Patrick J Kelly SMA. He served there from October 1958 – August 1962 during which he taught at Ishan Grammar School, Uromi and St Peter's Claver's College, Aghalokpe. He then went to teach at Notre Dame College, Ozoro until 1964. He then returned to Benin City diocese where he served until May 1969, during which he served on the teaching staff of the Immaculate Conception College [ICC], Benin City and Annunciation College, Irrua. For some of these years, Fr Jack was the Chaplain to the then Military Governor of the Mid-West, David Ejoor.
Three longtime missionaries in Benin City: Fathers Richard Wall, Mattie O'Connell and Jack Casey.
He was recalled to Ireland to teach at the SMA College, Ballinafad, Co Mayo [1969 – 1970] whose students remember him as a gentle and kind priest, and an excellent teacher. He did his H Dip in Education in UCG, teaching and living at St Mary's College, Galway.
Unable to get a Visa in June 1971 [partly due to difficulties with the Nigerian government because of the involvement of some missionaries in the Biafran Civil War], he studied French [in Dublin and Lyons, France] before returning to Benin City in January 1973 where he joined the teaching staff at St Patrick's College, Asaba. When the diocese of Issele-Uku was created Fr Jack continued to teach in St Patrick's as well as taking the added responsibility of Parish Priest of St Patrick's [1983 – 1986].
In 1983, Fr Jack was elected by his confreres to be Society Superior in Issele-Uku.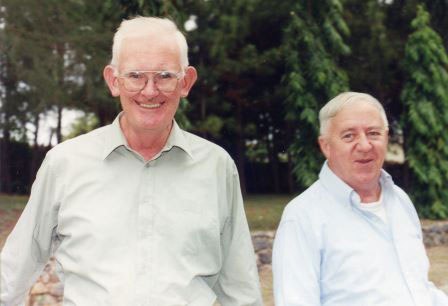 He took a Sabbatical year [1978 – 1979], earning a Diploma in Religious Studies from St Patrick's College, Maynooth. In 1986, Fr Jack transferred from the MidWest of Nigeria to western Nigeria, to the diocese of Ibadan, where he worked in three city parishes: Loyola, Christ the King and St Leo's, Challenge.
He is pictured at the SMA Regional House in Ibadan with Fr Tim Cullinane SMA.
In September 1993 Fr Jack returned to Issele-Uku diocese, to St Patrick's SMA parish, Cable Point, Asaba. The following year he 'returned' to his original diocese, Benin City. He took over as Guestmaster of the SMA House in Uromi where he is remembered as an excellent host.
During his years in Africa, Fr Jack was part of the great development of schools, clinics, churches etc throughout the original diocese of Benin City. Several dioceses have been carved out of that original jurisdiction and he served in two of them: Warri and Issele-Uku. Bomadi Vicariate was created from Warri in 1996. After his departure the dioceses of Auchi and Uromi were created in the area where Fr Jack ministered.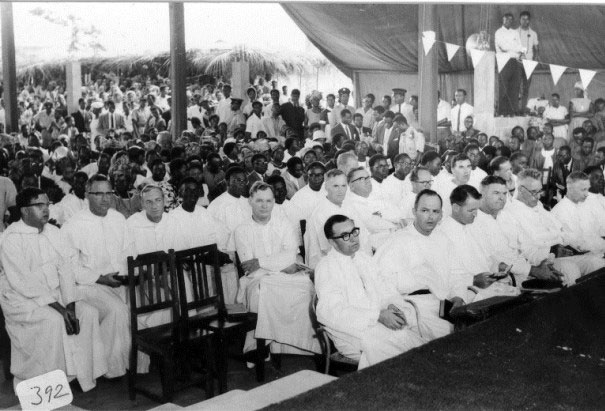 One of the earliest photos of Fr Jack – at the Episcopal Ordination of Rt Rev Lucas Nwaezeapu as first bishop of Warri, 1964.
He officially retired in August 2000 to the SMA House on Blackrock Road. He moved into St Theresa's Nursing Unit in October 2009.
May he rest in peace.