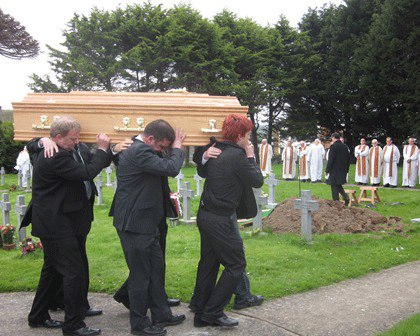 Fr Der's nephews and grand-nephews carry him to his final resting place.
Dermot Healy, a nephew, spoke on behalf of the Healy family before the Prayers of Final Commendation. Here is an edited version of Dermot's remarks:
We would like to thank all those who took such amazing care of Fr. Der. In particular we would like to say a special thank you to:
Fr. Colum O'Shea and all the priests in SMA House, Blackrock Road
The SMA Fathers here in Wilton for their hospitality and for making us feel very welcome today and last night.
Sr. Margaret and her care team in St. Theresa's Blackrock Road.
Also we would like to acknowledge Fr. Der's previous time in the SMA House in Claregalway, a place he called "home".
It is very comforting to know he received such great care and attention both here and in Claregalway.
A special thank to you to all of you who have sympathised and supported us in the last few days. Your words of comfort have given us great solace.
Fr. Dermot was
A totally devout priest dedicated his life to spreading the word of God. He did this on an international basis – from Nigeria to Adare to Carrickerry / Ardagh.

Editor of SMA magazine when he returned from Nigeria

House Masses for us were very special

He always prayed for prisoners who were wrongly imprisoned.
He was a totally devoted family man:
Fantastic brother to Lena, Teddy and Lauri

Great Brother in law to Marie, Vera and Jim

A proud Uncle to his four nieces and two nephews (Mary, John, Deirdre, Aoife, Anita and Dermot)

Family occasions were of huge importance to Fr. Der. We have wonderful memories of:
His Golden Jubilee

80th Birthday

Weddings

Christenings

Christmases in Tralee

Numerous family gatherings

We were very privileged to have him say masses in our houses
Fr. Der took a huge interest in his family and took huge pride in seeing us all grow and develop. We all know he had a very special interest in each of us and prayed for us throughout our lives.
Our picture shows the Dominican Prior in Tralee presenting the Church Bell to Fr Der for Ekan Meje parish in Ilorin diocese, Nigeria where it still tolls to call the people to prayer.
37 years ago, when he was editor of SMA magazine Fr. Der formed a very special friendship with Hilda Kilraine, who became one of his closest confidante and friends. They travelled to many corners of the world together and shared so many happy memories and times together. It was fitting that Hilda was with Fr Der in his final days. The family would like to pay a special tribute to you Hilda for the true friendship, support and care you gave Fr. Der over the last 37 years. Hilda cared a lot for uncle Der and he cared equally for her.
Finally we would like to pay tribute to Fr. Der the person…
A Sports Fanatic – from his beloved Kerry Footballers to the pensioners in London, whom he reneged his support on recently in order to fulfil his ABU philosophy…

His humorous love of cricket – encouraged by an ABE spirit

His love of Golf

He would watch Sky Sports if there was two flies fighting. I am sure that he will be back watching high definition 3 D in surround sound in heaven.

Fr. Der had a deep and varied appreciation of music – his repertoire ranged from Pavarotti, Philharmonic Orchestras, Bach, Beethoven to Dido in more recent years. Lyric FM would blare from his room at all hours of the morning.

He always listened to his radio. His favourite radio programme was Alistair Cooke's Letters from America which he listened to for 50 years

A true intellectual. Fr. Der loved reading and had an amazing knowledge of literature.

In recent years even though his sight might have failed, his mind was as sharp as ever. His general knowledge and knowledge of current affairs was to be truly admired.
Although we are all sad at Fr. Der's Passing we take comfort in the fact that he has a first class ticket to heaven. No doubt he is finding old friends who have gone before him. Tonight he will probably be having a scotch and a Dunhill (or a pipe) surrounded by Lauri and Vera and his parents. At some stage through the sing song of Brown paper and "She moves through the fair" he will strike up his piece the resistance of Percy French's Abdullah Bul Bul Ameer (listen to it here) Through the smoke his clear but watery blue eyes will shine as he recites with gusto the fantastic lines of this great song. He had his own unique way of singing it, forgetting verses and then remembering them out of the blue. As we grew up we loved when he sang it and we listened and hung on to every word.
One day this bold Russian had shouldered his gun,
And with his most cynical sneer,
Was looking for fun when he happened to run
Upon Abdullah Bul Bul Ameer.
"Young man," said Bul Bul, "is existence so dull
That you're anxious to end your career?
For, infidel, know you have trod on the toe
of Abdullah Bul Bul Ameer."
A Muscovite maiden her sad vigil keeps
in her home by the cold Northern Star
And the name that she murmurs in vain as she weeps,
is Ivan Petrovski Skivar.
Although today is a sad day for all of us, it is also a time to celebrate the life of a person we all loved. Fr. Der was a dear friend to many, a great uncle and brother / brother in law. We know he lived life to the full. He never complained even when his sight and his health deteriorated. When you asked him how he was he would say "wrecked" but he always said that so we got used to it. He still smiled, still remembered, and still said prayers for us all.
Although we might forget his words, his sermons, his stories we will never forget how he made us all feel.
An HONEST man here lies at rest,
As e'er God with his image blest;
the friend of man, the friend of truth,
The friend of age, and guide of youth:
Few hearts like his, with virtue warm'd,
Few heads with knowledge so informed;
In our world, he made the best of this.
In his new world, he will live in bliss;
Robert Burns, celebrated Scottish poet and lyricist
Ar dheis De go raibh a anam dilis.